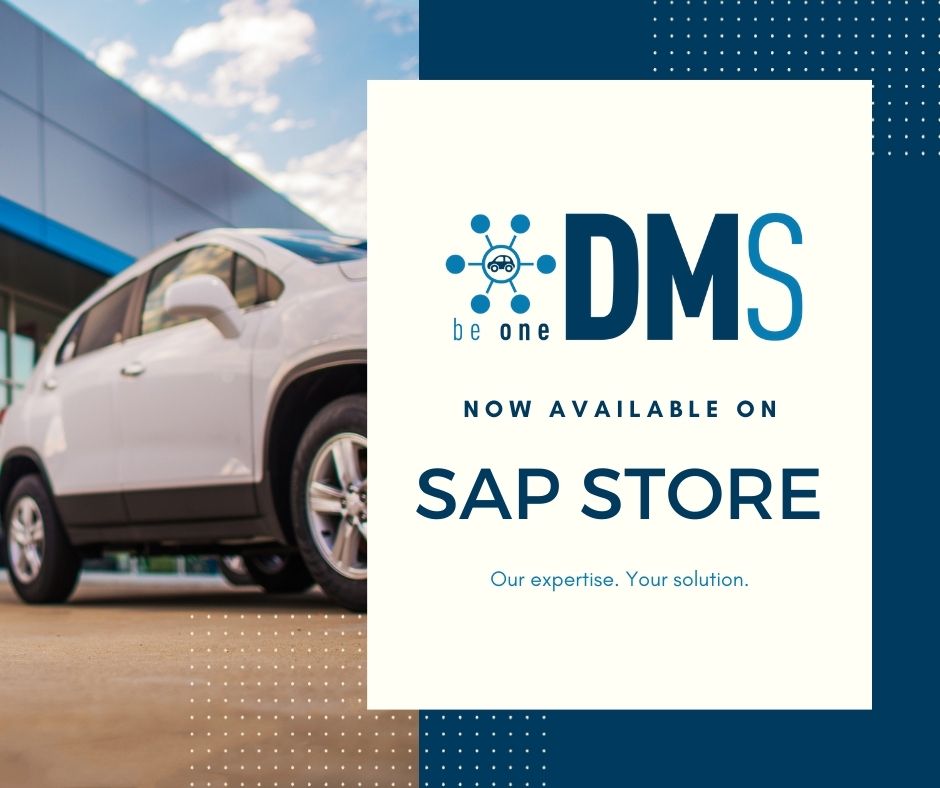 By integrating with SAP Business One, be one DMS from be one solutions delivers better visibility, increased efficiency and an end-to-end engagement with dealer networks
Hong Kong - May 17, 2021 — be one solutions today announced that its be one DMS (Dealer Management System) solution is now available on SAP Store, the online marketplace for SAP and partner offerings. be one DMS integrates with SAP Business One and answers industry specific challenges and delivers better visibility, increased efficiency, and an end-to-end engagement with dealer networks. Olli Kylänpää, Regional Director Asia, be one solutions said:
By integrating with SAP Business One, be one DMS offers a unique, single point of truth between dealers and distributors"
be one DMS is easily scalable based on a user's needs and retrieves clear reporting from the dealer network. Additionally, be one DMS offers an effective process flow, thorough visibility of all operations, business intelligence, and reporting capabilities throughout the entire supply chain.
Core Functionality for be one DMS Includes:
Warranty management
Part order management
Vehicle order management
Administrative functionalities
SAP Store, found at store.sap.com, delivers a simplified and connected digital customer experience for finding, trying, buying, and renewing more than 1,800 solutions from SAP and its partners. There, customers can find the SAP solutions and SAP-validated partner apps they need to grow their business. And for each purchase made via SAP Store, SAP will plant a tree.
be one solutions is a partner in the SAP PartnerEdge program. As such, it is empowered to build, market and sell software applications on top of market-leading technology platforms from SAP. The SAP PartnerEdge program provides the enablement tools, benefits and support to facilitate building high-quality, disruptive applications focused on specific business needs – quickly and cost-effectively. The program provides access to all relevant SAP technologies in one simple framework under a single, global contract.
About be one solutions
be one solutions focuses on fruitful partnerships with large, multinational corporations who aim at deploying simple, yet powerful global solutions for their small & medium sized subsidiaries. Over the past decade, we have gathered a vast experience on ERP system implementation and its rollout process on a global scale with a 2-Tier strategy or a 1-Tier one.
Our Dealer Management System was developed alongside leaders in the automotive industry, following their best practices. be one DMS will give you the opportunity to find an industry-specific solution for your expanding business, and will empower your people to make smart decisions faster.
When it comes to unique needs, be one solutions is a trusted SAP partner
SAP and other SAP products and services mentioned herein as well as their respective logos are trademarks or registered trademarks of SAP SE in Germany and other countries. Please see https://www.sap.com/copyright for additional trademark information and notices. All other product and service names mentioned are the trademarks of their respective companies.
Any statements in this release that are not historical facts are forward-looking statements as defined in the U.S. Private Securities Litigation Reform Act of 1995. All forward-looking statements are subject to various risks and uncertainties described in SAP's filings with the U.S. Securities and Exchange Commission, including its most recent annual report on Form 20-F, that could cause actual results to differ materially from expectations. SAP cautions readers not to place undue reliance on these forward-looking statements which SAP has no obligation to update and which speak only as of their dates.
For more information, press only: For further enquiries, please feel free to contact be one solutions.