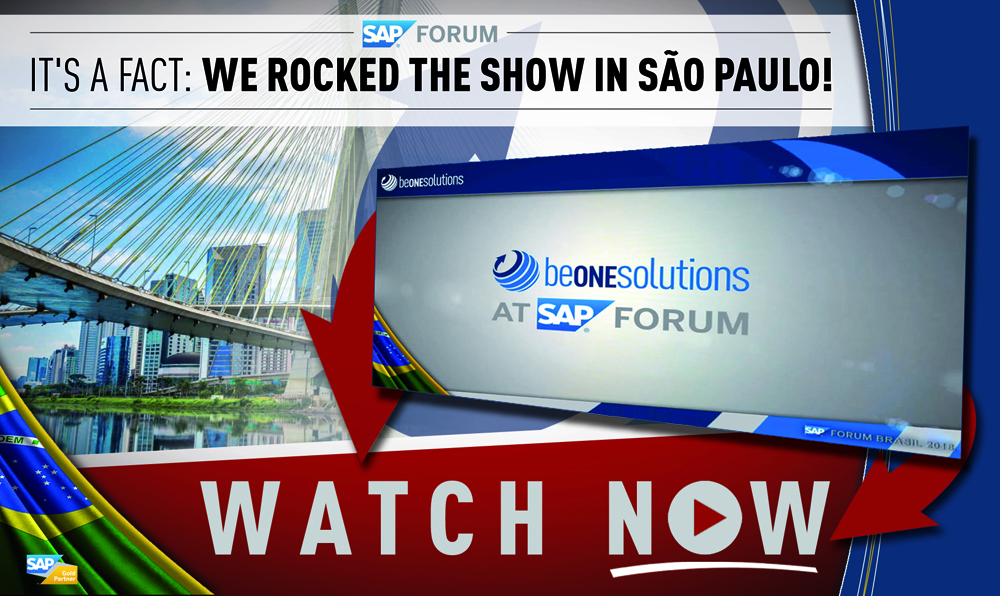 Perfect combination of business & pleasure results in leads & smiles for us in São Paulo!
"Golden October" has arrived and there is one more thing left to do in order to wrap up a great September, which had Brazil written all over it. As a matter of fact, early in the month, we featured another fantastic customer success video with LORD Brasil, plus you just couldn't miss our pre & live event coverage from the Transamerica Expo Center. Pretty sure you also caught a couple of glimpses of the Brazilian SAP FORUM stop on social media already, however now it is time to break 2 days of action down into just over 2 minutes of video. Easy to digest, interesting to watch – here is what be one solutions did at SAP FORUM BRASIL 2018. Take a look…
As you can see, we truly rocked the show in São Paulo – better than ever before, with more dedication, added determination and great, great discipline. In summary, this is by the way, just like we handle our business around the globe.
Carlos Hernandez (Country Manager Brazil) summed it up greatly:
I am so proud of my local team and the be one solutions family around the world. We pulled off a superb show out here based on global teamwork, input & effort. Start to finish, we converted on our mission for SAP FORUM 2018, as we wanted to demonstrate what we got and what we can do. And we seem to push the right buttons, as apparently, there is a high demand for us and our world-spanning expertise. We will now talk happily in detail with the leads we generated at the event and I am very confident, next year around, we will show further success working with those we talked to only this September out here in Brazil!
"MUITO OBRIGADO SAP BRASIL" for organizing another tremendous get together this year. Also, A BIG THANK YOU to all we met during the show, from Uzi Halfon (Founder & CEO) and Mario Rui Candido (Regional Manager Americas) that worked the floor tirelessly with Carlos, the Brazilian & international staff. To all of our friends, contacts, existing clients, potential ones, fellow SAP Business One® Partners, System Solutions Providers, you name it, we sincerely appreciate your time and the pleasant chats. See you again soon, latest at SAP FORUM 2019!