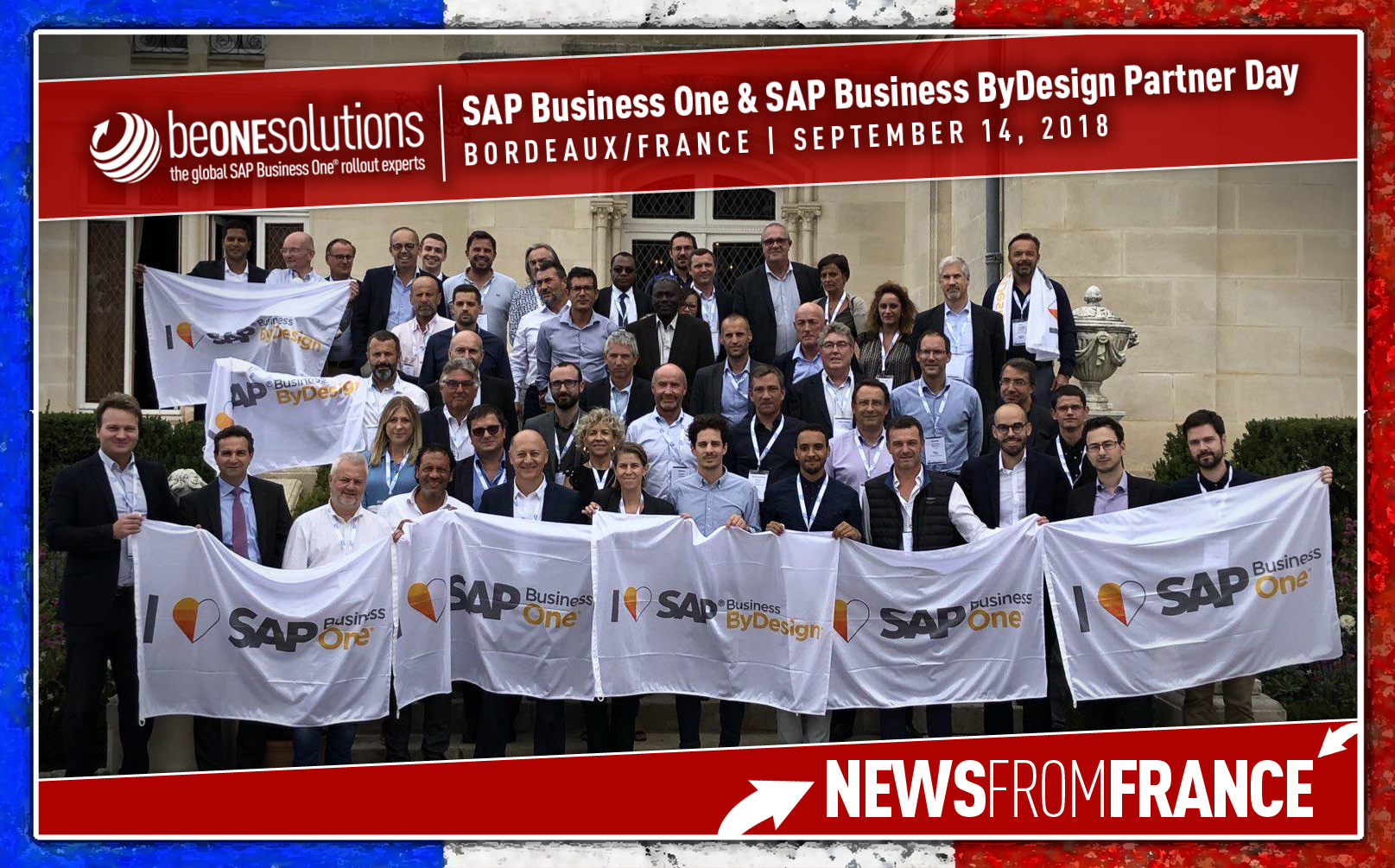 SAP Partner Day in Bordeaux
It's been a while since we talked about France – that doesn't mean there is no news from good old Europe though. As a matter of fact, France has always been a major European hub for us. So far, we have supplied a vast number of large, multinational French enterprises with all necessary bits and pieces that result in a functioning 2-tier environment. Just like in APAC and the Americas, our European approach and especially the one in France has developed very successfully those past years. Meanwhile, word is on the streets around the world and in France indeed, that if you have subsidiaries abroad, you ought to talk to be one solutions. So, let's give you a brief update about the recent SAP Partner Day in Bordeaux and the upcoming video testimonial with Extruflex – a very nice example of a global & successful French client.
On September 14, Arnaud Viviant (Regional Manager EMEA) and Kevin Cazet (Project Manager and Senior SAP Business One Consultant) attended SAP Business One & SAP Business ByDesign Partner Day. Now, we do go to many of these Partner Days around the world, however this one was truly special. Starting with a breathtaking setting at Chateau Pape Clément, high profile speakers covering product updates & roadmaps, strategy, all the way to Marketing.
Arnaud told us afterwards:
We are honored to have such a great relationship with SAP France and all the other partners. It might sound a bit 'cheesy' but the SAP Business One community really feels like a family rather than mere competition. That is one of the reasons why the product is picking up speed & visibility so quickly. What a motivational get together, what an amazing outlook – I am extremely excited seeing where we all will stand when we get back to the table again!
Last but not least, let us use this opportunity to thank Fabrice Sala (Head of SAP Business One and SAP Business ByDesign EMEA), Stéphane Vaché (Head of SAP Business One® France), Paulo Almeida (Global Head of Marketing for SAP Business One), our former colleague Renaud Petit (Local Product Expert SAP Business One France), Dorian Kirschstetter (Marketing Manager SAP Business One & SAP Business ByDesign France), Angéline Poullain (EMEA + MEE Channel Marketing Manager SAP Business One) and everyone else over there at SAP France for hosting such a fantastic partner event.
A happy French client: Extruflex customer success video coming soon!
We claim to be "the global SAP Business One rollout experts" and we are blessed to say, this is how we are perceived by existing and potential clients, SAP and fellow partners alike all over. However, as we always say: "Don't just take our word for it!" – keep your ears on the tracks and check out what actual users of the system say. At the end of the day, it is organizations like Extruflex, the flexible vinyl extrusion world leader, that happily depend on the simplicity and effectiveness of SAP Business One, when it comes to the demand to run the business smoothly around the planet.
That's exactly why we shot a video testimonial with France-based Extruflex. The video is done and we're more than ready to share it with the world. Hold on just a tad longer, the official approval to publish will come in very shortly as per Extruflex: Stay tuned for this vibrant video testimonial from yet another satisfied French client!