APAC Marketing Executive
** Please send your CV in English ONLY ** 
As Regional Marketing Executive, one of your main responsibility will be to bring strength to the Marketing department by bringing in a nativelike cultural knowledge and collaborating on marketing topics while working closely with the Global Marketing Leader and the APAC Regional Director. Indeed, adapting the global marketing strategy at a local level is one of our biggest steps and our future challenges. You will lead local campaigns while participating from time to time in global actions.
Responsibilities:
Demand generation in the APAC region

overseeing and developing local marketing campaigns
conducting research and analyzing data to identify and define local audiences
devising and presenting ideas and strategies
promotional activities
compiling and distributing statistical information
writing and proofreading creative copy
managing campaigns on social media
monitoring performance

Develop, realize & lead self-developed marketing measures on a proactive basis
Support on regional events alongside the local teams (SAP events, Innovation summits, flyers, social media activity etc.)
Collaboration with partners Marketing
Involvement in regional internal communication
Experience and Skills:
Required:
Experience:
3-5 proven years in digital and online marketing - hence excellent organization and communication skills
Proven experience in running lead / demand generation campaign
Well-run social media account approach (please add an example to your resume)
Software / Skills:
Demand generation tool (LinkedIn Sales Navigator, …)
Strong knowledge of Microsoft Office suite
Excellent English writing skills
Reporting tools
Languages:
Advanced/expert English level – understanding, speaking & writing of/about complex technical terminology (C1 minimum)
Bilingual/Native in either Chinese mandarin, or Thai or Japanese
Preferred:
Experience with B2B Marketing, specifically in the IT sector
Basic insights in ERP
Professionals with insights into SEO, SEM, SMM, etc.
Previous experience in an international setting
Knowledge of Adobe Suite, graphic tools
English is a must, any further local language is highly welcomed
Soft skills:
Willingness to learn, follow-up & work hand in hand with the team leader
Ability to perform to the fullest of your potential in a "virtual" work environment
Pro-active work approach and respect for deadlines
Strong team spirit and self-motivation
Education:
Required: Bachelor's degree or higher
Preferred: Degree in Marketing, Business, or Communication
Working Conditions:
Full-time position in our office in Singapore or Hong Kong
Flexibility to work from your home office
*** Please send your CV in English ONLY ***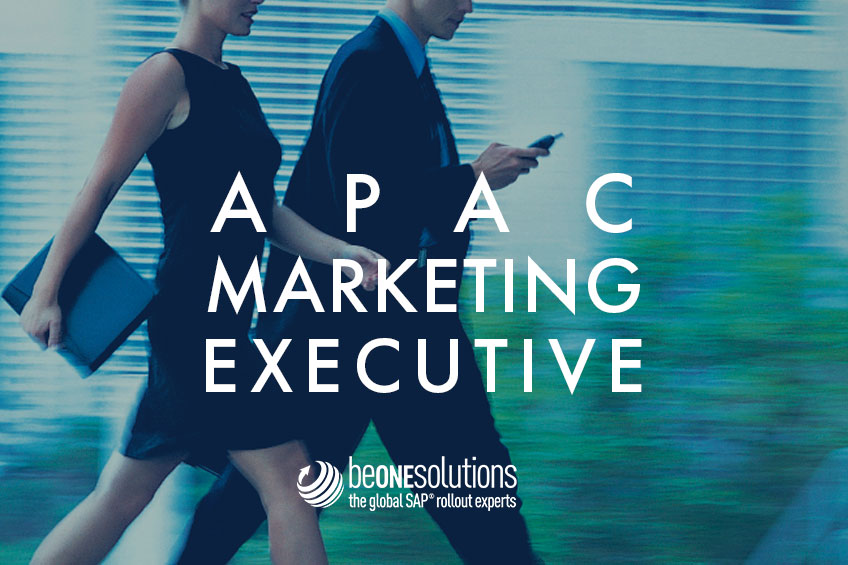 Interested by this offer? Submit your application now!
Thank You
Thank you for submitting your resume at be one solutions !
Our hiring team will be reviewing all applications and contact candidates whose qualifications seem to meet our hiring needs