Quality Assurance Manager - EMEA
The core purpose of the role is to provide SAP Business One consultancy services which include both tasks performed onsite with the customer and offsite at your home office. Our ideal candidate would have a deep understanding of the product, its add-ons while using consulting best practices. Will also be responsible for delivering excellent large-scale implementations while having a deep interest in how business processes work.
The Quality Assurance (QA) Manager will oversee the activity of the quality assurance staff, developing, implementing, and maintaining a system of quality and reliability of testing for the organization's products and/or development processes.
Key duties and responsibilities:
Comprehensive management of Quality Assurance for Be1s` own products and custom-made developments for customers
Define QA processes and methodologies in alignment and collaboration with relevant stakeholders and document them
Set up appropriate quality standards and KPIs
Coordination and/or execution of training on quality procedures
Assure and audit that QA procedures are followed in all development projects with the ultimate aim of meeting customers` needs
Work closely with Development and Implementation Teams to ensure that system is built and delivered fully functional according to the technical and functional specifications approved by the customer
Coordinates and performs QA tests to ensure compliance and defect free delivery of systems and all relevant documents
Create and maintain comprehensive project documentation
Performs other duties as assigned
Requirements and qualifications:
Experience:
3 years of experience as a Quality Assurance Manager or similar role
Experience in doing customer research with the purpose to assess their needs and wants
Experience with Quality Assurance Management in software development companies
Thorough knowledge of methodologies of quality assurance and standards
Advantage: experience with SAP Business One or similar ERP as consultants or developer
Personal skills:
Critical thinker and problem-solving skills
Good time-management skills
Service and customer orientation
Excellent verbal and written communication skills
Ability to work as part of a global multi-cultural team
Self-motivated, fast learner and ability of multi-tasking
** Please send your CV in English ONLY **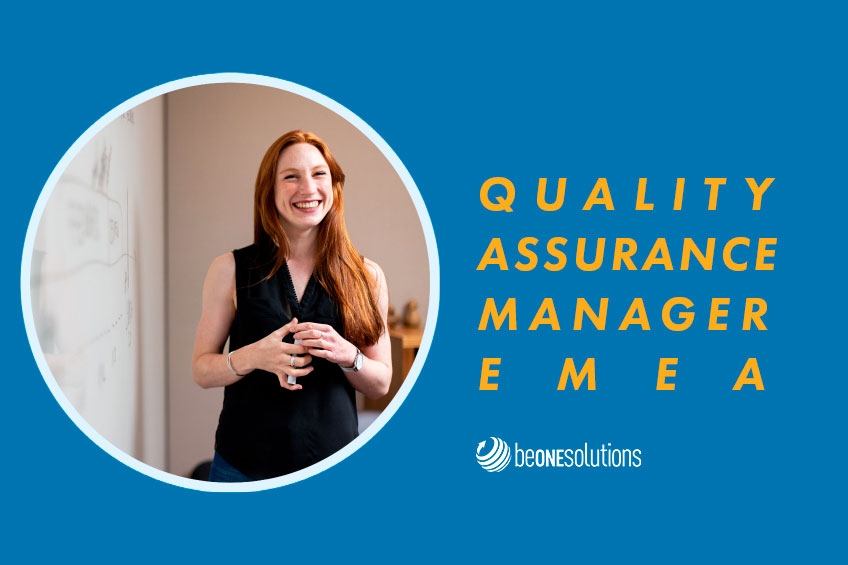 Interested by this offer? Submit your application now!
Thank You
Thank you for submitting your resume to be one solutions!
Your application will be reviewed by our hiring team and if you are selected for an interview or further information is needed, our team will contact you.