SAP Business One Support Consultant (USA)
We are currently looking to hire an enthusiastic Support Consultant to support our global customers and local customers in the USA.
Our ideal candidate would have deep understanding of the product, its add-ons while using consulting best practices.
The core purpose of the support Consultant is to provide SAP Business One support services remotely, at your home office.
Key responsibilities include:
Understanding customer requirements and business objectives.
Detecting issues, troubleshooting and investigating ways to resolve.
Conducting training, offering workarounds and presenting new features or modules, to enhance customer's application usage.
What we are looking for:
Experience:
+3 years experience in SAP Business One support or implementation
Excellent understanding of SAP Business One application of all core modules and core AddOns
Wide experience in MS-SQL Server and Crystal Reports
Wide experience in SAP Business One upgrades
Finance and/or Manufacturing background - Advantage
Personal skills:
Service and customer orientation
Excellent verbal and written communication skills
Ability to work as part of a global multi-cultural team
Self-motivated, fast learner and ability of multi-tasking
Language skills:
English – Mandatory
Additional languages are an advantage
Working conditions:
Willingness to have a home office position
Long term contract
** Please send your CV in English ONLY**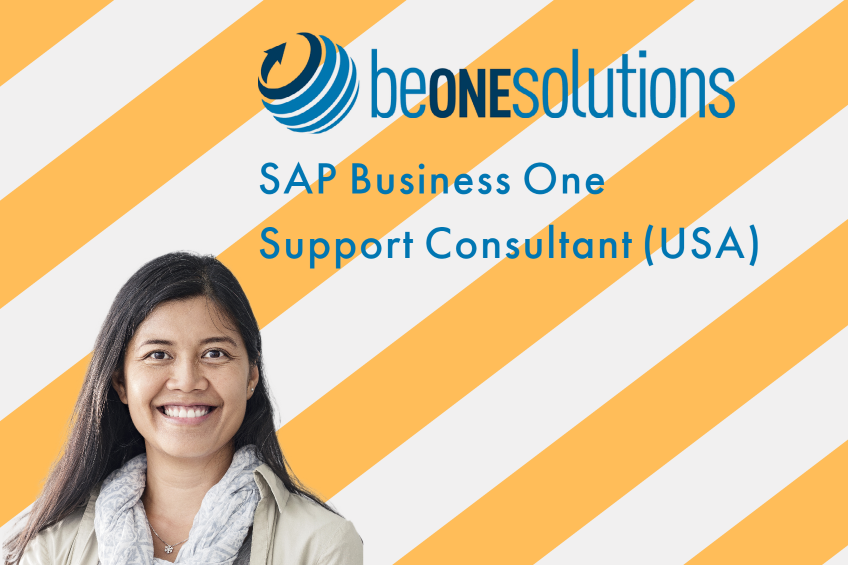 Interested by this offer? Submit your application now!
Thank You
Thank you for submitting your resume to be one solutions!
Your application will be reviewed by our hiring team and if you are selected for an interview or further information is needed, our team will contact you.