Tier 1 ERP software rollout strategy
One-Tier ERP are built for multinational companies with multiple department and global subsidiaries. Tier 1 ERPs are designed to service the needs of Fortune 1000 companies, which revenues are often measured in billions. These 1-tier ERPs are made handle the complexity large, multinational corporation require, for example, enabling multiple people to handle the same tasks. SAP ECC or SAP S/4HANA are such sophisticated ERP software. As part of that functionality, this system ishighly complex to configure, take a long time to implement and are equipped with a wealth of features which come with an initial high cost, as well as a high total cost of ownership (TCO). In comparison, a smaller company would be overwhelmed by the number of steps and the overall intricacy.
Tier 2 ERP software rollout strategy
Two-tier ERP is a strategy taken by large, multinational enterprises that uses tier 1 ERP for core common processes at the corporate level and tier 2 ERP for subsidiaries of the company to address specific needs. This approach to ERP saves money since 2-Tier is less expensive and gives smaller locations more control, flexibility and agility in meeting their unique and local needs. In a two-tier ERP approach, such as SAP Business One, master data management requires assiduous attention to ensure that there is no duplication of data or inconsistencies , functionalities are comprehensive and intuitive, while the system allows an overall high range of customization and agility.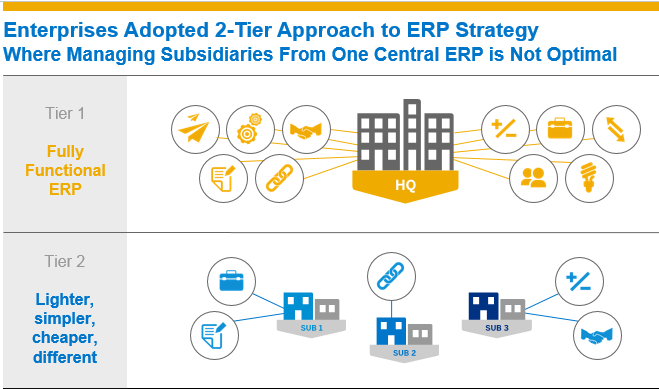 Listening to your subsidiaries' needs will help you define very clearly what type of ERP system they need. Here are commons goals and improvements multinational companies are looking for in a solution for their various branches: 
Cost Efficiency 

 

Speed of Implementation Cycle 

 

Usability & Trainability 

 

Transparency of Processes & Data 

 

Harmonization of Processes & Data

Harmonization of Reporting 

 

Integration Subsidiary to Subsidiary, or Subsidiary to HQ 

 

Improvement of Organization (Best Practice Approach)

 

Flexibility
Global Implementation, from blueprint to rollout
Best-case scenario, is that the project will be controlled through a core team, a bunch of great individuals that understand what they are doing – on your side and ours. They are the spearheads and will run the local teams as an extended arm of the HQ in order to complete a successful rollout to the respective subsidiaries. Starting point is a "Template", which is then implemented in the "Pilot" location, followed by a concrete workflow to ensure the next subsidiaries are onboarded wisely and well.  
Our own, carefully designed, project methodology go through 5 key phases, to ensure the best delivery of the solution.
First, we define the scope, gather all needed information and essentially prepare to launch the project with your team. When ready, we kick it off, get deeper into the definition of your need, design your template and train your key-users. Once this analysis phase is done, we go into the construction of your scalable solution, before engaging in the acceptance test stage. This is a crucial step which ensure everything works and all users have understood all bits of the ERP system functionalities. Finally, we move into the go live time, where we close all door and deliver not only the solution but a plan establishing all goes well once we are done, and your team are running independent on the ERP software.  
Of course, we don't say "good bye" without ever looking back. Our expert support team takes over and is there to provide you the best expertise, on-site or remote, via phone, email, skype, all the way to WhatsApp.  
We operate 3 support poles around the globe, and have a centralized case / ticket handling for maximum cost reduction. 
After a go live, our customers benefit a 24/7 support service around the globe, in English, as well as over 18 local languages during office hours. For maximum control and full transparency of customer's open ticket and budget, we provide monthly support management review calls, monthly activity reports, dashboards and support budget analysis. Get in touch if you want to learn more about our world-spanning support offering!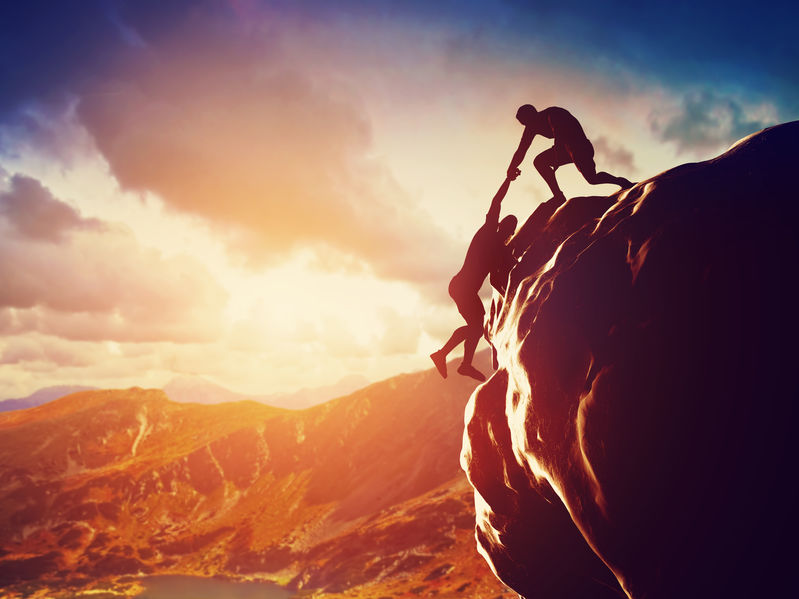 Core benefits of a full-blown and true global supplier
We are rolling out by ourselves, no third parties involved. That means our own people, on our payroll – global, regional and local resources – are where you need them and when you need them. It is about providing "One Face to the Customer". Here is what choosing a full-blown & true global supplier means to our clients: 
Template is done with the core team

 

Pilot is handled with core team plus,

local team involvement

on-demand

 

Rollouts are managed by local teams

with core team

controlling main project management aspect

 

Our l

ocal team

is part of

be one solutions

, hence

know

s

exactly our

methodology

 

No communication gap and

misunderstanding as our entire

team is bi-lingual

, at the minimum

 
No challenges on scheduling as our

internal team is

truly

committed to the

project

 

We can guarantee an assignment of

SAP Business One experts,

or S/4HANA experts depending on your needs, as o

ur

team has an average of 1

5

years

SAP implementation experience

 

Clear escalation path, all internal at

be one solutions

 

One single point of contact for

your

headquarter

 
Why be one solutions for your global SAP rollouts?
be one solutions is the right choice when it comes to your locations abroad. Our 100+ well trained and highly experienced experts are conveniently located all over the world. We do global SAP rollouts - from template, pilot, development, all the way to 24/7 post-go live support - by the way, we speak more than 18 languages. We also have implemented SAP solutions in 500+ subsidiaries in over 60 countries, thanks to our international team of experts.
With legal entities in Switzerland, Germany, France, the United Kingdom, Sweden, Brazil, the United States, Mexico, Singapore, Hong-Kong, Japan, China, Thailand, Malaysia, Philippines, South Korea and many further country offices, we are strategically positioned to support your global requirements.
Don't take our word for granted, discover our global references
We have served many well-known large, multinational corporations very successfully over the years. Intrigued? Learn about our expertise through our customers.
Discover how our rich expertise can help your company. Contact us now.
Thank you
Thank you for filling the form, our team will be in touch.