Why should I choose SAP S/4HANA for my headquarter?
SAP S/4HANA is SAP's intelligent integrated ERP that uses the SAP HANA in-memory database. With extensive expertise with regard to SAP S/4HANA, be one solutions can effectively advise and guide you through its implementation within your business. 
This fully integrated system features services to offer complete control and visibility across 26 verticals, allowing you to respond to changes and predict best practices as your business evolves and grows within its niche.
Address industry-specific requirements with proven best practices for 26 verticals and enable new business models as your marketplace evolves
Revolutionize business processes with intelligent automation - supported by artificial intelligence and robotic process automation
Make better decisions faster with SAP S/4HANA and embedded analytics, a conversational interface, and digital assistants
Meet your IT landscape goals with hybrid, cloud, and on-premise scenarios that share a consistent data model, code line, and user experience
How It Can Benefit Your Business?
Using SAP S/4HANA can improve efficiency and productivity throughout your supply chain through its support for automation. Using artificial intelligence and robotic automation, you can find the best business practices to enhance the effectiveness of your company while driving down costs.
The built-in analytics and conversational interface allow you to communicate faster, whether internally or externally. Using SAP S/4HANA means you can track the progress of shipments, returns, or projects and receive actionable insights on where your business can improve.
This, paired with the innovative hybrid cloud model of our solutions, using on-site and external data processing with consistent coding and user interface, makes the usability of our SAP a stand-out feature.
Navigate constantly changing industries and gain the industry depth your business requires and the cloud benefits you want.
Support industry-specific business processes with out-of-the-box functionality
Transform your business model with SAP S/4HANA's innovative revenue capabilities, including subscription- and consumption-based billing
Create new, customer-focused products and services with highly flexible configuration, pricing, and quoting capabilities across engagement models
Monitor contract performance with real-time profitability analysis and revenue recognition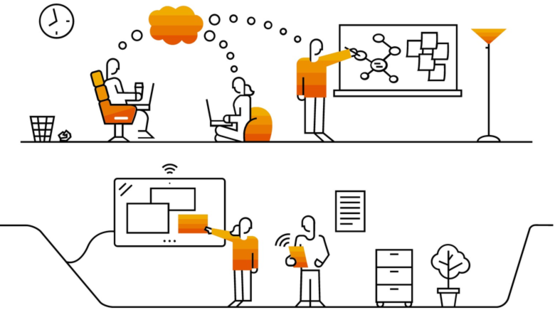 Why be one solutions as SAP partner?
As a global SAP partner, be one solutions aims at successfully implementing ERP strategies to provide the best data-driven solutions to myriad operations.
Over the past decade, we have worked extremely hard to become the leaders in our niche: Supplying large, multinational enterprises with a great ERP solution for their small & medium sizes subsidiaries around the globe. We lately welcomed the high performing product that is S/4HANA and are already SAP Gold Partner, just as we are with SAP Business One®. What does it mean? Only that choosing be one solutions means choosing a worldwide trusted partner that offers the best of two worlds; we are versatile, dedicated and extremely motivated to go to work for you – with the best fit product – and with our claim in mind:
be one solutions - the global SAP rollout experts!

SAP S/4HANA fits for headquarters and subsidiaries alike. No matter where you want to deploy it, S/4HANA comes with super fast, near to real-time analytics & computing capabilities.

DMS is simple, yet powerful. It allows for maximum efficiency of your small & medium global subsidiaries. Think quick implementation cycles based on an out of box approach plus seamless integration scenarios.

LEAN MANUFACTURING for SAP Business One - simply results driven! Our lean, yet powerful manufacturing add-on takes away the complexity of things. It provides easy access to one of the most vital parts of your business: