¿Por qué debería elegir SAP S/4HANA para mi sede?
Durante la última década, hemos trabajado extremadamente fuerte para convertirnos en los líderes de nuestro nicho para brindar a las grandes empresas multinacionales una excelente solución de ERP para sus subsidiarias de tamaño pequeño y mediano en todo el mundo. Hasta ahora, hemos respondido a esa necesidad específica ofreciendo SAP Business One®. Por supuesto, seguiremos promocionando esta fantástica solución y seguiremos brindando soporte a nuestros clientes existentes de SAP Business One®. Sin embargo, siguiendo la visión y tecnología de SAP, hemos decidido ampliar nuestro abanico de soluciones con SAP S/4HANA.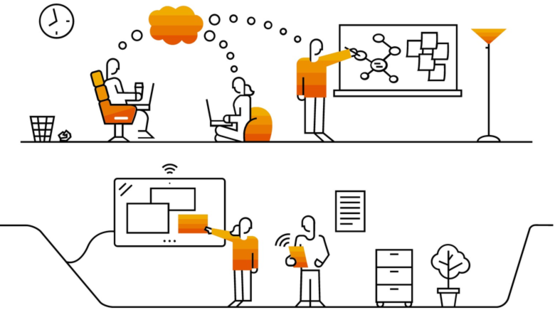 SAP S/4HANA es la suite de negocios de siguiente generación de SAP diseñada para ayudarle a funcionar de manera simple en un mundo tecnológico digital. Esta nueva suite, que se adapta perfectamente a las oficinas centrales y subsidiarias está basada en la avanzada plataforma en memoria de SAP, SAP HANA, lo que significa capacidades de análisis y cálculo súper rápidas y casi en tiempo real, además de una experiencia de usuario personalizada con SAP Fiori. SAP S/4 HANA está diseñado para generar valor instantáneo en todas las líneas de negocios e industrias con lo último en sofisticación: simplicidad.
¿Por qué seleccionar a be one solutions como socio de SAP?
Somos SAP Gold Partner para ambos productos, SAP Business One® y SAP S/4HANA: Elegir a be one solutions significa elegir un socio mundial de confianza que ofrece lo mejor de dos mundos; somos versátiles, dedicados y extremadamente profesionales, motivados para trabajar para usted, con el producto que mejor se adapte, y con nuestro afirmación en mente:
be one solutions - the global SAP rollout experts!

SAP Business One® es simple, pero potente. Le permite una gran eficiencia de sus pequeñas y medianas subsidiarias globales. Los ciclos de implementación son rápidos debidos al enfoque que debe de estar listo para usarse complementados con escenarios de integración.

Los concesionarios y distribuidores deben poder comunicarse a través de sistemas simples y transparentes. be one DMS lleva la relación al siguiente nivel con nuestro sistema de gestión de distribuidores intuitivo y habilitado en la nube.

be one Manufacturing para SAP Business One - ¡simplemente orientado a los resultados! Nuestro add-on de fabricación esbelta, aunque potente, elimina la complejidad de las cosas. Proporciona un fácil acceso a una de las partes más vitales de su empresa.
Muchas gracias
Gracias por completar este formulario, nuestro equipo se pondrá en contacto