Estrategia de implementación del software ERP Nivel 1
Los ERP de Nivel 1 están construidos para empresas multinacionales con múltiples departamentos y filiales globales. Los ERP de Nivel 1 están diseñados para atender las necesidades de las empresas de la lista Fortune 1000, cuyos ingresos suelen medirse en miles de millones. Estos ERP de Nivel 1 están hechos para manejar la complejidad que requieren las grandes corporaciones multinacionales, por ejemplo, permitiendo que varias personas manejen las mismas tareas. SAP ECC o SAP S/4HANA son softwares ERP sofisticados. Como parte de esa funcionalidad, estos sistemas son muy complejos de configurar, tardan mucho tiempo en implementarse y están equipados con una gran cantidad de características que vienen con un alto costo inicial, así como un alto costo total de propiedad (TCO). En comparación, una empresa más pequeña se vería abrumada por el número de pasos y la complejidad general.
Estrategia de implementación del software ERP de nivel 2
El ERP de Nivel 2 es una estrategia adoptada por las grandes empresas multinacionales que utilizan el ERP de Nivel 1 para los procesos comunes básicos a nivel corporativo y el ERP de Nivel 2 para que las filiales de la empresa atiendan necesidades específicas. Este enfoque del ERP ahorra dinero, ya que el del Nivel 2 es menos costoso y ofrece a las sedes más pequeñas myor control, flexibilidad y agilidad para satisfacer sus necesidades únicas y locales. En un enfoque de ERP de dos niveles, como SAP Business One, la gestión de los datos maestros requiere una atención asidua para garantizar que no haya duplicación de datos ni incoherencias, que las funcionalidades sean completas e intuitivas, y que el sistema permita un alto grado de personalización y agilidad.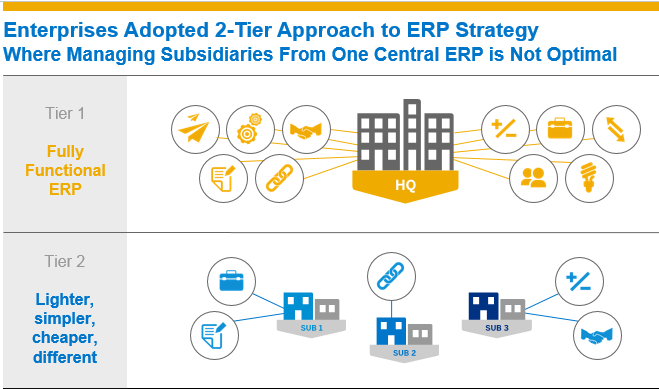 Escuchar las necesidades de sus filiales le ayudará a definir muy claramente qué tipo de sistema ERP necesitan. Estos son los objetivos y mejoras comunes que las empresas multinacionales buscan en una solución para sus distintas filiales:
Eficiencia de costos
Velocidad del ciclo de implementación
Facilidad de uso y formación
Transparencia de los procesos y los datos
Armonización de procesos y datos
Armonización de los informes
Integración Filial a Filial, o Filial a Sede
Mejora de la organización (enfoque de mejores prácticas)
Flexibilidad
Implementación global, desde el proyecto hasta la puesta en marcha
En el mejor de los casos, el proyecto se controlará a través de un equipo central, un grupo de grandes personas que entienden lo que están haciendo, tanto por su parte como por la nuestra. Son las puntas de lanza y dirigirán los equipos locales como una rama extendida de la sede central para completar un rollout exitoso en las respectivas filiales. El punto de partida es una "Plantilla", que luego se implementa en la ubicación "Piloto", seguida de un flujo de trabajo concreto para garantizar que las siguientes filiales se incorporen de forma inteligente y adecuada.
Nuestra propia metodología de proyecto, cuidadosamente diseñada, pasa por 5 fases clave, para garantizar la mejor entrega de la solución.
En primer lugar, definimos el alcance, recopilamos toda la información necesaria y, básicamente, nos preparamos para lanzar el proyecto con su equipo. Cuando esté listo, lo ponemos en marcha, profundizamos en la definición de su necesidad, diseñamos su plantilla y formamos a sus usuarios clave. Una vez terminada esta fase de análisis, nos adentramos en la construcción de su solución escalable, antes de pasar a la fase de pruebas de aceptación. Este es un paso crucial que garantiza que todo funcione y que todos los usuarios hayan entendido todas las funcionalidades del sistema ERP. Por último, pasamos a la fase de puesta en marcha, en la que cerramos todas las puertas y entregamos no sólo la solución, sino también un plan que establece que todo va bien una vez que hemos terminado, y que su equipo funciona de forma independiente con el software ERP.
Soporte posterior a la Puesta en Marcha
Por supuesto, no decimos "adiós" sin mirar atrás. Nuestro equipo de soporte experto toma el relevo y está ahí para ofrecerle la mejor experiencia, presencial o remota, por teléfono, correo electrónico, skype, hasta WhatsApp.
Contamos con 3 polos de soporte en todo el mundo y con una gestión centralizada de casos y tickets para reducir al máximo los costes.
Tras la puesta en marcha, nuestros clientes se benefician de un servicio de asistencia 24/7 en todo el mundo, en inglés y en más de 15 idiomas locales durante el horario de oficina. Para un máximo control y una total transparencia de los tickets abiertos y del presupuesto de los clientes, proporcionamos llamadas mensuales de revisión de la gestión del soporte, informes mensuales de actividad, cuadros de mando y análisis del presupuesto de soporte. Póngase en contacto con nosotros si desea obtener más información sobre nuestra oferta de asistencia en todo el mundo.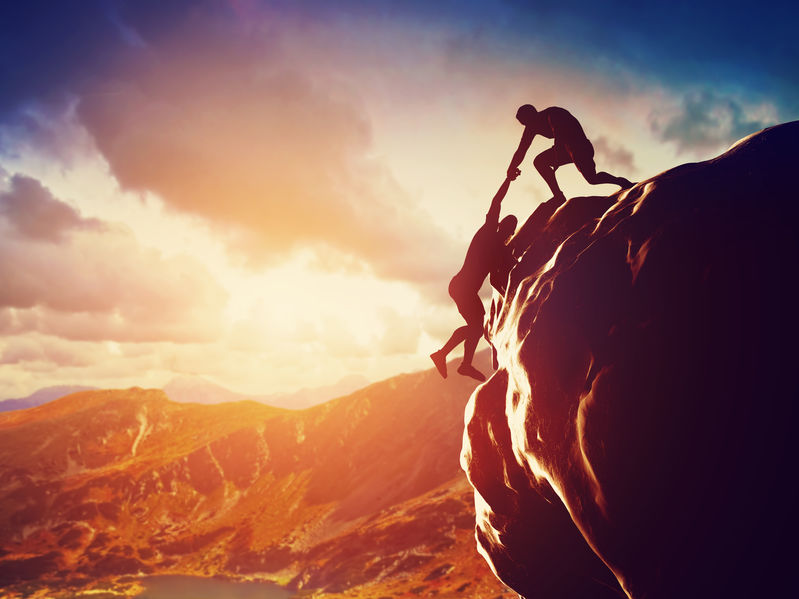 Ventajas principales de un proveedor global completo y verdadero
Nos encargamos nosotros mismos de la puesta en marcha, sin la intervención de terceros. Eso significa que nuestro propio personal, en nuestra nómina -recursos globales, regionales y locales- está donde usted los necesita y cuando los necesita. Se trata de ofrecer "una sola cara al cliente". Esto es lo que significa para nuestros clientes elegir un proveedor global completo y verdadero:
La plantilla se realiza con el equipo central
El piloto se gestiona con el equipo central y, además, con la participación del equipo local a petición
Los Rollouts son gestionadas por los equipos locales y el equipo central controla el aspecto principal de la gestión del proyecto
Nuestro equipo local forma parte de be one solutions, por lo que conoce exactamente nuestra metodología
No hay brecha de comunicación ni malentendidos, ya que todo nuestro equipo es bilingüe, como mínimo
No hay desafíos en la programación ya que nuestro equipo interno está realmente comprometido con el proyecto
Podemos garantizar una asignación de expertos en SAP Business One, o expertos en S/4HANA Cloud dependiendo de sus necesidades, ya que nuestro equipo tiene una media de 15 años de experiencia en la implementación de SAP
Ruta de escalado clara, todo interno en be one solutions
Un único punto de contacto para su sede central
¿Por qué be one solutions para sus implementaciones globales de SAP?
be one solutions es la elección correcta cuando se trata de sus ubicaciones en el extranjero. Nuestros más de 100 expertos, bien formados y con gran experiencia, están convenientemente ubicados en todo el mundo. Llevamos a cabo implementaciones globales de SAP, desde la plantilla, el piloto y el desarrollo, hasta el soporte 24/7 después de la puesta en marcha; por cierto, hablamos más de 15 idiomas.
También hemos implementado soluciones SAP en + de 500 filiales, en más de 60 países, gracias a nuestro equipo internacional de expertos. Con oficinas en Suiza, Alemania, Francia, Hong Kong, Japón, China, Brasil, Estados Unidos, Suecia, Singapur, México, Tailandia, Malasia, Filipinas y muchas otras oficinas en los demas países, estamos estratégicamente posicionados para respaldar sus requisitos globales.
No dé por sentada nuestra palabra, descubra nuestras referencias mundiales
A lo largo de los años hemos prestado servicios a muchas grandes empresas multinacionales de renombre con gran éxito. ¿Intrigado? Conozca nuestra experiencia a través de nuestros clientes.
Descubra cómo nuestra amplia experiencia puede ayudar a su empresa. Póngase en contacto con nosotros ahora.
Muchas gracias
Gracias por completar este formulario, nuestro equipo se pondrá en contacto