Stratégie de Rollout de logiciels ERP 1-Tier
Les One-Tier ERP sont conçus pour les entreprises multinationales ayant plusieurs départements et filiales mondiales. Les ERP 1-Tier sont conçus pour répondre aux besoins des entreprises de la liste Fortune 1000, dont les revenus se mesurent souvent en milliards. Ces ERP 1-Tier sont faits pour gérer la complexité dont les grandes entreprises multinationales ont besoin, par exemple en permettant à plusieurs personnes de traiter les mêmes tâches. SAP ECC ou SAP S/4HANA sont des logiciels ERP sophistiqués de ce type. En raison de leurs fonctionnalités, ces systèmes sont très complexes à configurer, leur mise en œuvre prend beaucoup de temps et ils sont dotés d'une multitude de fonctionnalités qui entraînent un coût initial élevé, ainsi qu'un coût total de possession (TCO) élevé. En comparaison, une entreprise plus petite serait submergée par le nombre d'étapes et la complexité générale.
Stratégie de Rollout du logiciel ERP 2-Tier
Le two-tier ERP est une stratégie adoptée par les grandes entreprises multinationales qui utilisent le Tier-1 ERP pour les processus communs de base au niveau de l'entreprise et le Tier-2 ERP pour les filiales de l'entreprise afin de répondre à des besoins spécifiques. Cette approche de l'ERP permet d'économiser de l'argent, car l'ERP 2-Tier est moins coûteux, et donne aux petits sites plus de contrôle, de flexibilité et d'agilité pour répondre à leurs besoins uniques et locaux. Dans une approche 2-tier ERP, telle que SAP Business One, la gestion des données de base nécessite une attention particulière pour s'assurer qu'il n'y a pas de duplication de données ou d'incohérences, que les fonctionnalités sont complètes et intuitives et que le système permet un haut niveau de personnalisation et d'agilité.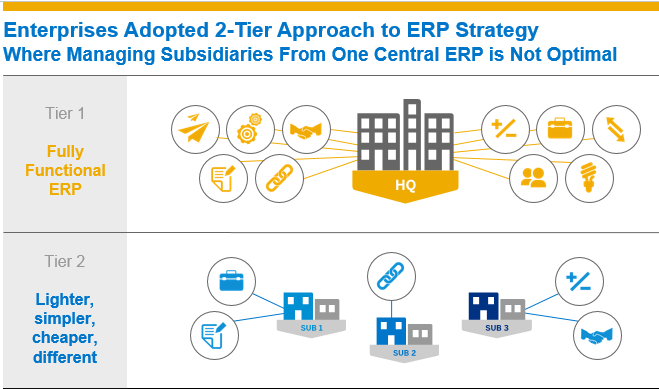 En écoutant les besoins de vos filiales, vous pourrez définir très clairement le type de système ERP dont elles ont besoin. Voici les objectifs et améliorations communs que les multinationales recherchent dans une solution pour leurs différentes filiales :
Rapidité du cycle de mise en œuvre
Facilité d'utilisation et de formation
Transparence des processus et des données
Harmonisation des processus et des données
Harmonisation des rapports
Intégration filiale à filiale, ou filiale à siège
Amélioration de l'organisation (approche des meilleures pratiques)
Mise en œuvre globale, de la conception au rollout
Un projet sera contrôlé par une équipe centrale, un groupe de personnes formidables qui savent ce qu'elles font - de votre côté et du nôtre, constitue le meilleur scénario possible. Ils et elles sont les fers de lance et dirigeront les équipes locales comme un bras étendu du siège afin de mener à bien le rollout dans les filiales respectives. Le point de départ est un "modèle", qui est ensuite mis en œuvre dans le site "pilote", suivi d'un flux de travail concret pour garantir que les prochaines filiales sont intégrées de manière judicieuse et efficace.
Notre propre méthodologie de projet, soigneusement conçue, passe par 5 phases clés, afin de garantir la meilleure livraison de la solution.
Tout d'abord, nous définissons le périmètre, rassemblons toutes les informations nécessaires et nous préparons essentiellement le lancement du projet avec votre équipe. Une fois prêts, nous donnons le coup d'envoi, approfondissons la définition de vos besoins, concevons votre modèle et formons vos utilisateurs clés. Une fois cette phase d'analyse terminée, nous passons à la construction de votre solution évolutive, avant de nous engager dans la phase de test d'acceptation. Il s'agit d'une étape cruciale qui permet de s'assurer que tout fonctionne et que tous les utilisateurs ont compris toutes les fonctionnalités du système ERP. Enfin, nous passons à la phase de mise en service, où nous fermons toutes les portes et livrons non seulement la solution, mais aussi un plan établissant que tout va bien une fois que nous avons terminé, et que votre équipe fonctionne de manière indépendante sur le logiciel ERP.
Support après mise en service
Bien sûr, nous ne disons pas « au revoir » sans jamais nous retourner. Notre équipe de support experte prend le relais et est là pour vous fournir la meilleure expertise, sur site ou à distance, par téléphone, email, Skype et même WhatsApp.
Nous disposons de trois pôles d'assistance dans le monde entier et d'une gestion centralisée des dossiers et des tickets pour une réduction maximale des coûts.
Après la mise en service, nos clients bénéficient d'un service d'assistance 24/7 dans le monde entier, en anglais, ainsi que dans plus de 18 langues locales pendant les heures de bureau. Pour un contrôle maximal et une transparence totale des tickets ouverts et du budget des clients, nous fournissons des appels mensuels de révision de la gestion du support, des rapports d'activité mensuels, des tableaux de bord et une analyse du budget du support. N'hésitez pas à nous contacter si vous souhaitez en savoir plus sur notre offre de support mondial !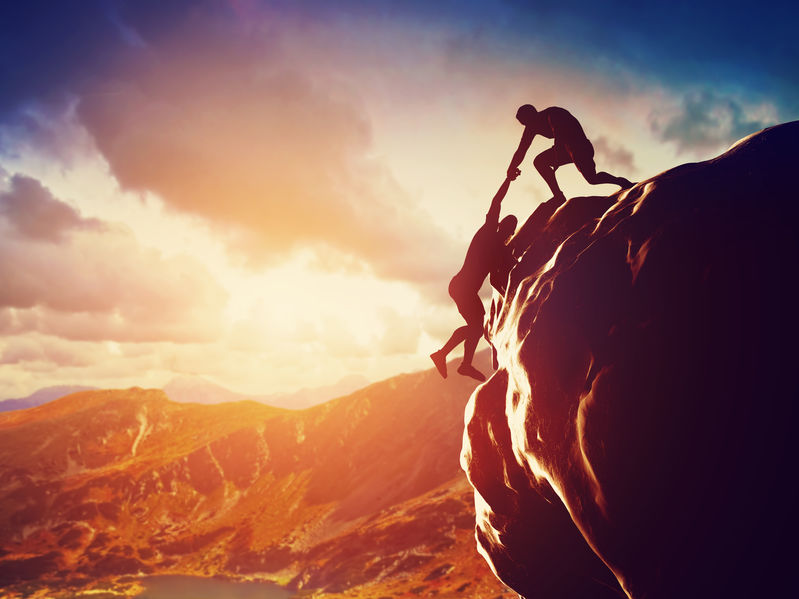 Principaux avantages d'un véritable fournisseur mondial à part entière
Nous effectuons le rollout nous-mêmes, sans l'intervention de tiers. Cela signifie que nos propres employés, qui font partie de notre personnel - ressources mondiales, régionales et locales - sont là où vous avez besoin d'eux et quand vous en avez besoin. Il s'agit de présenter « un seul visage au client » . Voici ce que signifie pour nos clients le choix d'un fournisseur mondial à part entière et véritable :
Le modèle est réalisé avec l'équipe centrale
Le pilote est géré par l'équipe principale, avec la participation de l'équipe locale à la demande.
Les rollout sont gérés par les équipes locales, l'équipe centrale contrôlant l'aspect principal de la gestion de projet.
Notre équipe locale fait partie de be one solutions et connaît donc parfaitement notre méthodologie.
Pas de problème de communication ni d'incompréhension, car toute notre équipe est au minimum bilingue.
Aucun problème de calendrier, car notre équipe interne est réellement engagée dans le projet.
Nous pouvons garantir l'affectation d'experts SAP Business One ou S/4HANA Cloud en fonction de vos besoins, car notre équipe a en moyenne 15 ans d'expérience dans la mise en œuvre de SAP.
Une voie d'escalation claire, totalement en interne chez be one solutions
Un point de contact unique pour votre siège social
Pourquoi be one solutions pour vos rollout SAP à l'échelle mondiale ?
be one solutions est le bon choix lorsqu'il s'agit de vos implantations à l'étranger. Nos plus de 100 experts bien formés et très expérimentés sont répartis dans le monde entier. Nous réalisons des rollout SAP à l'échelle mondiale - depuis le modèle, le pilote, le développement, jusqu'à l'assistance en direct 24 heures sur 24 et 7 jours sur 7 - et nous parlons d'ailleurs plus de 18 langues. Nous avons également mis en œuvre des solutions SAP dans plus de 500 filiales dans plus de 60 pays, grâce à notre équipe internationale d'experts.
Avec des entités juridiques en Suisse, en Allemagne, en France, au Royaume-Uni, en Suède, au Brésil, aux États-Unis, au Mexique, à Singapour, à Hong-Kong, au Japon, en Chine, en Thaïlande, en Malaisie, aux Philippines, en Corée du Sud, à Taïwan et dans de nombreux autres pays, nous sommes stratégiquement positionnés pour répondre à vos besoins mondiaux.
Ne nous croyez pas sur parole, découvrez nos références mondiales.
Au fil des ans, nous avons servi avec beaucoup de succès de nombreuses grandes sociétés multinationales bien connues. Curieux d'en savoir plus ? Découvrez notre expertise à travers nos clients.
Découvrez comment notre riche expertise peut aider votre entreprise. Contactez nous maintenant.
Merci
Merci de remplir le formulaire, notre équipe vous contactera