Pourquoi devrais-je choisir SAP Business One pour ma filiale ?
SAP Business One est une solution ERP complète, parfaitement conçue pour permettre à votre entreprise de taille moyenne et à vos filiales de fonctionner sans problème, même dans les endroits les plus exotiques de la planète. SAP Business One est une application de gestion d'entreprise intégrée et abordable. Il s'agit d'un système unique qui peut automatiser les opérations commerciales essentielles.
Gérez et développez votre entreprise avec succès grâce à une vue unique de votre activité pour vous aider à garder le contrôle.
Une solution complète et personnalisable. Parce que chaque entreprise est différente, SAP Business One est conçu dans un souci de flexibilité ; vos employés peuvent l'utiliser dès le premier jour. Et à mesure que votre entreprise se développe, vous pouvez personnaliser et étendre SAP Business One pour répondre à l'évolution de vos besoins
Maîtrisez totalement vos finances - vous pouvez accélérer les transactions et améliorer la visibilité des flux de trésorerie
Créer une base de clientèle fidèle par la vente et la gestion des clients
Optimiser les achats et les approvisionnements pour augmenter les marges grâce à la maîtrise des achats et des stocks
Contrôle transparent des stocks et de la distribution grâce à la planification de la production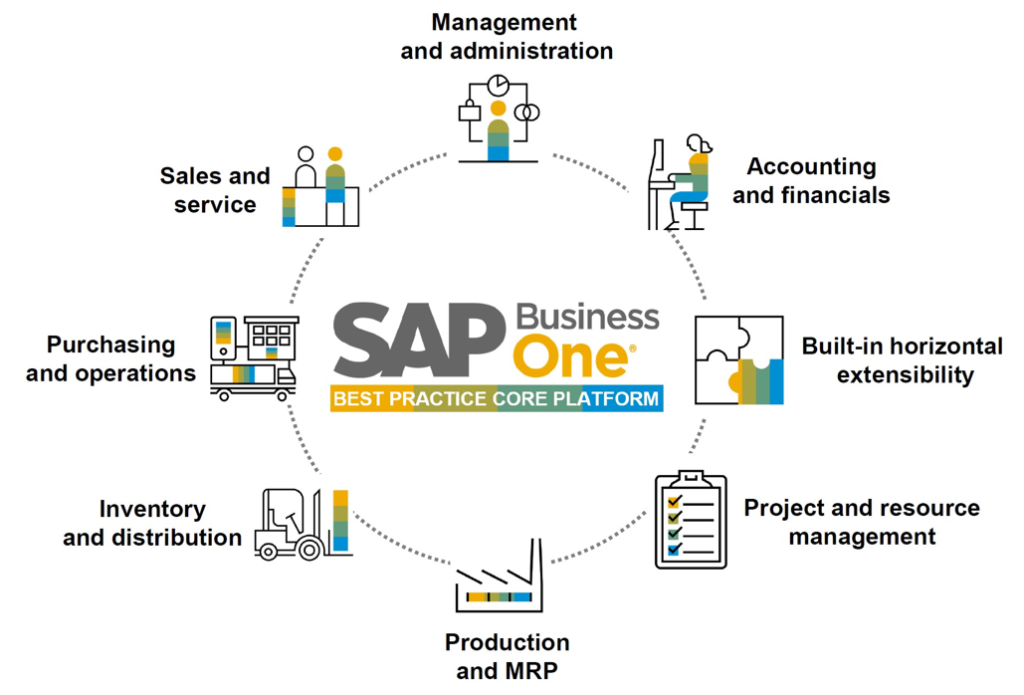 INTÉGRATION AVEC SAP BUSINESS ONE
Permet une intégration prête à l'emploi de SAP Business One et de SAP ERP ou SAP BI
Scénarios d'intégration commerciale préconfigurés et configurables (données de base, interentreprises, entrepôt commercial)
Destiné aux clients en cours d'exécution (SAP ECC ou S/4 et SAP BI (BW) au siège, SAP Business One dans les filiales)
Technologie d'intégration des petites entreprises, basée sur un modèle
Développement avec SAP BUSINESS ONE
Le kit de développement logiciel SAP Business One (SDK) fournit un ensemble complet d'outils pour les développeurs de logiciels professionnels.
Maximisez votre investissement informatique en adaptant SAP Business One à vos besoins particuliers, en rationalisant et en automatisant les processus, en intégrant des applications externes.
Tirez parti des compétences existantes de votre équipe de développement et élaborez rapidement des solutions qui apportent une valeur tangible à votre organisation (compatible avec Microsoft .NET, Microsoft Component Object Model (COM) et les technologies Java)
DÉCOUVREZ POURQUOI NOS CLIENTS NOUS ONT CHOISI:
PLUS D'INFO SUR CETTE SOLUTION
L'EXPERTISE BE ONE SOLUTIONS
Nos Solutions Métier pour SAP B1

Ne laissez plus les performances de votre entreprise être affectées par l'absence d'un système de gestion d'entrepôt (WMS). Nos solutions exclusives répondent aux défis auxquels votre entrepôt est confronté.

Les concessionnaires et les distributeurs doivent pouvoir communiquer par le biais de systèmes simples et transparents. DMS propulse cette relation à un niveau supérieur grâce à notre système de gestion des distributeurs intuitif et basé sur le Cloud.

Fabrication à flux tendu avec SAP Business One. Notre puissant module be one Manufacturing permet d'éliminer la complexité des choses. Il permet d'accéder facilement à l'une des parties les plus vitales de votre entreprise.
Merci
Merci de remplir le formulaire, notre équipe vous contactera
Nous sommes une bande de passionnés ensemble
Comment pouvons-nous vous aider?