Sobre o SAP Business One
SAP Business One é uma solução ERP completa, perfeitamente projetada para deixar sua pequena e média empresa & subsidiárias rodarem sem problemas - mesmo nos lugares mais exóticos do planeta.
SAP Business One é um sistema de gestão integrada simples e acessível, que pode automatizar operações críticas de negócios, como vendas, finanças, compras, estoque e manufatura.
O sistema ERP fornece informações precisas e atualizadas do seu negócio, facilitando seu gerenciamento e tomadas de decisões. SAP Business One é fácil de comprar, rápido de implementar e fácil de usar.
Uma solução completa e personalizável. Como todos os negócios são diferentes, o SAP Business One foi projetado com flexibilidade em mente; seus funcionários podem começar a usá-lo desde o primeiro dia e, à medida que sua empresa cresce, você pode personalizar e estender o SAP Business One para atender às suas necessidades em evolução.
Gerencie e expanda seus negócios com sucesso, com uma única exibição de negócios, para ajudá-lo a manter o controle.
Crie uma base de clientes fiéis por meio de vendas e gerenciamento de clientes.
Otimize a gestão para aumentar as margens com o controle de compras e estoque.
Mantenha o controle e a distribuição do estoque transparentes, usando o planejamento da produção.
O SAP Business One integra-se perfeitamente ao SAP ECC ou S / 4 HANA. Sim, é "SAP", exceto sem a complexidade e o alto custo desse "grande" sistema ERP, portanto, é um fato que o SAP Business One significa um baixo TCO, um ROI rápido e planos de implementação já comprovados.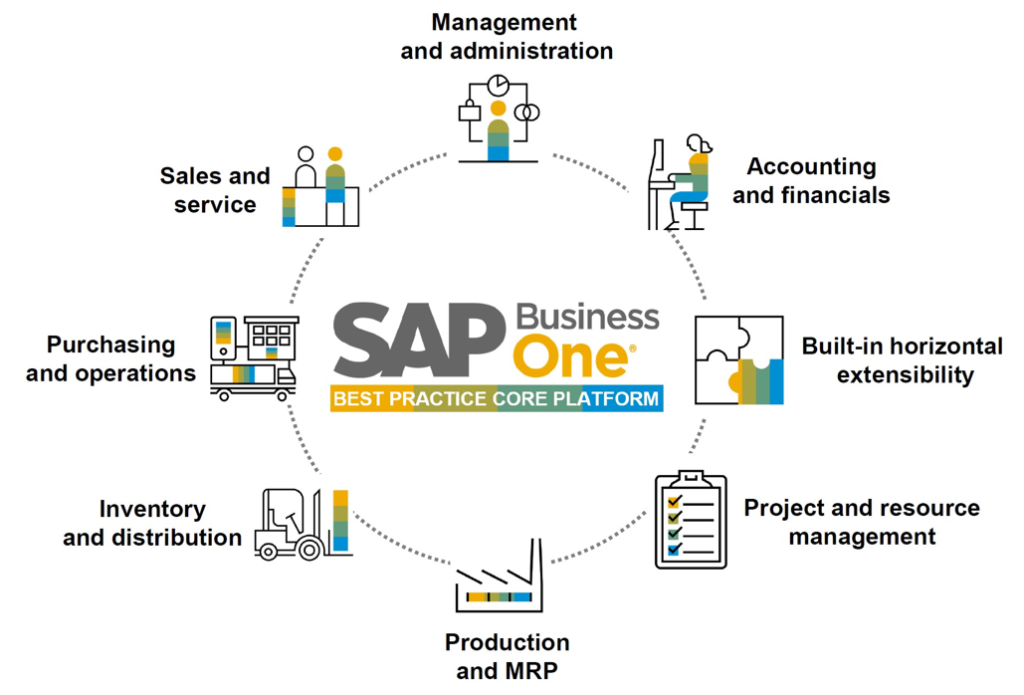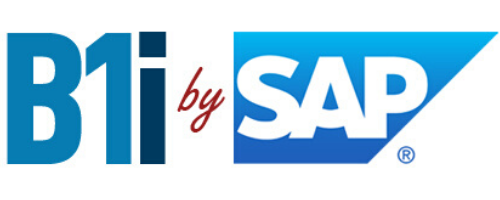 INTEGRAÇÃO COM SAP BUSINESS ONE
Permite a integração do SAP Business One e SAP ERP ou SAP BI, com cenários de integração de negócios configuráveis e pré-configurados.
- Cadastros;
- Intercompany;
- Depósitos;
- Destinados a clientes que executam;
- SAP ECC ou S/4 e SAP BI (BW) nas Matrizes;
- SAP Business One nas subsidiárias;
- Tecnologia de integração de pequenas empresas baseada em modelos.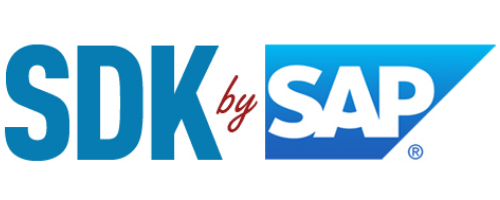 DESENVOLVIMENTO COM SAP BUSINESS ONE
O Software Development Kit (SDK) do SAP Business One fornece um conjunto completo de ferramentas para desenvolvedores de software. O SDK maximiza seu investimento em TI, permitindo que você adapte o SAP Business One às suas necessidades específicas, otimizando e automatizando muitos processos e integrando aplicativos externos. Construído em uma plataforma baseada em padrões compatíveis com o Microsoft .NET, tecnologias COM (Component Object Model) e Java, o SDK permite que você aproveite as habilidades existentes de sua equipe de desenvolvimento e construa rapidamente soluções que tragam valor tangível para sua organização.
Confira nossos cases de sucesso e descubra por que essas empresas escolheram a be one solutions para implementar o SAP Business One!
MAIS SOBRE SAP BUSINESS ONE
MAIS SOBRE BE ONE SOLUTIONS

Não deixe que o desempenho do seu negócio seja afetado pela falta de um Warehouse Management System (WMS). Nossas soluções exclusivas atendem aos desafios que seu depósito encontra.

be one DMS é simples e poderoso, com máxima eficiência para pequenas & médias subsidiárias espalhadas pelo mundo. Além disso, possui rápidos ciclos de implementação baseados em abordagens Out of Box, mais cenários de integrações em emendas.

be one Manufacturing para SAP Business One® é totalmente orientado a resultados. É simples, prático e poderoso, além de ajudar a eliminar a complexidade das coisas e proporcionar fácil acesso a uma das partes mais vitais do seu negócio: manufatura.
Obrigado
Obrigado por preencher o formulário, nossa equipe entrará em contato.