Vous en avez assez de saisir et de gérer manuellement vos données ? Vous avez l'impression que votre système actuel manque de fonctionnalités spécifiques à l'automobile ?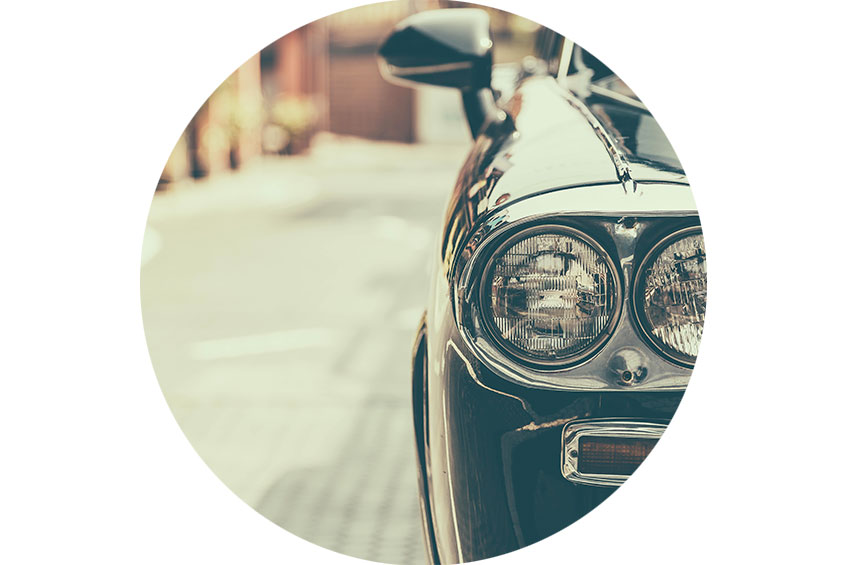 Vous voulez un ensemble de solutions plus complet ?
Nous comprenons qu'être dans le secteur de la vente de véhicules nécessite un système plus complexe et plus pratique pour répondre à vos besoins. Si vous ne disposez pas d'un système qui vous aide à gérer vos filiales, vous risquez de saisir les données manuellement, ce qui est non seulement inefficace et fastidieux, mais aussi vous expose à des erreurs humaines. Si vous utilisez déjà une solution standard, il est fort probable qu'elle ne comporte pas de fonctionnalité de données de base sur les véhicules, et/ou vous pouvez en sentir les limites lorsque vous constatez un dysfonctionnement dans le flux de gestion des véhicules au sein de votre structure. De plus, votre solution actuelle peut être incapable de gérer les commissions et les remises spécifiques à l'industrie automobile, ou peut manquer de rapports relatifs à l'industrie automobile.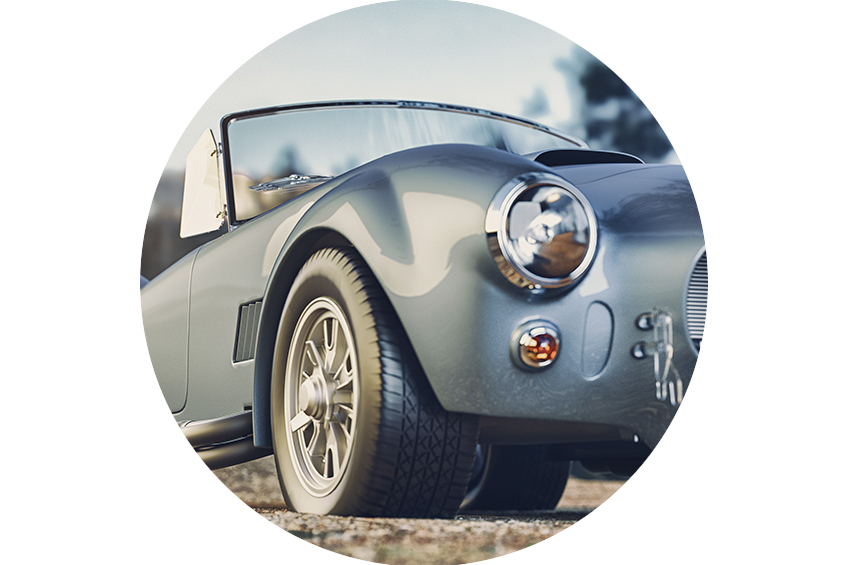 be one solutions en tant que votre fournisseur d'intégration verticale dans le secteur automobile
Si vous êtes confronté à l'un de ces défis ou si vous recherchez une solution verticale plus complète et plus rentable pour opérer dans l'industrie automobile, notre Automotive Vertical System est la solution idéale pour vous. Comme votre temps est précieux, notre solution unique est entièrement intégrée à SAP Business One et dotée de capacités polyvalentes pour répondre à tous les besoins spécifiques de votre entreprise du secteur automobile.
NOTRE SOLUTION VOUS OFFRE DES FONCTIONNALITÉS SPÉCIFIQUES À L'AUTOMOBILE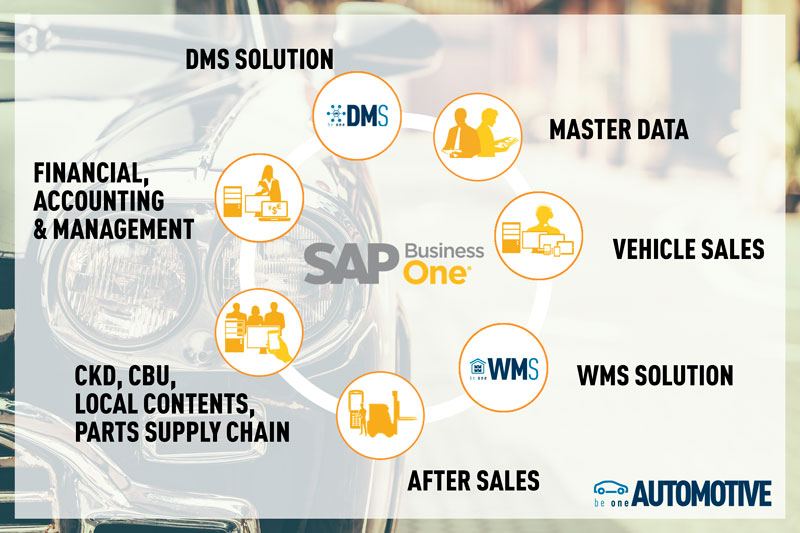 Les fonctionnalités de notre solution s'appliquent directement à vos besoins spécifiques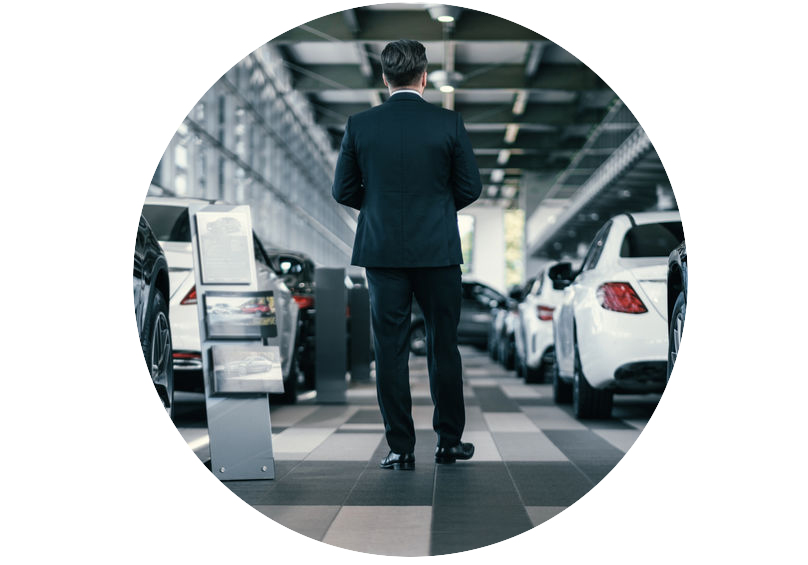 POURQUOI NOS CLIENTS NOUS ONT CHOISI COMME FOURNISSEUR D'INTÉGRATION VERTICALE DANS LE SECTEUR AUTOMOBILE ?
« Outre le fait de disposer du bon logiciel applicatif, il est tout aussi important d'avoir le bon partenaire. Ce dont nous avions besoin, c'était d'un partenaire bien informé et ayant fait ses preuves dans la mise en œuvre de SAP Business One dans un environnement automobile tel que le nôtre. be one solutions cochait toutes ces cases ! »
Chia Nam Liang, CIO chez Hap Seng
« Avec be one solutions et sa solution pour l'industrie automobile, nous avons pu simplifier notre processus afin de répondre plus rapidement aux changements du marché ! »
Mary Ann Chan Ai-Lyn, Controlling Manager chez Hap Seng 
« Nous devions trouver une solution qui permette de s'adapter facilement aux exigences en matière de localisation, de législation et d'automobile. L'approche agile et rapide mise en place par be one solutions et leur solution pour l'industrie automobile a permis de réaliser le projet dans les temps et dans les limites du budget ! »
Ayca Abaci, ITC / AP, Product Development & Production chez Mitsubishi Fuso Truck & Bus Corporation 
Notre solution d'intégration verticale SAP Automobile (Automotive Vertical) a été développée aux côtés des leaders de l'industrie automobile, en suivant leurs meilleures pratiques. Les nombreuses années d'expérience de notre équipe dans des secteurs spécifiques font de nous le meilleur choix en tant que fournisseur de solutions d'intégration verticale pour le secteur automobile.
be one solutions est l'un des plus importants partenaires de SAP, spécialisé dans la réussite des stratégies, mises en œuvre et support au niveau mondial. Notre grande expérience s'accompagne d'une connaissance approfondie de l'industrie automobile grâce à notre équipe multinationale et nos relations.
EN SAVOIR + SUR SAP BUSINESS ONE
EN SAVOIR + SUR BE ONE SOLUTIONS
Les autres add-ons compatibles avec SAP Business One

Ne laissez plus les performances de votre entreprise être affectées par l'absence d'un système de gestion d'entrepôt (be one WMS). Nos solutions exclusives répondent aux défis auxquels votre entrepôt est confronté.

Les concessionnaires et les distributeurs doivent pouvoir communiquer par le biais de systèmes simples et transparents. be one DMS propulse cette relation à un niveau supérieur grâce à notre système de gestion des distributeurs intuitif et basé sur le Cloud.

be one Manufacturing pour SAP Business One - simplement axé sur les résultats ! Notre module complémentaire de production allégée, mais puissant, permet d'éliminer la complexité des choses. Il permet d'accéder facilement à l'une des parties les plus vitales de votre entreprise.
Merci
Merci de remplir le formulaire, notre équipe vous contactera
Nous sommes une bande de passionnés ensemble
Comment pouvons-nous vous aider?