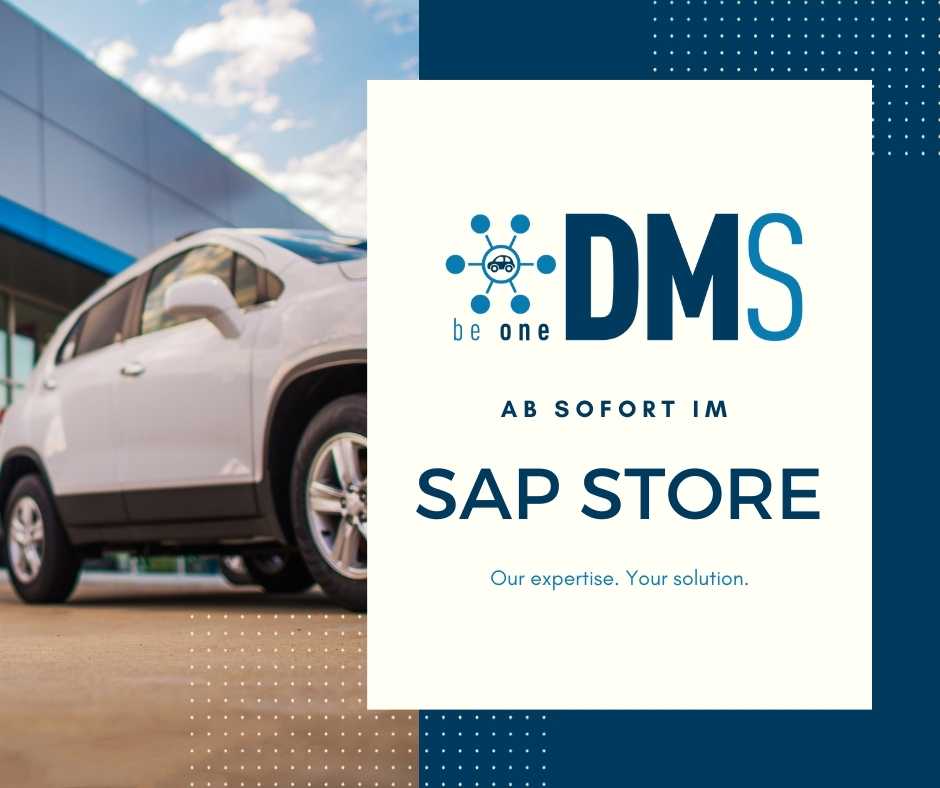 Durch die Integration in SAP Business One bietet be one DMS von be one solutions bessere Transparenz, höhere Effizienz und eine durchgängige Einbindung von Händlernetzwerken
Hongkong - 17. Mai 2021 - be one solutions gab heute bekannt, dass seine be one DMS (Dealer Management System)-Lösung ab sofort im SAP Store, dem Online-Marktplatz für SAP- und Partnerangebote, verfügbar ist. be one DMS integriert sich in SAP Business One und bietet Lösungen für branchenspezifische Herausforderungen, sowie eine spürbar verbesserte Transparenz, höhere Effizienz und eine durchgängige Einbindung von Händlernetzwerken.
"Durch die Integration in SAP Business One schafft be one DMS einen einzigartigen "Single Point of Truth" zwischen Händlern und Distributoren", betont Olli Kylänpää, Regional Director Asia, be one solutions.
be one DMS ist je nach Bedarf des Anwenders leicht skalierbar und liefert klare Berichte aus dem Händlernetzwerk. Darüber hinaus bietet be one DMS einen effektiven Prozessablauf, umfassende Transparenz aller Vorgänge, Business Intelligence und Reporting-Funktionen für die gesamte Lieferkette.
Zu den Kernfunktionen von be one DMS gehören:
Garantie-Management
Bestell-Management für Einzelteile
Auftragsverwaltung für Fahrzeuge
Administrative Funktionalitäten
Der SAP Store unter store.sap.com, bietet eine vereinfachte und vernetzte digitale Kundenerfahrung für das Suchen, Testen, Kaufen und Aktualisieren von mehr als 1.800 Lösungen von SAP und seinen Partnern. Dort finden Kunden SAP-Lösungen und von SAP geprüfte Partneranwendungen, die den Anforderungen ihres Unternehmens entsprechen. Und für jeden Kauf, der über den SAP Store getätigt wird, wird SAP einen Baum pflanzen.
be one solutions ist ein Partner im SAP PartnerEdge-Programm. Als solcher ist be one solutions qualifiziert, Softwareanwendungen auf Basis der marktführenden Technologieplattformen von SAP zu entwickeln, zu vermarkten und zu verkaufen. Das SAP PartnerEdge-Programm bietet die nötigen Werkzeuge, Vorteile und Unterstützung, um qualitativ hochwertige, innovative Anwendungen zu entwickeln, die auf spezifische Geschäftsanforderungen zugeschnitten sind - schnell und kosteneffizient. Das Programm bietet Zugang zu allen relevanten SAP-Technologien in einem einfachen Rahmen und unter einem einzigen, weltweit gültigen Vertrag.
Über be one solutions
be one solutions setzt auf die fruchtbare Zusammenarbeit mit großen, multinationalen Konzernen, die einfache, aber dennoch leistungsstarke, globale Lösungen für ihre kleinen und mittelgroßen Tochtergesellschaften einführen wollen. In den vergangenen zehn Jahren haben wir umfangreiche Erfahrungen bei der Implementierung von ERP-Systemen und deren Rollout-Prozess auf globaler Ebene gesammelt, sowohl mit 2-Tier- als auch 1-Tier-Strategien.
Unser Dealer Management System wurde zusammen mit führenden Unternehmen der Automobilbranche entwickelt und folgt deren "Best Practices". be one DMS gibt Ihnen die Möglichkeit, eine branchenspezifische Lösung für Ihr expandierendes Unternehmen zu finden, und unterstützt Ihre Mitarbeiter dabei, intelligente Entscheidungen schneller zu treffen.
Wenn es um individuelle Anforderungen geht, ist be one solutions ein bewährter SAP-Partner.
SAP und andere im Text erwähnte SAP-Produkte und -Dienstleistungen sowie die entsprechenden Logos sind Marken oder eingetragene Marken der SAP SE in Deutschland und anderen Ländern. Weitere Informationen und Hinweise zu Marken finden Sie unter https://www.sap.com/copyright. Alle anderen erwähnten Produkt- und Servicenamen sind Marken der jeweiligen Unternehmen.
Any statements in this release that are not historical facts are forward-looking statements as defined in the U.S. Private Securities Litigation Reform Act of 1995. All forward-looking statements are subject to various risks and uncertainties described in SAP's filings with the U.S. Securities and Exchange Commission, including its most recent annual report on Form 20-F, that could cause actual results to differ materially from expectations. SAP cautions readers not to place undue reliance on these forward-looking statements which SAP has no obligation to update and which speak only as of their dates.
Weitere Informationen: Für weitere Anfragen können Sie gerne jederzeit be one solutions kontaktieren.
Ihr Unternehmen verdient das Beste, und wir sind hier, um es zu liefern.
Kontaktieren Sie uns heute.