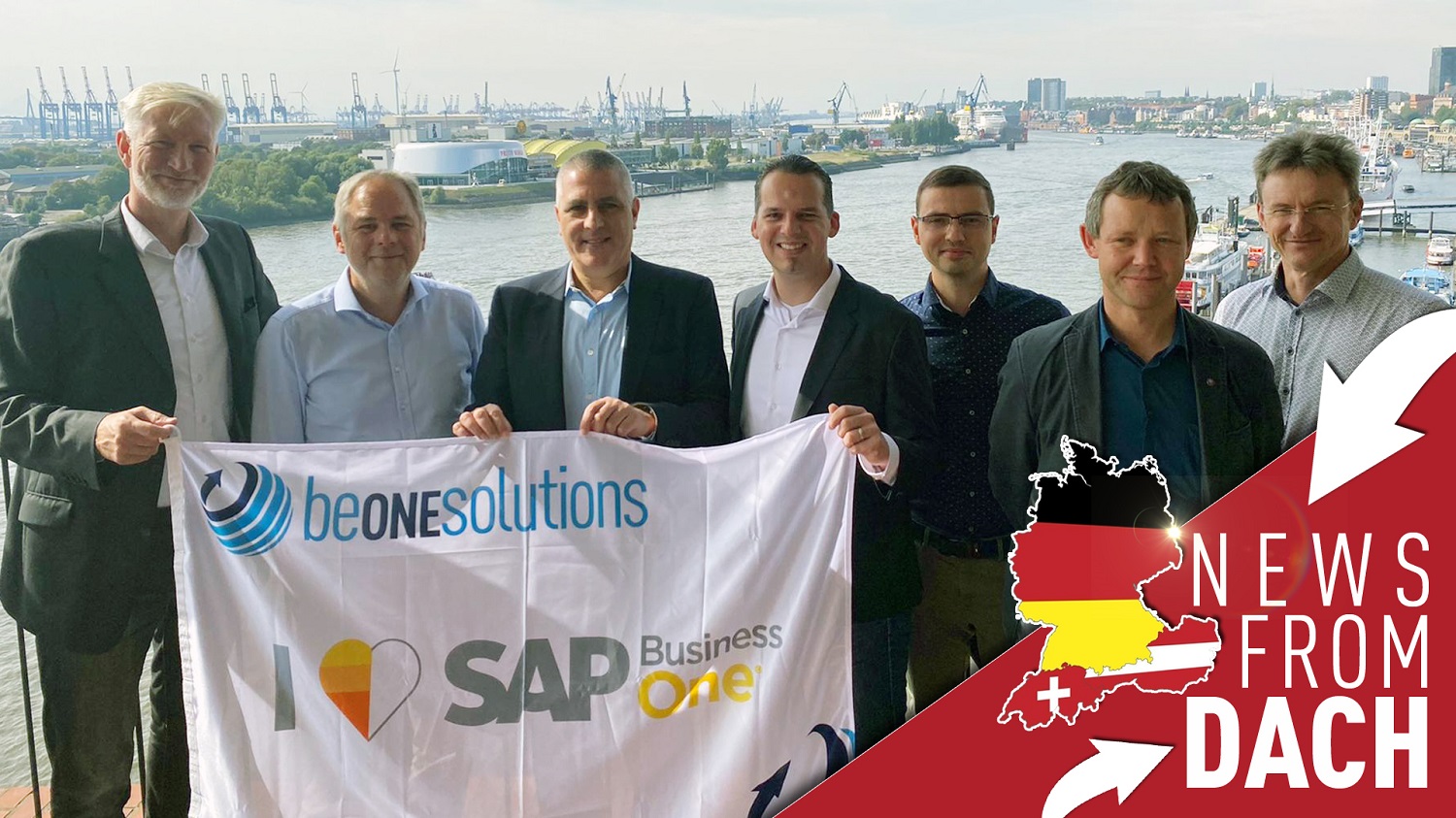 Since 2009, be one solutions has positioned itself very uniquely as leaders in global SAP Business One® rollouts for large, multinational companies and their worldwide subsidiaries. As a matter of fact, Germany has been a solid cornerstone in this approach since day one. 10+ years later, the German market has expanded greatly and the entire DACH region keeps prospering accordingly. One good example in this respect is the arrival of Olaf Borke, who is leading our activities as Regional Manager DACH. So, it is fair to say, that we are headed for new heights.
This week's DACH steering meeting (picture above) was the first official get-together at our newly inaugurated be one solutions office in Hamburg/Germany. Along with our presence in the south, and our German speaking staff spread throughout the country, chances are that we are around the corner, indeed. Olaf Borke, who welcomed the entire German speaking staff, along with Uzi Halfon (CEO) and Rainer Vischer (VP) for a full day in the heart of the vibrant city-state, told us:
Hamburg is yet another milestone in over a decade of targeted efforts to position be one solutions as the global SAP rollout experts. Since we opened up shop in the renowned "Hanse-Viertel", we have received fantastic feedback from SAP, existing customers – even some potential clients commented already that they appreciate our expansion in the northern part of the country. After all, same as with everybody else around the world, our German clients trust us for our ability to understand their country specific requirements. Moreover, while "speaking their language", they can also depend on us to provide the best fit resources to assist them with projects just about anywhere on the planet. To me, it's simply an amazing global journey with a solid local anchor. I am extremely excited being part of this ride on German soil – stay tuned about our activities over here!
Bottom line, Germany marks a special place for us. SAP's Headquarters are situated there, our roots are deeply nested in DACH and over the past years, we have been able to demonstrate a significant development path in Germany, as well as the entire region. And it is true, some of our biggest clients (e.g. MAN Energy Solutions, BASF, etc.) are based in Germany, however there is so much more potential still.
That's why we must and will keep expanding our activities there, respectively all over DACH. Ladies and Gents, doors are officially open for business right smack in the center of beautiful Hamburg/Germany. Looking forward to working together!
Make sure to reach out to our German team and do drop by for a chat about your global rollout requirements at our new, bright & shiny Hamburg office.
By the way, if you want to read more about be one solutions in Hamburg, the rest of Germany and news updates from our operations in other parts of the world, please follow us on LinkedIn, Facebook, Twitter & Instagram or check out some of our customer testimonials.