A Unique SAP Global Partner
More than your average SAP partner, be one solutions is a prime example of global cooperation, specialized in successful worldwide blueprints, SAP implementation and support.
For 10+ years now, we have been doing global SAP rollouts. From template to pilot and development, from launch to 24/7 post-go-live support, we manage all steps from A to Z. Growing each year with more experience and knowledge, acquired by working extremely close with a multitude of international clients, we have established our very own cutting-edge SAP Large Enterprises Rollout Methodology. We are true global SAP rollout experts and not only SAP recognize us as such, but a staggering 95% of our customers reference us.
On top of speaking 18 languages, we are represented on 5 continents. With locations in Switzerland, Germany, France, Hong-Kong, Japan, China, Brazil, the United States, Sweden, Singapore, Mexico, Thailand, Malaysia, Philippines, Taiwan and many further country offices, be one solutions is strategically positioned to support all of your global requirements.
Indeed, be one solutions is a healthy and flourishing company, focused on efficiency and with extraordinary individuals wearing passion as their daily uniforms.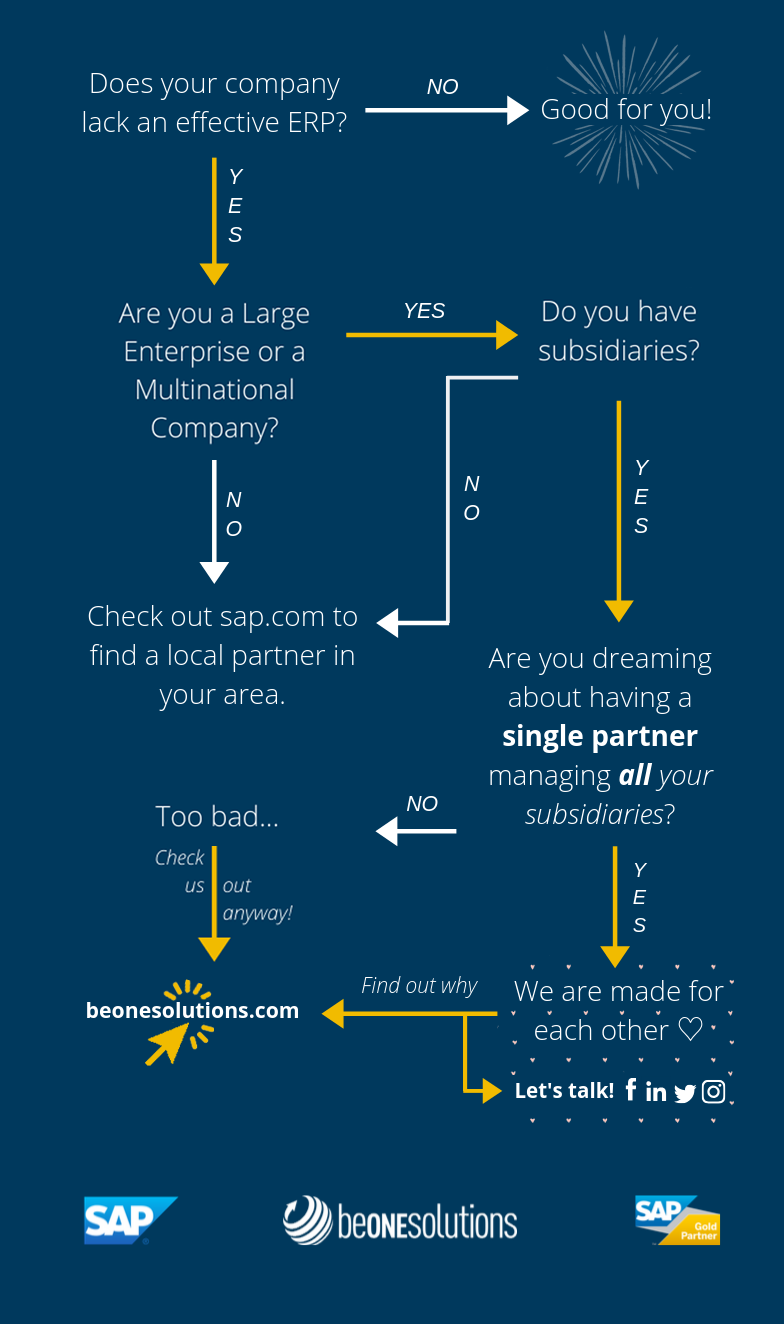 A Global, Hand-Picked Team
Great things in business are never done by just one person: they are done by a team of people. At be one solutions, we select our employees carefully, vetting their skillset and experiences, and we make sure to keep them happy from day one. It is no secret that happy folks give better result and our people are at their best.
Speaking of human resources, our 100+ well trained and highly experienced experts are conveniently located all over the world. They collaborate globally with each other in the spirit of fast and qualitative delivery. It is a fact, what makes be one solutions special is, for a big part, the inhouse brainpower and skillsets that come hand in hand with the dedication and motivation of our employees.
Did you know that our consultant pool is staffed with former SAP managers and top-notch SAP specialist that showcase rich experience in their respective fields? They are using both our ground-breaking global manufacturing and logistic approach, plus our SAP integration expertise, all while being able to reach out to a strong and world-spanning SAP backbone whenever necessary.
Furthermore, our development team is made up of former System Architects and SDK experts from SAP, with years and years of developing experience for SAP products. They are key when it comes to developing customized add-ons, for example.
An all-around global support service is always ready and prepared to jump in after go-live, or whenever and wherever you need it. Just to emphasize, you will be in the experienced hands of former SAP employed support experts. By the way, our support staff is maintaining great relationships with SAP's support teams.
In essence, over a decade of experience in project management, development and implementation of ERP solutions as well as proven success supporting worldwide customers shaped be one solutions into the global consulting powerhouse it is today.
If you still have any doubts about our ability to support your global needs, check out our infographic and get in touch to discover how we can help you manage all your subsidiaries with ideal solutions for working 2-tier approaches.