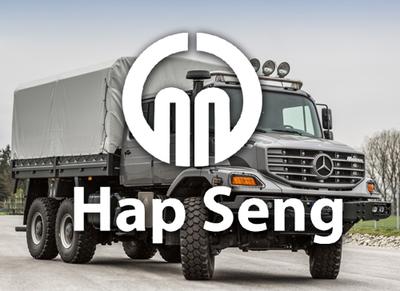 Learn More About Our Latest Customer Success Case in Malaysia
be one solutions is known for its global SAP implementation expertise. As a matter of fact, our vision of developing a sophisticated "Large Enterprise Rollout Methodology" is meanwhile reality, backed by numerous big, multinational clients, that trust in us and appreciate our deliverables. Before, during and after go-live that is. Indeed, the tools we choose are state-of-the-art and click right into best-practice behaviour. Whether it is SAP Business One, our very own industry solutions, or the newest member within our offering, SAP S/4HANA - we got a lot in store for you when it comes to tailored & functioning 2-tier ERP approaches.
One prime example of our work and success with SAP Business One around the world is Kuala Lumpur based Hap Seng Trucks Distribution Sdn Bhd, which is a general distributor of Daimler Trucks in Malaysia, a wholly-owned subsidiary of Hap Seng Consolidated Berhad (HSCB). HSCB is a public company listed on the Main Market of Bursa Malaysia Securities Berhad. HSCB is a diversified conglomerate with six core businesses - plantations, property investment and development, credit financing, automotive, fertilizers trading and building materials.*
Some time ago we sat down with Chia Nam Liang (CIO), Mary Ann Chan Ai-Lyn (CV Controlling Manager) and Tan Siok Chu (Senior Manager – Head of IT Application) of Hap Seng to find out why they decided for SAP Business One and be one solutions as their implementation partner. Here is what they told us in a nutshell – make sure to also watch the entire interview on YouTube.
Hap Seng x SAP Business One
Why did you implement SAP Business One?
From the point in time when the contract was signed until go-live, Hap Seng only had 6 months. This is an incredibly tight timeline, especially due to the fact that the project was a greenfield approach. There was absolutely no room for delays or mistakes. Hap Seng needed a proven software application that can be implemented in such a short span and at the same time, the solutions needed to be able to support all vital business operations ranging from import, production & assembly, to vehicle distribution, all the way to sales. SAP Business One simply met all requirements.
How do you use the solution and what are the most important functionalities for you?
We implemented the production module to replace the manual excel monitoring and tracking of production activities.
What is the impact of this implementation and what has changed in the way you are doing business?
The implementation enabled the users to review the previous process, enhanced productivity and simplified the processes while maintaining the essential business requirements.
What are the biggest benefits that came out of this project?
SAP Business One provided HSTD with the ability to start up operations from scratch in a matter of only 6 months.
The solutions was able to fulfill all our operations' needs throughout our entire supply chain with very few customizations
Ideal end to end activities integration make the overall process more transparent and subsequently improve the accuracy and productivity
System availability to production staff, who are now able to reduce the manual workload
Increased focus on the value-added activities.
Hap Seng x be one solutions
Why did you choose be one solutions as SAP implementation partner?
Apart from having the right application software, having the right implementation partner is equally important. We had only little time to get this up and running, so we needed a partner that is both knowledgeable and has a proven track record – not only for implementing SAP Business One, but also with deep insights into an automotive environment. be one solutions was able to step up to the challenge and provide us with consultants that have handled similar projects before.
What's your feedback on overall service quality delivered by be one solutions?
be one solutions was able to help us get this whole project up and running on time and smoothly in a matter of half a year, without any major issues, which for a very tight project of such nature is fantastic. be one solutions is very responsive and attentive to user's requirements. We are satisfied with the services provided, especially their reliability.
What are the key points that made this project a success?
Great teamwork between Group IT, our business users and be one solutions
Excellent project management
Knowledgeable and experienced technical team who understands the business' needs
Users' requirements are clear to the project team
Fantastic support and quick decisions from the Steering Committee comprising of top management from both Daimler and Hap Seng
In addition, we find be one solutions to be business friendly and flexible, thus enabling issues to be openly discussed and resolved quickly.
Has the support you've received by be one solutions after go-live met your expectations?
Yes, absolutely. We are comfortable with the AMS team – the feedback from our users is very positive.
How has be one solutions' automotive vertical solution helped you and would you recommend be one solutions to other automotive companies?
Indeed, be one solutions' automotive vertical solution is a quick and simple system to kick start with some basics when it comes to automotive business requirements. It captures the vehicle movement and details from raw material to finished goods and finally sales topics. This solution creates the transparency and control functionality to protect assets. All the users share the same information based on their accessiblitiy to the system and enhance the communication among the team. It is an ideal fit for medium scale automotive companies. So, in short, yes, we certainly are happy to recommend be one solutions to other automotive companies.
Any other comments you would like to share regarding your experience working with be one solutions?
Prior to the Business Transfer Agreement, we had a very short window of about 1-2 months to evaluate, negotiate and finalize the project plan. In this regard, be one solutions was very committed, has been very responsive and worked with us intensely to finalize everything just in time before the BTA was signed. Overall, working with be one solutions means good communication and full support, beginning to end – it was just a great working experience.
*Source of HSTD & HSCB company info: Hap Seng's LinkedIn page
be one solutions, your SAP implementation expert, is attentive to your needs for all your ERP projects. Feel free to contact us!