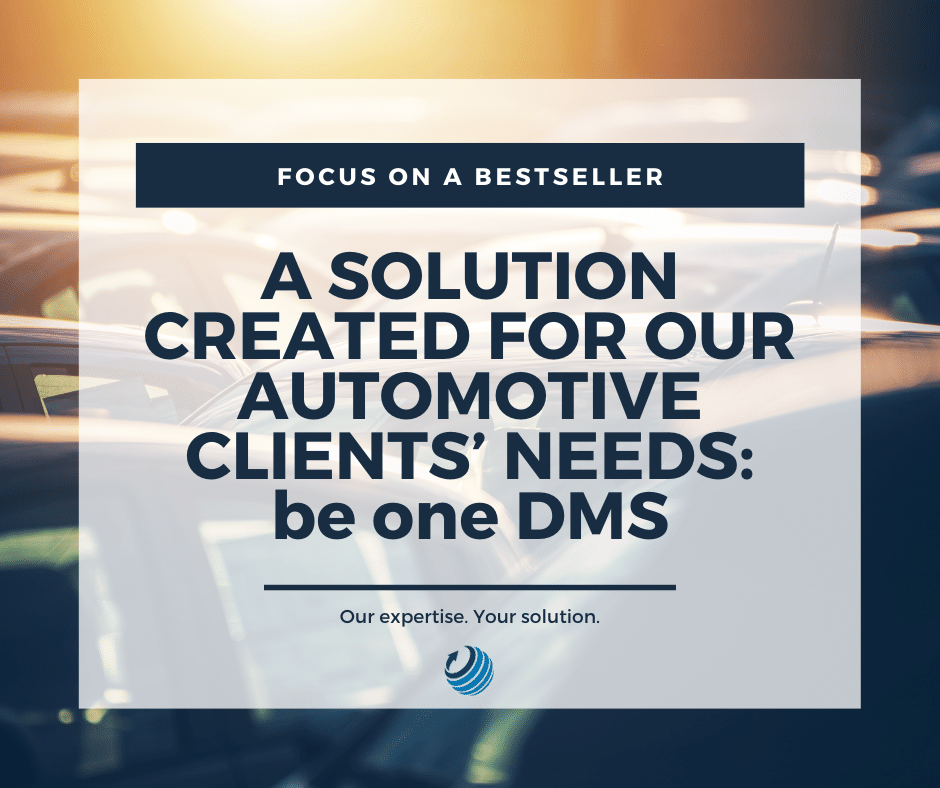 We Developed a Solution Focused on Our Automotive Industry's Customers' Specific Needs
In today's high-tech world, the role of artificial intelligence, integrations, automation, and overall operational efficiency are increasingly becoming important parts of our lives. Moreover, solely managing your own company is no longer sufficient. Instead, maintaining your supply chain has become mandatory to sustain your business.
With an increasing need to be customer-oriented and manage time in a cost-efficient way, many companies are looking for integrated ways to manage their business. Especially for automotive related companies, an effective dealer management system (DMS) has become a must-have item.
What if you could have a customized DMS, providing you tools to effectively manage and integrate your dealer network? be one solutions Dealer Management Solution (be one DMS) is designed to meet your needs to accurately manage your dealers. be one DMS provides full visibility of the entire dealer network stock levels, enables an end-to-end sales process integration, gives full overview of vehicle warranties and services rendered for specific vehicle.
Fully integrable with your current ERP, be one DMS can meet your goals thanks to its tools and functionalities.
In this blog, you will be able to see why and how be one DMS was created. To resolve your current challenges, we introduce our solution to you in order to help manage your dealer more effectively and efficiently while saving both time and money.
The Story Behind be one DMS
The idea for be one DMS was born when we were implementing SAP Business One, together with our client Mitsubishi Fuso Truck & Bus Corporation (MFTBC) for their subsidiaries in Taiwan and Thailand. Towards the end of the project, we realized there was a lack of effective DMS solutions, which can be fully integrated with SAP Business One. Due to this, together with MFTBC and their subsidiaries, we started to design a DMS solution which was going to be lean, but at the same time will contain all mandatory features from day one. We started to work on a specification following MFTBC best practises and the rest is history.
The key member from be one solutions' team were Iswandi Hamli (consulting), Yuval Lerner and Ronnie de la Cruz (development), and Olli Kylänpää (management). The product was specifically developed based on the vast industry knowledge we learned from our experience working with our customers, including Mitsubishi Fuso and their mother company. They have shared with us the details of their industry specific needs (which features and functions are necessary to be in a DMS, how it should work, etc.) and we have listened carefully. This awareness paired with our proficiency integrating solutions with 3rd party applications and best practices in terms of web-development brought be one DMS to life.
Why Is be one DMS So Special?
be one DMS was created to guide you smoothly through your company's digital transformation with cost saving, sharp, and intuitive technology powered by SAP Business One. What more? It facilitates visibility on all operation and automates efficient process.
Some of the major functionalities of be one DMS include:
Vehicle Order Management
Parts Order Management
Warranty
Dashboards
These are only a few examples of what be one DMS includes. If you would like to explore the full wide range of functionalities that be one DMS covers, please refer to our dedicated product page.
It is essential to identify and implement the right solution to manage business processes and increase value proposition. This will not only result in gaining a competitive advantage, but it will also improve efficiency with increasingly complex factors, influencing processes and high-end management in today's industry.
Yet, a solution badly implemented can lead to unfruitful results, which is why choosing an experienced partner you can trust is as important as selecting the right product. be one solutions is one of the biggest global SAP partners, specialized in successful worldwide blueprints, implementation and support. Our wide experience comes with an extensive knowledge of the automotive industry thanks to our multinational team and connections.
Conclusion
After looking into the main challenges encountered by most of our clients with their DMS, we created a solution answering the large majority of their needs, among others: lack of visibility, inefficient process, and lack of reports. Our customized be one DMS can allow you to see clearer reporting, forecasts, inventories, etc. We, at be one solutions, are able to assist you in global support and implementation with our experienced global teams and experts.
Now, after knowing the story of be one DMS, would you rather keep your current outdated and problematic dealer management systems or would you rather join a smooth journey toward your dealer management with be one solutions?
be one solutions, your SAP implementation expert, is attentive to your needs for all your ERP projects. Feel free to contact us!