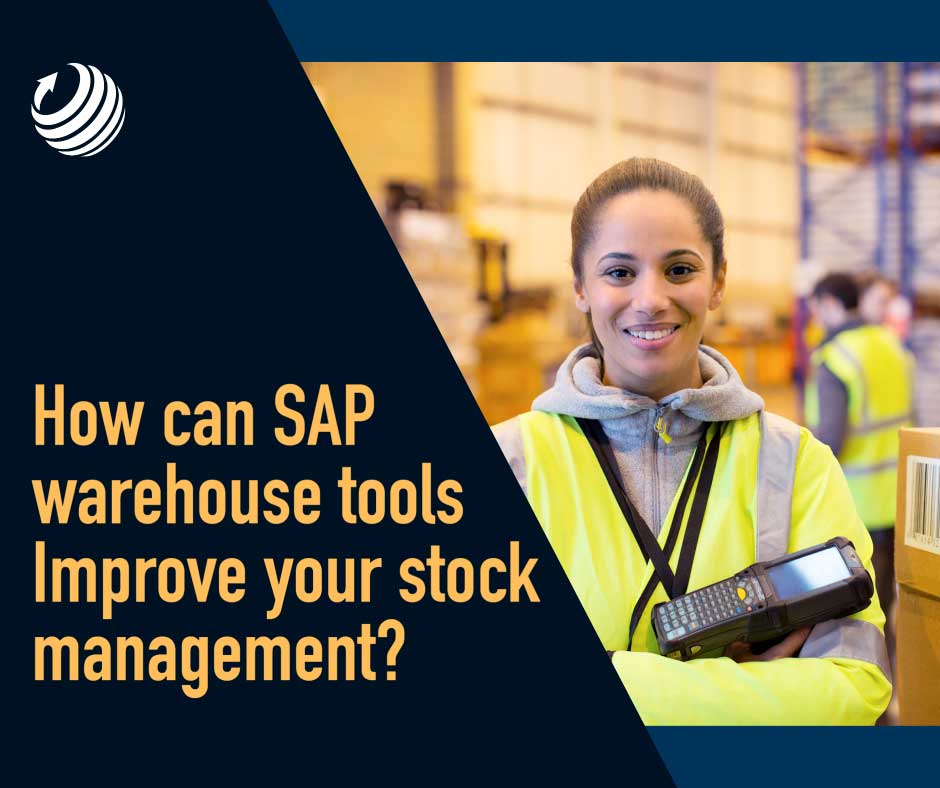 The benefits of an SAP warehouse management system are imperative for growing businesses as the WMS will boost operational efficiency for both labor and physical space by monitoring company work processes at a variety of levels; as a result, this enhances productivity and increases asset utilization. Automation assists with stock control and improves accuracy, throughput, and speed as it provides all warehouse staff with the necessary information they need to control and monitor the movement of stock and materials. A fully integrated SAP warehouse system increases the overall efficiency of warehouse operations, allowing businesses to provide better customer service, which encourages repeat custom and increases referrals.
What Is SAP Warehouse Management System?
An SAP warehouse management system, also known as SAP WMS, is a responsive web-based solution that is designed to meet and address the various challenges warehouses face. The module offers high-level control to allow businesses to track, record, and manage stock seamlessly in order to provide real-time inventory data with great accuracy. Throughout the world, many warehousing businesses have already switched to SAP WMS as a means to leverage its benefits.
Improved Inventory Management
SAP WMS improves inventory management by decreasing stock levels, reducing order cycle time, and enhancing order fulfillment. As this solution is designed to control all warehouse activities, the WMS module will provide you with the ability to track every unit in full detail for improved order fulfillment and heightened inventory accuracy.
With real-time information updates, SAP WMS provides faster, easier, and more efficient task management as this module produces accurate feedback in order for businesses to respond faster to customer demands. All distributors and wholesalers are aware of what is in the warehouse and where products are located at any point in time, and with SAP WMS, all relevant staff members are notified when stock needs to be replenished.
Enhance Customer Satisfaction
A company's warehouse is a pivotal part of the customer's buying experience, and ensuring products are in stock when ordered and that consumers receive what they purchase in good time is essential in providing excellent customer service.
When an organization integrates SAP warehouse management, the module improves picking accuracy to ensure that orders are correct the first time, as well as implementing automated organizing and shipment tracker to make sure that all purchases arrive in a timely manner. Managing and tracking shipment routes, putaways, and worker assignments are simplified through SAP WMS in order to provide managers more time to focus on other aspects of the warehouse. As a result of warehouse automations, real-time tracking, and up-to-date information, accuracy increases which leads to enhanced customer satisfaction.
SAP WMS also plays a critical role in managing the supply chain and enables businesses to monitor and control the delivery of all finished goods, further enhancing the consumer's shopping experience.
Paperless Management
Traditional methods of warehouse management involving manual paper-based processes such as checking invoices, issues, receipts, and preparing statements can be time-consuming and tiresome for employees. SAP Warehouse Management can assist in removing all manual processes through automation and provides access to resource-related information and transactional data on mobile devices; this provides companies with total control over where ever business management is located.
Efficient Monitoring
As SAP WMS is designed to ensure effective stock and inventory management regardless of the size of the company or the number of products, it can provide faster order cycles and improved resource utilization.
When it comes to efficient monitoring, SAP warehouse management can provide many solutions to businesses, such as eliminating the likelihood of human error during order executions, which minimizes delivery times. It also enhances customers satisfaction through improved reliability and enables organizations to develop stronger positive relationships with their vendors and suppliers. Furthermore, as a result of effective monitoring, businesses are able to increase productivity while improving the bottom line of the enterprise.
Improved Productivity
This robust and reliable solution provides powerful assistance to improve productivity by allowing organizations to update information relating to raw materials and finished goods instantly, which ultimately boosts efficiency and productivity. SAP WMS provides a complete roadmap to employees by allowing them to track inbound and outbound inventory, scar barcodes, and generate automated reports, as well as manage daily processes effortlessly.
Simple System
One of the most significant benefits of SAP warehouse management is how user-friendly it is and that people with limited or no technical knowledge can utilize it with ease. Due to the simple-to-use interface and dashboard, all users are able to access and run the extensive collection of business-friendly features to enhance their work and productivity. The simple design is aimed at reducing complexities in businesses' daily operations and making the jobs of all staff easier while providing access to advanced features.
Seamless Customization
SAP WMS is a highly customizable module that can meet a company's ever-changing needs and growing challenges. With mobile-friendly solutions, SAP WMS is capable of integrating a variety of features in order to make the most out of the advanced technology, including the ability to manage vital processes such as inventory reporting and transfer.
Features And Functionality
SAP warehouse management system has many features related to stock management, label reporting, barcode processing, and tracking various warehouse-related tasks. A ready-to-use SAP WMS will have functionality for stocktaking, inventory counting, internal stock transfer, and order processing which can significantly reduce order turnaround while increasing the visibility of operations.
Competitive Edge
When a company implements an SAP warehouse management system into their business operations, it can provide an organization with an edge over competitors who are still using traditional management methods of manually preparing paperwork and excel sheet for their operational needs.
As a result of SAP WMS providing a competitive edge to enhance operations, this innovative solution will also improve businesses sales and increase profits. It does this by not only enabling warehouses to sell more but also by providing the ideal platform in order to sell faster and with greater accuracy, which leads to happier customers. Furthermore, the workforce of a company is able to pick and receive more items in less time with a reduced risk of human error; this increased precision eases the strain on customer support teams by reducing the number of inquiries.
To learn more about how SAP warehouse management can help your business better manage stock, contact be one solutions today!