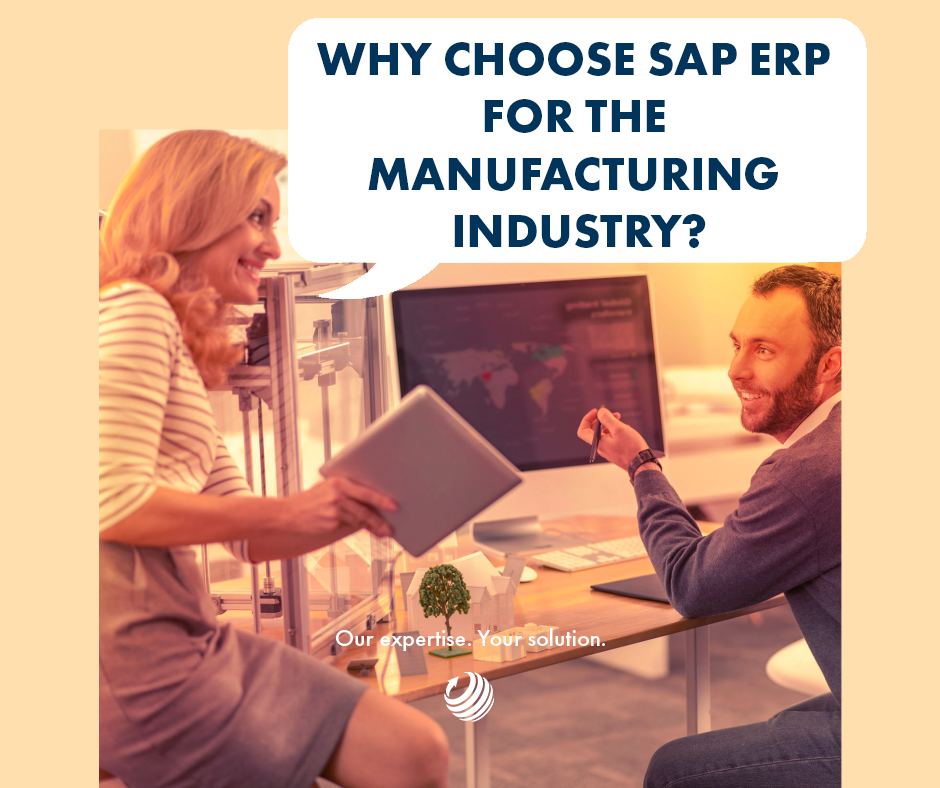 Manufacturing companies need to have a 360-degree understanding of their business which includes reliable planning and efficient order processing in order to better understand their customers, products, and orders. This is where SAP ERP, also referred to as SAP Business One, comes in. The right enterprise resource planning system, ERP, provides you with the necessary information needed to boost profitability through making informed decisions from more reliable management of critical areas such as inventory, lead times, and supply chain.
When you need flexible functionality across all aspects of your business, SAP Business One is ideal, and with enhanced data integration capabilities, you never need to re-key information into multiple systems again. As a result, you can enjoy increased accuracy and a reduction in the possibility of human error. SAP Business One provides you with the perfect integrated solution to seamlessly run your business, with access to a wide range of tools needed to manage production, inventory control, sales, and purchasing.
Enhanced Materials Requirements Planning
Material Requirements Planning, MRP, is an automated process in which the demand for materials and finished goods is compared to the on-hand goods and planned supply to generate jobs or purchase orders to satisfy any unmet demands.
SAP ERP for the manufacturing industry enhances Materials Requirements Planning by assisting the procurement department, purchasing teams, and production planners in both scheduling and managing the materials with customizable conditions.
Improved Inventory Management
Inventory covers a large part of a manufacture's expenses, and gaining access to raw materials can be a headache for some as stock levels drop. Therefore, it is crucial that a manufacturer is able to maintain the balance between inventory and production to not only meet the customer's demands but deliver on time. With advanced warehouse and bin location tracking systems, SAP ERP improves inventory management and provides better control over inventory maintenance as well as improved management of stock and warehouse data. SAP Business One can also assist with tracking and documenting stock levels as well as any transfers between warehouses.
The SAP Business One is designed to meet all the requirements relating to inventory and production management in order to improve processes. It acts as an integrated application that can manage inventory across different warehouses in multiple locations. As well as giving you real-time access to the details of your inventory, you are also able to use SAP ERP to place orders through your mobile or desktop device.
Increase Lot Traceability
Lot traceability is a group of goods, or lot, that were produced using the same materials and made in the same manufacturing run. Traceability is what allows a factory to track the goods along the distribution chain, and each lot that is produced together is given a specific number for this tracking to be possible. SAP Business One provides improved lot traceability by optimizing the inventory to ensure that stock levels are favorable and all items are properly rotated. As the system traces products, it also includes expiration date analysis that allows traceability of components back to the source.
Flexible And Robust Dashboards
With SAP ERP, users can utilize fully customizable dashboards in order to get a complete view of the business and also provides features for flexible queries and analysis, which allows you to gain further insights into your data. Integrating your business with SAP Business One allows you to streamline your processes, improve customer service and make more informed decisions about your business practices.
Supply Chain Visibility
In the highly competitive manufacturing industry, supply chain visibility is essential to the success of your business. SAP ERP provides you with greater supply chain and inventory visibility in order to control costs and meet deadlines, all while addressing your customer demands more effectively. As an ideal manufacturing solution, SAP Business One collects the necessary data to provide you with the best visibility of the supply chain, which allows you to make data-led decisions to lead your business to increased sales and higher profits.
Interlink Sales With Inventory
Streamline your sales process with SAP ERP as it links all orders to your inventory data; this allows orders to be placed without having to check other systems for inventory stock levels, which reduces the risk of human error or over-ordering. You will receive notifications detailing the stock levels of the products and have visibility of what stock is already committed to customers; this also prevents overlap from concurrent orders. If there are any increases or decreases to the stock levels, your inventory levels can be adjusted instantly, which saves you time and effort as you no longer need to record stock levels manually.
Improved Productivity
Due to the inbuilt MRP functionality mentioned earlier, you benefit from improved productivity for multilevel production processes. As it replaces informal production scheduling with structured and streamlined processes, you are able to get the most accurate picture of your production and supply chain. The MRP also assists you in specifying timelines, stock levels, and data sources for more effective planning.
Reduce Waste
With the help of SAP ERP, you can reduce waste and allocate the materials properly. This solution integrates the purchase orders and bills of materials which allows you to allocate materials correctly. It also allows you to include resources like text-based specific instructions and equipment in all bills of materials; once the bills of materials have been designed, the available materials and costs are automatically added to the work orders. As a result, you can accurately allocate resources and materials for completely uninterrupted productions.
Enhanced Customer Satisfaction
As SAP Business One assists you with accurate production planning, improved inventory control, streamlined scheduling, and enhanced coordination of distribution channels, you will be able to improve on-time delivery, which is a critical aspect of performance metrics. The ability to deliver products on time to customers is vital for maintaining customer satisfaction. ERP solutions for manufacturing companies offer real-time data in order for decision-makers to get a realistic picture of the inventory levels at all times.
If you want to learn more about how those in the manufacturing industry can benefit from the combined efforts of top SAP ERP solutions and their expert partners, reach out to be one solutions today!