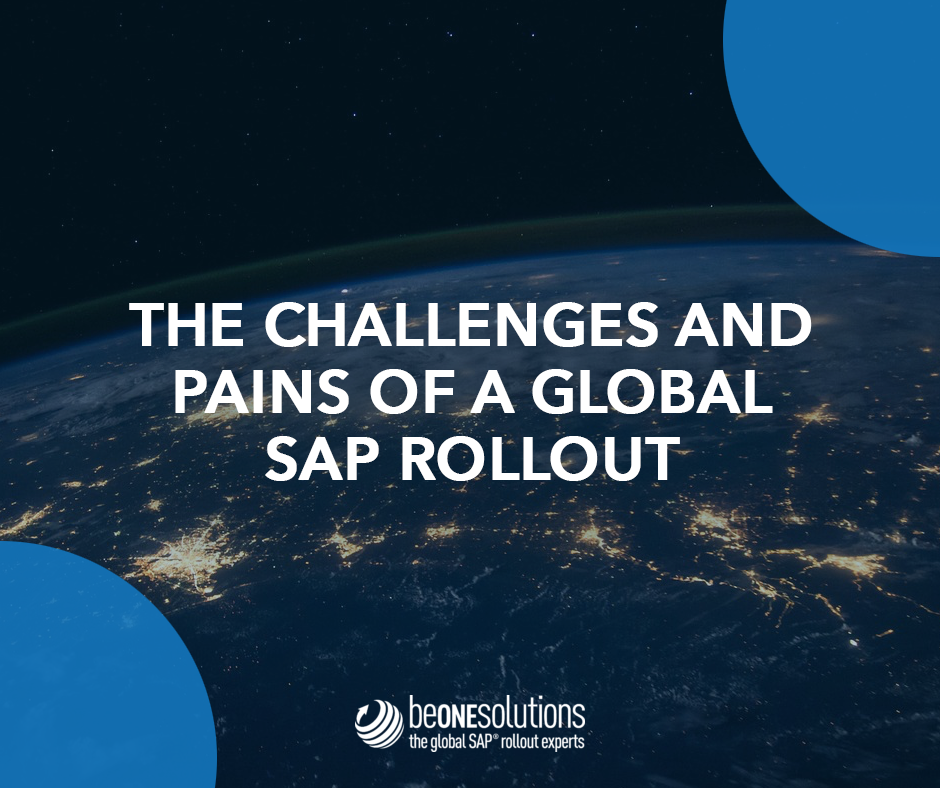 Consolidating multiple organizations under one enterprise umbrella during a global rollout is an inevitable source of struggle, even for the most finely-tuned enterprise operators. Throw in the challenges of worldwide transitions - language barriers, opposing time zones, fluctuating legal procedures, and entrenched local practices - and it's no wonder why corporations actively seek out consultation when integrating new companies into their organizational ecosystem.  
As industry-leading experts in global rollout and 2-tier enterprise resource planning (ERP) systems, managing customer challenges and pain points is, in the words of Regional Director Mario Rui Candido, the "bread and butter" of be one solutions. With over a decade of experience developing and implementing effective consolidation templates through 1- and 2-tier ERP strategies, common trends emerge on the journey to achieving a successful rollout. Of these troublesome trends, harmonizing business protocols and proper handling of data are the most likely culprits.
Business Processes Harmonization and Optimization
If the aforementioned trends are the root causes of all transition challenges, then harmonizing and optimizing business protocols is undoubtedly the taproot. This component is transversal to all aspects of enterprise operations and a successful transition cannot be achieved without it. Whether your company is absorbing an existing entity or erecting a new branch, the first challenge will be harmonizing and optimizing business processes between headquarters and all subsidiaries.  
Each new acquisition or rollout will contain its own ERP processes that need to be standardized to align with the current corporate governance structure. To some, the intuitive solution would be reorganizing subsidiary practices to align with corporate, but this isn't always the case. The current operations at your acquired subsidiary can often provide valuable insights into your own established business practices and should be treated as an opportunity to optimize the current iteration of your organizational ecosystem. Regardless of which direction the harmonization process occurs, ensuring that subsidiaries and headquarters are operating out of the same standardized template is essential to mitigating costly issues and inefficiencies down the road.  
Intercompany Trade
Over our years of experience, we've witnessed many organizations with complex intercompany trade networks running between multiple subsidiaries and headquarters across national boundaries. These scenarios are often fraught with systemic error as siloed departments - often spread across countries with different laws, tax systems, and business protocols - shuttle information onto one another. For a global rollout to successfully address these complications, digital solutions that either bridge or supplant these disconnects must be implemented.   
Centralized User Creation, Replication, and Authorization
Oftentimes, a user from one subsidiary needs to traverse across and within multiple systems that bridge between the different branches of the enterprise. When these users lack the ability or authorization to conduct cross-subsidiary functions, global rollouts face inevitable challenges with communication, data handling, and report creation. Issues with conducting proper subsidiary audits also occur when transversal users aren't afforded cross-company access. Ensuring that your ERP solution provides the appropriate user management structure for centralized user creation will allow your workers to transact across organizations without impeding access.  
SOX Compliance
When global organizations integrate subsidiaries into their corporate structure there is always the possibility that the new company is not compliant with the Sarbanes - Oxley Act (SOX). Established in response to Enron and Worldcom in 2002, SOX is a regulatory measure ensuring that corporate governance, accounting, and financial practices are above board. When integrating a global subsidiary into your organization, it's common for business practices permitted under their previous corporate structure to be in violation of SOX. Many of our previous clients were unaware of compliance infractions when attempting to consolidate a company into their structure, resulting in complex legal and statutory situations. 
Data Handling, Analytics, and Reporting
As is the case with all global operators in the 21st century, ensuring that data is properly collected, analyzed, and reported between different branches of the organization is amongst the top priorities when undertaking a rollout. Major pain points for enterprises trying to consolidate a subsidiary company involve the handling of master data, accurate budgeting and analytics, and intercompany reporting. 
Master Data Replication and Governance
Lack of congruence between master data at the headquarter and subsidiary levels, in terms of both treatment and governance, is a major factor that contributes to an unsuccessful global rollout. Numerics may cross many language barriers, but there are still many data treatment protocols that need to be enacted so that subsidiaries and headquarters are operating off of the same intel. The challenge comes with determining how to best integrate the subsidiary data collection, handling, and analysis processes into the master data archive without compromising any of its unique metrics.  
Budget and Analytics
Inaccurate budgets and analytics are a common challenge for companies that have not squared master data processes between headquarters and subsidiaries. Headquarters may also lack the necessary understanding and even language abilities to interpret budget and analytics on a centralized level. By harmonizing budget and analytics processing into a convergent system, headquarters can track the operations and financial performance of their subsidiaries in real-time.  
Intercompany Reporting
Reporting flow between subsidiaries and headquarters is often impacted by earlier issues like master data congruence and centralized user creation. The former leads to obvious complications in the ability to accurately analyze the performance of subsidiaries and how business practices may be impacting that performance. The latter leads to issues of red tape, where users are unable to retrieve the necessary reporting data without receiving authorization from gatekeepers. Both situations reduce the ability to quickly and effectively communicate important information between the different subsidiaries housed within the enterprise structure.  
In our experience implementing 1- and 2-tier ERP systems for enterprise companies, some of whom housed upwards of 25 subsidiaries, these challenges crop up again and again during global rollouts. By preparing in advance and anticipating these pain points before they cause further damage, you can ensure that your global rollout process runs as smoothly as possible.  
be one solutions is dedicated to leveraging our experience in ERP system implementation by providing actionable insights to enterprise executives. Follow us today to hear about the latest developments in the world of global SAP implementation.