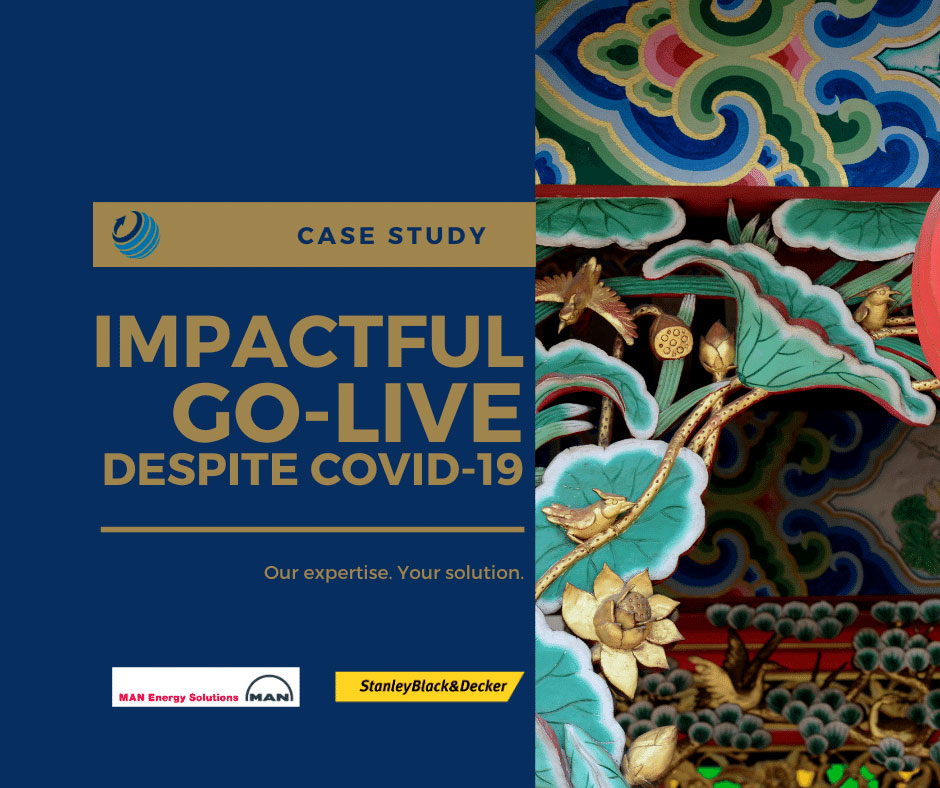 After opening new subsidiaries in South Korea and the United Kingdom, going through a worldwide round of remote implementations and expanding our management team in Asia; be one solutions beat once more the odds of 2020 by successfully delivering SAP Business One through an economically challenging global pandemic. Our teams in China and Thailand have respectively delivered two memorable rollouts at MAN Energy Solutions and Stanley Black & Decker, Inc.
MAN Energy Solutions subsidiary implemented with SAP Business One in China
Our collaboration with MAN Energy Solutions started back in 2016, and during these past five years we have managed to develop a great relationship with MAN internal SAP team. We have assisted MAN to further enhance their global template and their operational efficiency by introducing several integrations between SAP ECC in their headquarters and SAP Business One in their subsidiaries.
Towards the end of 2019, be one solutions and MAN Energy Solutions China have worked together once again. After 8 months and thanks to a great cooperation between MAN and be one solutions, MAN Energy Solutions China saw two of its entities successfully go live in Shanghai. A beautiful effort from both ours and MAN's local team members.
Due to COVID-19, this project became very challenging, preventing MAN internal SAP team to travel. As a result, the entire project was carried out with a remote assistant on their side, be one solutions regional management team and MAN Shanghai management team on-site with be one solutions China team.
Delivering during times as the ones the world is experiencing this year is not an easy task. Yet, our team in China was able to successfully implement SAP Business One without any delays at our customer's locations in Shanghai, while cooperating with its in-house SAP project team in India and the headquarter in Germany. A great, global teamwork led to top quality on-time delivery of project with the support from MAN China's team.
"During the difficult time, we have managed to overcome it through MAN's well-designed global template and regular training" mentioned Terry Tao, project manager and senior SAP Business One consultant. "We maximized our time on-site to communicate with the local MAN team in Chinese and kept English to exchange with the Indian and German team."
These subsidiaries were implemented in 8 months thanks to MAN internal SAP team in collaboration with MAN China management team, and our dedicated Chinese and Regional team. "Although we might have had some difficulties in the beginning, we were quite happy with Terry overall!" confessed Christian Haun, Senior Application Consultant at MAN Energy Solutions in Germany.
Due to our global presence, vast experience on global roll-out, great long-lasting relationship with MAN Energy Solutions, and highly experienced local and global consulting team, the project was completed on time and within budget.
Successful Go-Live With SAP Business One in Thailand for Stanley Black and Decker
Another outstanding rollout happened during the summer in Thailand. Indeed, our client, Stanley Black and Decker (SBD), needed to implement SAP Business One and a series of specific industry add-ons to its local subsidiaries in Ayutthaya and Rayong. In fact, SBD have chosen us, be one solutions, as a regional SAP roll-out partner for APAC. This great collaboration has started in Q4 of 2019 for both Korea and Thailand.
To fulfil the specific requirement of SBD, we assigned our accomplished regional project managers and utilized our local team in Thailand and Korea to support local needs in terms of languages, cultures, as well as on-site business. However, we needed to change our approach in the middle of the project, from traveling on-site to have local team there while SBD and our regional management attended the meetings remotely. We had to be creative and flexible due to the challenges caused by COVID-19.
Nevertheless, the result was a win thanks to the hard work of our local team at be one solutions Thailand, and of SBD dedicated squad. "Thank you for your hard effort to finish strong" declared a key user to our Country Manager for Thailand, Vipa Pipatbannakjj. We want to give a big thanks to SBD project team for the great collaboration between with our project manager.
The implementation of the ERP solution and the training of 80 users on two different sites, were delivered on time and with nothing less but excellence. Our tailored add-ons, our global expertise, and our efficient solutions convinced the headquarter to invest in be one solutions. Another rollout was indeed already taken place in South Korea and went live just this month in October 2020.
Our complete suite solutions addressed all Stanley Black & Decker needs:
SAP Business One
Lean Management
Warehouse Management System
Shopfloor
Thai VAT add-ons
Exchange rate integration
Integration with SBD's business intelligence
Integration with SBD's internal systems
With our global presence and strategic local resources, Thailand project went live on time and within budget as well. This would have not been possible without the great collaboration with SBD regional project management team, our regional project manager, SBD Thailand team, and be one solutions Thailand team.
be one solutions, your SAP implementation expert, is attentive to your needs for all your ERP projects. Feel free to contact us!
These two customers rollouts show once more the amazing teamwork and cooperation happening in APAC, and in be one solutions in general. We believe in helping our customers no matter the situation and challenges encountered. We adapt to our customers' needs whatever the situation or crisis they are going through. On-site or remotely, we help your subsidiaries running simpler.