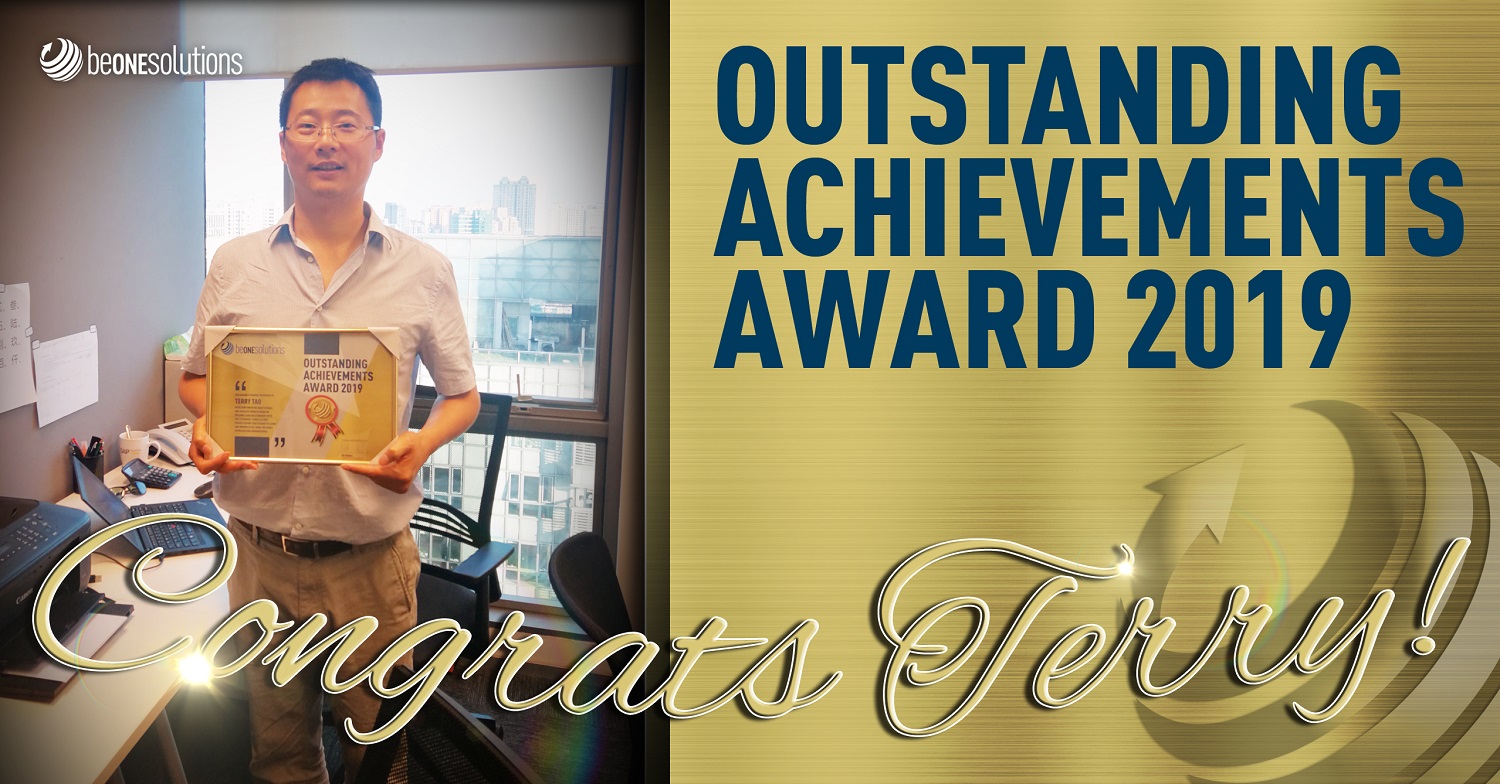 Kicking Off Our Outstanding Achievement Award Program
The be one solutions Outstanding Achievement Award recognizes meritorious and outstanding achievement in job, skills and service to us and our worldwide clientele. This award provides an important opportunity for be one solutions to recognize the valuable contribution of our staff around the globe. Contributions like the ones from Terry Tao (SAP Business One Project Manager & Senior Consultant, China). Terry is based in Shanghai, he is a father of two beautiful kids and he enjoys every single second of quality time with his family when he is off. That very same passion he brings to the desk when he goes to work for be one solutions - day in and day out, well-balanced like clockwork.
David Zhu (Country Manager China) told us:
Terry knows exactly the ingredients necessary to build and maintain solid relationships with our customers. They trust him, which leads to success. Also, Terry is totally up-to-speed with our products and offering and he constantly makes sure he has the latest insights when it comes to the latest innovations, roadmap and strategy. It's simply amazing how he combines theory with practical skillset and best practices, and at the same time develops and refines things even further. By doing so, he grows tremendously from one project to the other – which continuously adds to the entire operations' success, indeed. Thank you very much Terry for your great job!
Terry is a perfect example of what be one solutions offers all over the world: Highly skilled, extremely motivated and happy SAP consultants. Fine individuals and sophisticated experts, that are on a fantastic development path with and for our organization, guaranteeing maximum benefit to the ones we serve.
By the way, from here on out we will be awarding further staff members that have been excelling during their professional routines. Whether it is extraordinary initiative, impactful actions, successfully applied talent or phenomenal customer orientation, just to name a few, bottom line is, we have some incredible talent on our roster! As a matter of fact, our global team is living up to the fullest potential when it comes to providing a holistic solution for large, multinational companies and their subsidiaries around the globe.
Stay tuned, there is more to come in terms of outstanding achievements & detailed insights in our world-spanning activities! Bookmark, follow and share - LinkedIn, Facebook & YouTube