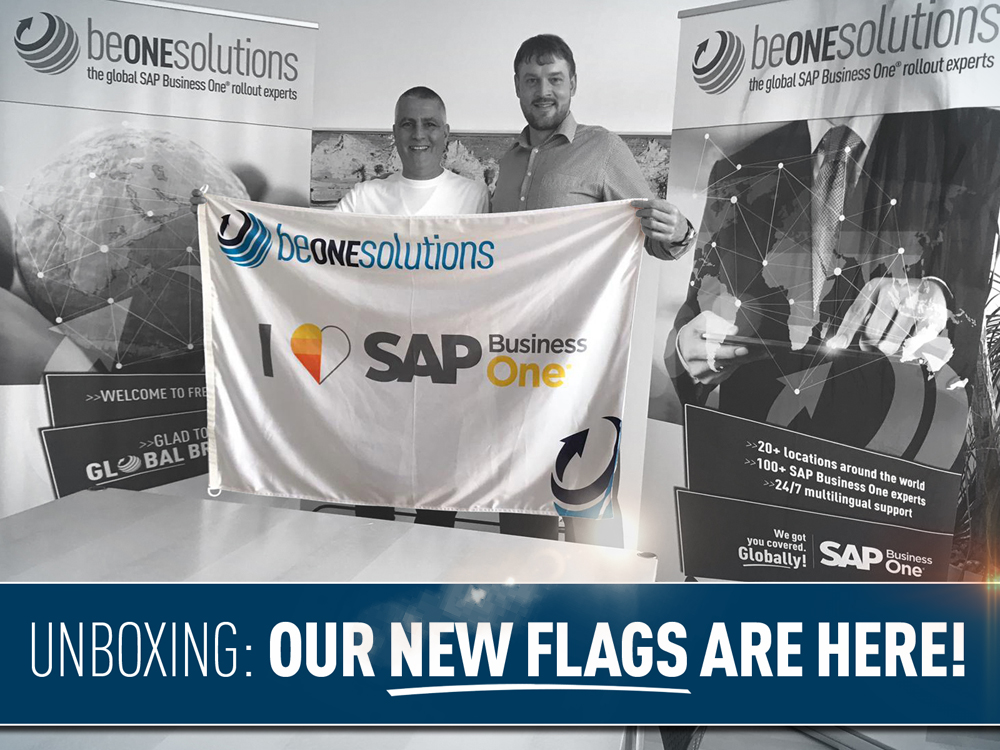 Grand launch of our "be one solutions loves SAP Business One®" campaign!
It's been a while since you first spotted us flying those familiar two banners– the SAP Business One flag and our very own, the be one solutions one. This marketing activity came with a clear statement: We love our product & we're proud of our successful operations around the world. Yet, the message was transported out on two separate fabrics, when we are truly "one". Think about it, it is SAP Business "One", be "one" solutions, "one" family, united with fellow partners & Service Solution Providers. We all embrace "one" combined love & respect for a truly fantastic product. Ladies and Gents, that's why we are absolutely thrilled to present to you today, our new, "one" and only flag resembling a phenomenal partnership with the SAP Business One family plus a confident be one solutions twist, that's based on various testimonials of some of the top references on today's global market.
When we started thinking about our new flags, we decided to simply combine two proven approaches – SAP's and ours!
said Alex Wick (Global Marketing Manager) during a marketing get together with Uzi Halfon (Founder & CEO) last Thursday at be one solutions' Global Brand Office in Freienbach/Switzerland. He continued:
SAP and especially our dear friend, Paulo Almeida (Global Head of Marketing for SAP Business One), have been doing an amazing job creating their initial flag campaign a while ago. I trust, back then we were one of the first partners who sported their own colors along with it. The results? A great success! It is actually pretty crazy that 130 by 90 meters of nylon can be such a powerful advertising space in today's digital world. So, the next logical step for us came naturally with the recent SAP Business One® flag update. I am happy to say we managed to make both ends meet and mold together: be one solutions loves SAP Business One – that's the core message, and our brand identity perfectly frames the picture, resembling world-spanning trust, from pilot to global rollout, all the way to 24/7 multilingual support.
No matter where our people go, headquarters, subsidiaries, during go-live's, whether it is events, customer videos you name it, many times there is a picture with the flag. If you follow us on social media, you can see tons of "Kodak" moments of our staff holding up those banners with happy customers, SAP their ecosystem and many others. Interestingly, meanwhile it is oftentimes not us asking for a picture with the flags but the other way around. After all, happiness results in pride and proudly we show our colors, of course. The flags represent the fruits of our work and help us generate maximum brand visibility. This was the case in the past and we believe it will work out for us even better in the future. How can it not, with such a shiny, brand spanking new banner?
Let us know what you think of our "be one solutions loves SAP Business One" flag campaign.