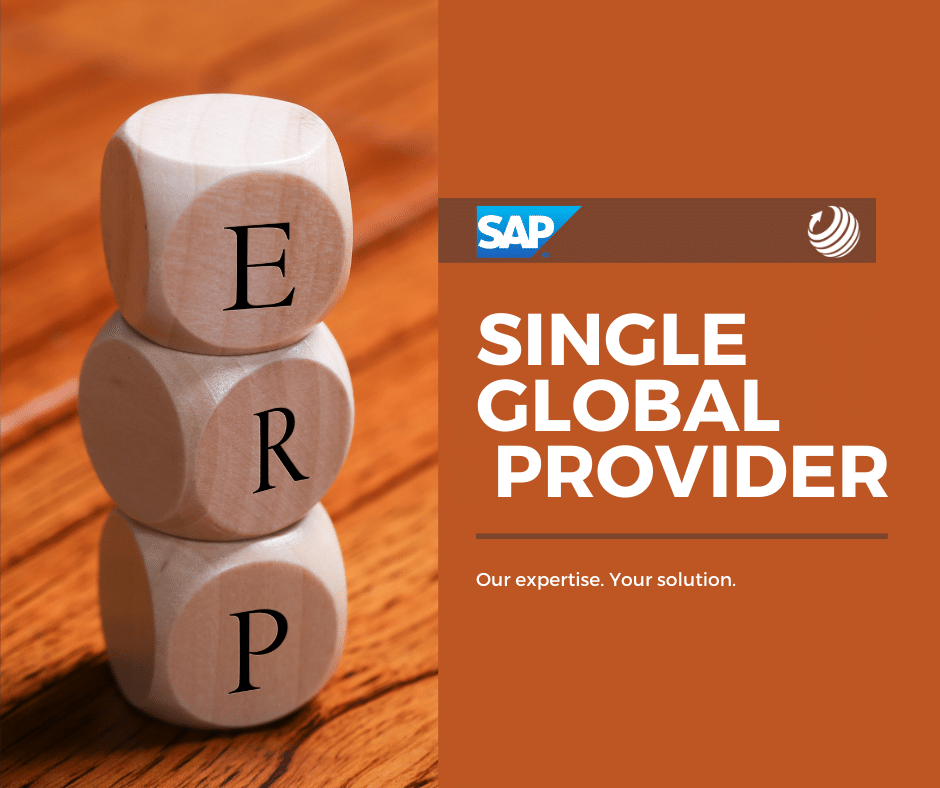 Whether you're planning to launch a new subsidiary or are reviewing how effective your company's business management system is, it pays to think globally. Yet how to ensure that every subsidiary maintains optimum business management practices?
Corporate Expansion Issues
Multinational corporations are experts in the logistics of launching new subsidiaries, but implementing a global SAP rollout using multiple local partners is a complicated business. If an expanding company does not consider a trusted global partner, they are likely to incur problems. Issues such as business processes standardisation and securing local knowledge on a region's rules and regulations take time and ultimately cost money. Corporate information can become decentralised and access to reports and data restricted. Local misunderstanding of global templates can also result in re-working issues. In addition to these challenges, issues with regards to compliance, such as GDPR, and local financial regulations can prove exasperating. By choosing a partner with global reach and local expertise, an effective business integration management system is created that can be rolled out globally.
Single SAP Provider Solutions
The path to digital transformation doesn't need to be painful. Increasing automation reduces reductive work and mitigates risk, increasing productivity and data quality. Using a single SAP provider guarantees replication of good practices through standardisation. Ultimately, it saves global corporations money and allows the client to stay focused on what matters within their respective businesses.
Finding a trusted local partner every time your organisation plans to launch a new subsidiary is a massive drain on company resources. It would require the CFO or Sales Director to navigate new cultural pathways and incur possible language barriers. Trying to implement a Global SAP strategy with multiple local SAP providers is simply untenable. This is where be one solutions thrive; helping multinational businesses with global rollouts using one single provider. Our success lies in our global reach and local expertise. We have senior consulting teams across the world who use their local knowledge to implement client rollouts. Instead of securing disparate individuals across the globe, be one solutions ensures just one Account Manager and one Program Manager for all global roll-outs. Every rollout begins with a template, which is then tailored to individual client requirements. After building the first pilot for each new subsidiary, the senior consulting team, namely the Gatekeeper (Program Manager) and the Project Manager deploy the template. They roll out the template to the subsidiary and during this process, they adapt it to accommodate local legislation and local best business practices, such as adaptations, beginning with master data and ending in accounting and finance. It's important to note that each subsidiary benefits from the implementation of the same business processes, compliance, rules, and the same audit trail as their company headquarters. Single SAP provider clients benefit from this type of consistency and support.
Global SAP Rollout Experts
As Global SAP rollout experts, be one solutions is strategically positioned to support all requirements. We have implemented global templates for multinationals using SAP for over a decade, in over 60 countries worldwide. Headquartered in Switzerland and present in over 25 countries, we do business in over 17 languages and have successfully rolled-out hundreds of 1 and 2 tier ERP strategies. Our proven large enterprise rollout method works. be one solutions stands out because we have a physical presence that spans the globe, allowing our clients to gain vital insights into local logistics. We have experience in a multitude of different industries, tailoring solutions using SAP to meet individual client needs. Because we have our own, in-house development team, we are also uniquely positioned to customise and adapt integrations between systems.
be one solutions UK Country Manager João Sá Rodrigues comments "If a company needs to open a new subsidiary, for example in Spain, Singapore, Brazil, USA or any other country, because there is a specific trade agreement that gives them a competitive edge, we support them by becoming a single vendor and trusted advisor for all subsidiary systems. We implement a template with the same business processes, the same compliance, and the same audit trail mechanism as their headquarters. Also, we will add each subsidiary in the integration layer for their 1-tier or 2-tier ERP strategy. We provide the agility that multinationals need when launching a new subsidiary."
Our SAP integration expertise, global reach, and local knowledge have served many multinational corporations. A good example of this is our work with MAN Energy Solutions. They were searching for a consulting firm to support their rollout systems across the world. The focus was on MAN Energy Solutions (MAN ES), part of the German multinational Volkswagen. Almost 50% of all goods transported by sea are done so using MAN engines. Be one solutions was tasked with finding an ERP system that could operate efficiently across their 60 service hubs, capable of integrating all local and legal requirements. Over 600 sales representatives within the company had requested a reliable interface that could connect their product centres with the global organisation. The challenge was to deliver a truly global template that conformed to differing local requirements. It needed to be easy to deploy and amend.
MAN Energy Solutions is now successfully following a 2-tier strategy with global rollouts across 50 countries. The global template required few variations and was therefore easy to align, standardise, and integrate operations and data between MAN ES HQ and its subsidiaries.
"We've calculated about 270,000 quotes and order lines where we have savings in manual work and a faster quote and order process" states Harald Capek, Head of SEAIP at MAN Energy Solutions.
It's safe to say that using a single global SAP provider is the way forward. If you are considering digital transformation across all your subsidiaries worldwide, the benefits of using a single provider far exceed choosing individual operators per country. From mitigation of risk, increased productivity and quality of data, to consistency, local expertise, and full support, a single SAP provider allows you to stay stress-free and focused on your business growth.
be one solutions, your SAP implementation expert, is attentive to your needs for all your ERP projects. Feel free to contact us!