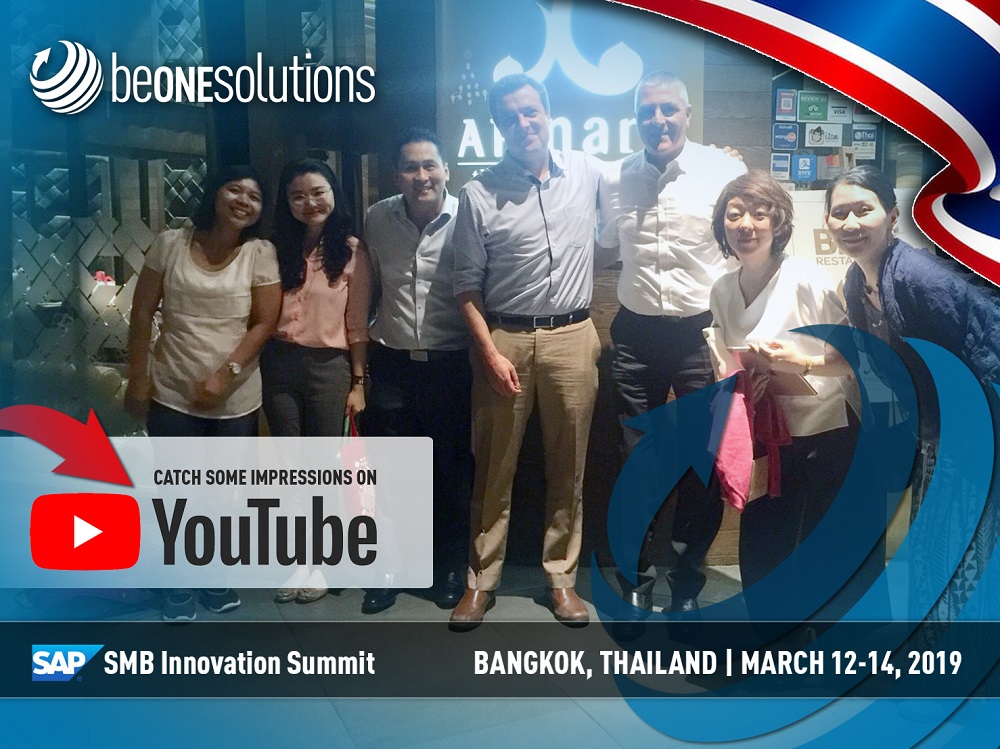 Kicking Off SAP's 2019 SMB Innovation Summit Series in Bangkok
Ladies and Gents, we are kicking off the 2019 SMB Innovation Summit series. First of 3 stops is beautiful Bangkok, Thailand. We just summarized it for you below!
What is it all about? "Learn explore, connect" – this is what SAP's official Summit website says. And it is true. After many years of attending all three regional summits, we can confirm that the benefits of this event greatly influence our daily activities around SAP Business One worldwide.
Here are the three pillars this event is based on:
The latest SAP product and technology innovations
Industry insights and trends affecting small to midsize markets
The tools needed to successfully implement on premise and cloud enterprise resource planning solutions.
Olli Kylanpaa (Regional Director APAC at be one solutions) states:
APAC is an extremely important region for us with our SAP Business One for Large Enterprise approach. So without a doubt I am more than ready to head over to Thailand. We'll have an incredible time in Bangkok next week - I am really excited to officially kick things off right in the first quarter with SAP, fellow partners, solution service providers and of course clients & potentials attending the show. By the way, Uzi Halfon (Founder & CEO), Iswandi Hamli (Country Manager Singapore) and Kaori Shirasuna (Sales Manager Japan) will be out there with me. I certainly hope to see you, too. Safe travels & let's chat next week!
It's a Wrap.
But don't you worry, this was just the first of three stops. So, all you guys in Europe & Americas get ready for your piece of the action. We certainly are and as a matter of fact, for many years already, we have been making great use of these three fantastic opportunities to network region specifically and understand where we stand with our core product, SAP Business One. After all, we are constantly eager to identify the latest tricks of the trade, find out where we are headed and also to share our experience with SAP Business One in the large enterprise & multinational corporation environment.
Bangkok this year served no different purpose, the only difference compared to those past years was, that we even felt significant growth in excitement, spirit & motivation. But why don't we just show you some exclusive first-row impressions from 2019 SMB Innovation Summit in Bangkok/Thailand? Here you go…
Olli Kylanpaa (Regional Director APAC) told us:
We had tremendously productive time in Thailand: We met with key SAP individuals in the region and also caught up with the global SAP's spearheads in the SAP Business One field. From product and strategy updates all the way to roadmap details – we had it all, plus, how exciting, we had it first out there in APAC! Thanks for a GREAT get-together to all at SAP, to our fellow partners, Solution Service Providers, existing & potential clients and everyone we met at a fantastic venue over at Centara Grand & Bangkok Convention Centre at CentralWorld. I trust I speak on behalf of Uzi Halfon (Founder & CEO), Iswandi Hamli (Country Manager Singapore) and Kaori Shirasuna (Sales Manager Japan), who joined me in Bangkok, when I say we are extremely excited to convert on what we have learned out there. As you know, be one solutions highly values any new input enabling us to deliver even better on our promise to be your trusted supplier in APAC with a global backbone that can answer to any request when it comes to rolling out SAP Business One to your small and medium subsidiaries around the globe.
As mentioned, the show is moving over to Europe now. Our co-founders Uzi Halfon & Rainer Vischer, along with Arnaud Viviant (Regional Manager EMEA) are gearing up to head out to Southern France to attend 2019 SMB Innovation Summit Nice on April 2-4.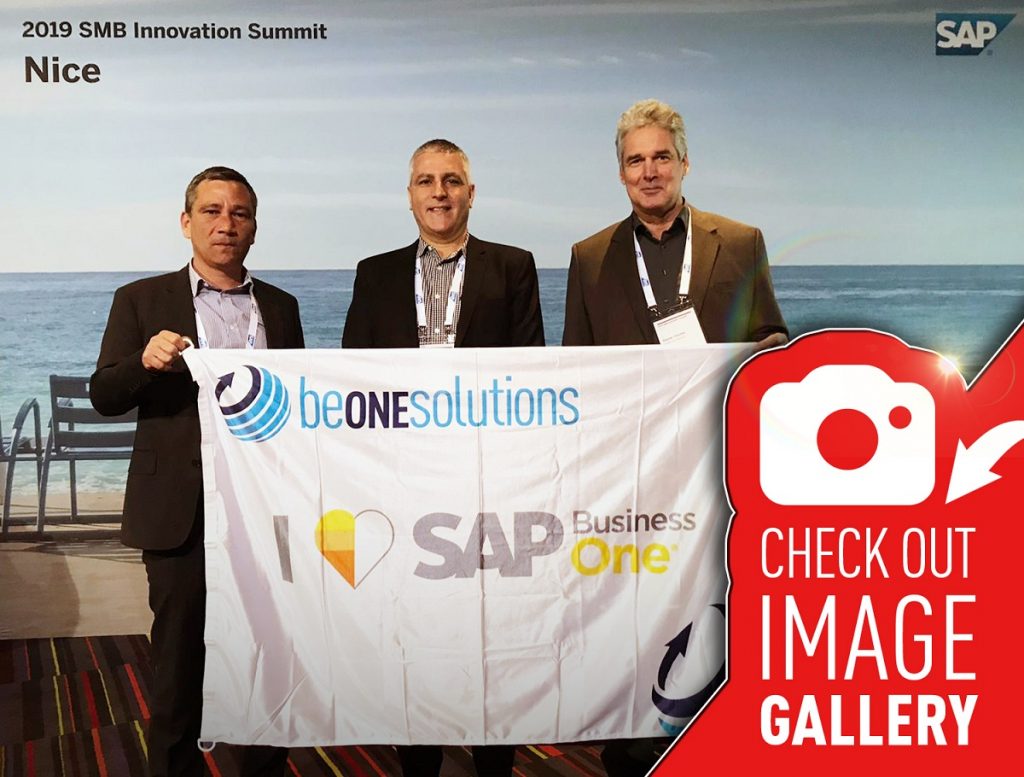 APAC & EMEA: Check!
Next up: SAP's 2019 SMB Innovation Summit in Orlando, USA!
So far, we've completed 2 of 3 SAP SMB Innovation Summits – one in Bangkok/Thailand on March 12-14, the other one in Nice/France, two weeks ago. Of course, just like artists don't change their show elements while on a tour, neither does SAP. The general topics, as in Product, Development, Consulting, Marketing, etc. remain the same during the current summit series, yet the small variations from one location to the other make a huge difference. Still, you may ask yourself, why do they participate in all three events? Couldn't we safe ourselves the "hassle" and invest the time & resources into other business? The answer is clearly "No!". We are out there 3 times because we operate right there, at each stop – APAC, EMEA and the Americas. We participate highly motivated and eager to be updated and learn in order to ensure SAP's strategy and vision is understood and fully applied to our methodology. For the best and maximum benefit for our target audience: Large, multinational Corporations & their small and medium sized subsidiaries around the world.
At the end of the day at these type of events, it is about 3 core actions that pay right off, once back at the desk:
Staying close & productive with our dear friends over at SAP
Networking with fellow partners, current & future clients
Sharing knowledge, experience & insights from our very unique "Large Enterprise Approach"
It is about all of the above and having a good time, reuniting with a great & pleasant network – the SAP Business One family, as we like to call it. Check out what we mean by taking a quick look at our image gallery from the summit in Nice/France.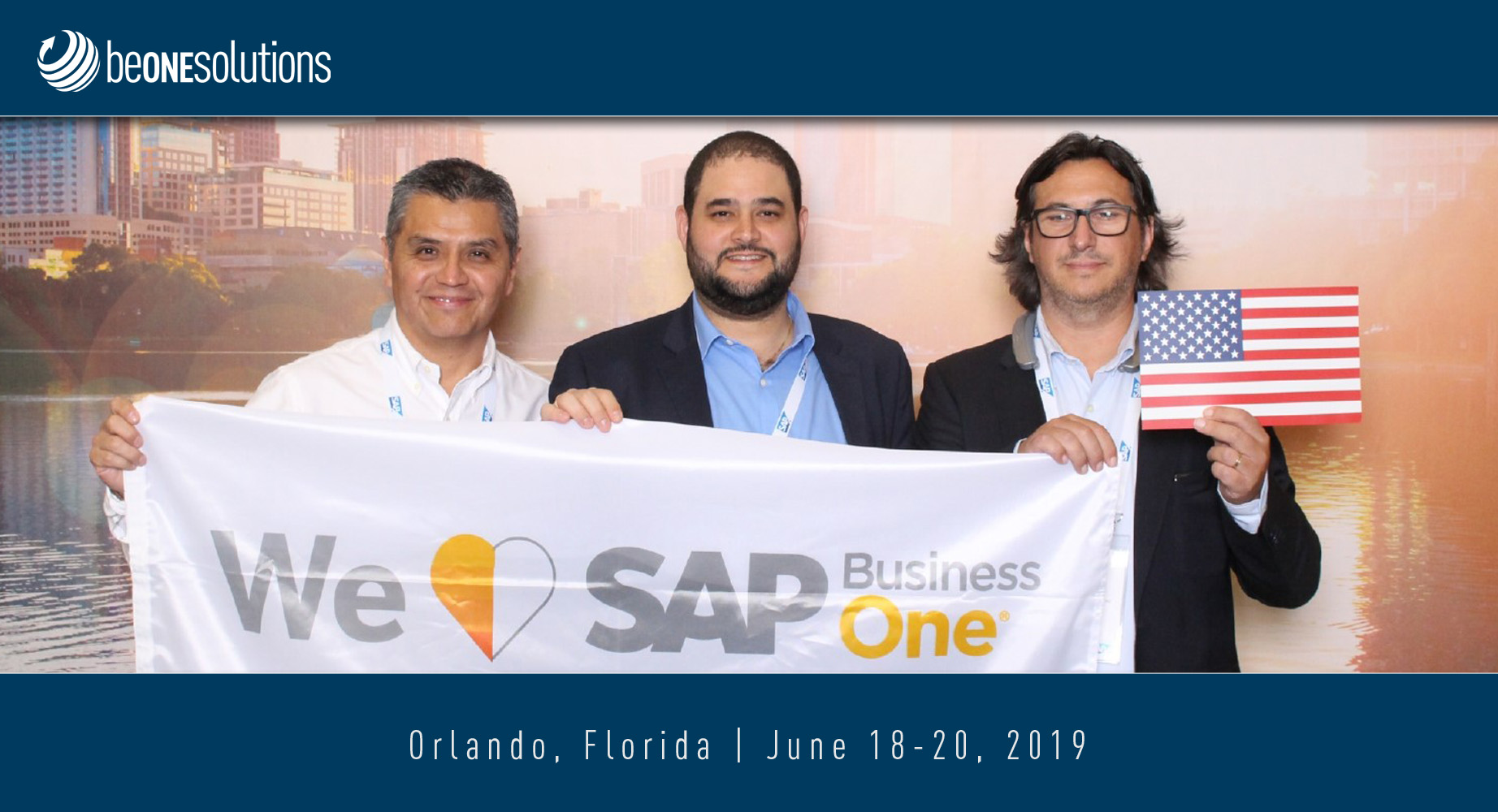 Mission Completed in the Americas: We Are Fully Updated and Briefed About SAP Business One!
It's a wrap, the 2019 SMB Innovation Summits are officially over with. Three stops later, after Bangkok, Nice & Orlando, we are truly up-to-speed in regards to SAP Business One across the globe. Indeed, the action last week topped it all off in the beautiful Sunshine State. As a matter of fact, Mario Rui Candido (Regional Manager Americas) joined by Raúl Hernández (Country Manager Mexico) and Carlos Hernandez (Country Manager Brazil) had an amazing 3 days of vital engagement with SAP, fellow partners and the greater network in our industry. Of course, these type of SAP events are targeted first and foremost to the partner community, so this really is about updates, networking & chemistry building. We are there and square, digest and apply the takeaways in our daily routines. The aim is to be able to provide the maximum benefit for our clients – not only in the US but beyond.
Here are some shots from Caribe Royale, which provided the impressive setting for the event in Orlando. CLICK HERE and take a look!
One great thing about the SMB Innovation Summits is that SAP hosts the event in a perfect environment to exchange ideas and look into possibilities along with various Solution Service Providers (SSP) – we certainly used this opportunity to recap successful relationships in that respect and discussed further expanding activities. It's a fact, taking the best possible input and polishing it all up with our very own Industry Solutions, we are stronger than ever, ready & prepared in order to serve any request you might have regarding rolling out SAP Business One, whether you are based in Utah, Mexico City or São Paulo with the intention to align your subsidiaries in just about any country around the world.
Connect with be one solutions in the Americas!
Stay on top of all of our other activities around the globe: Bookmark be one solutions, follow and share - LinkedIn, Facebook & YouTube !
Thanks again SAP for those three superb summits this year. A special "Thank you!" to all we met in Florida last week.