Over the years, SAP has developed and evolved its licensing model to match customer requests. All cloud-deployed SAP software are available in the type of subscription-based license model.
Currently, S/4HANA can be purchased with either a perpetual license or a subscription.
The S/4HANA perpetual license is available primarily for the on-premise offering and includes a one-time license fee, while the recurring subscription-based one is used for cloud offerings such as S/4HANA Cloud. Its license includes hardware, application management, database, software use rights, maintenance, and support*.
* this support is limited to technical errors and does not replace Application Management Services.
Moving to S/4HANA Cloud as a Previous SAP Customer
One of the main advantages of changing to S/4HANA Cloud is its tailored subscription-based license. Indeed, instead of buying it as a one off and paying the higher price, the subscription model of SAP S/4HANA Cloud is based on consumption. Full User Equivalent licenses, divided between SAP Named Users, will be necessary to share access rights, and will be included in each package like all SAP products.
Previous users of SAP will benefit from moving to S/4HANA Cloud by reducing their IT maintenance cost and paying only for what they are truly using. In this case, the customer will still retain the rights to use their previous software once terminated. They will be able to cancel the maintenance fee and will have access if they ever need to retrieve their old data.
S/4HANA Cloud Full User Equivalent Licenses
Dynamic organizations with complex business processes are more likely to make the most out of this software. S/4HANA Cloud is meant for the management of medium sized companies. For that reason, there is a minimum threshold of 30 Full User Equivalent licenses.
It is important to note that 30 FUEs* does not limit the use to only 30 key users. Thirty full user equivalent licenses could equal the use of up to 30 advanced users, or 10 advanced users, 95 core users and 30 self-service users. The customer has full flexibility and can even change later on the distribution of user types.
*FUE - Full-time user equivalent
How Are FUEs Calculated?
Depending on the individual's access, those with limited rights and access to the system would not be weighted as an FUE; instead, the threshold for the system's use would allow a lot more users.
The Full Use Equivalent or (FUE) corresponds to the actual number of individuals that are authorized to access certain solutions of SAP S/4HANA Cloud. For example, depending on the use, one FUE could be calculated differently.
People with limited access most often count as ⅓ license, while advanced accesses count as a full license.
Visit the full FUE SAP S/4HANA documentation FUE SAP S/4HANA documentation for other clear calculations and packages, or contact us for a personalized estimation. Please note that some functionality requires additional subscriptions.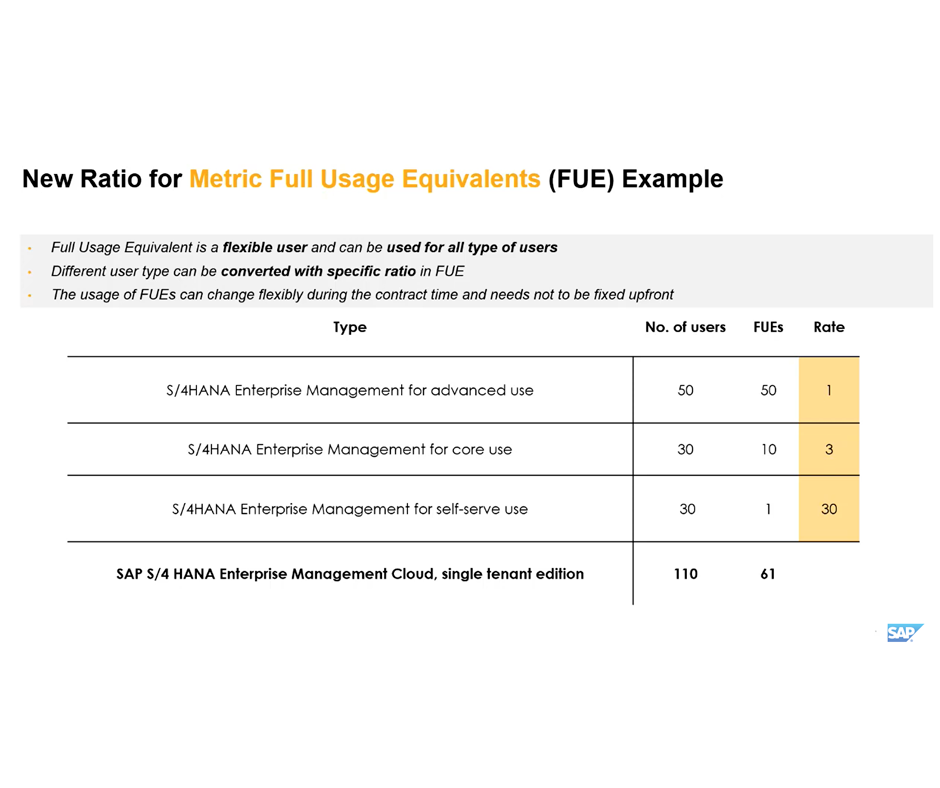 Is SAP S/4HANA Cloud for me?
S/4HANA Cloud is a solution that could do much more for your business than just help you manage processes. Packages including real-time reporting and analytics will greatly aid the company's management in optimizing everything.
Depending on the complexity of your business processes and industry, S/4HANA Cloud might be a perfect fit, or it might not. Indeed, for some specific industries, cloud hosted solutions aren't the best option. The most straightforward way to know if your needs could be met by SAP S/4HANA Cloud is still to contact us. As SAP implementation experts with decades of experience in business consulting, we'll evaluate your needs and guide you toward the best solution.