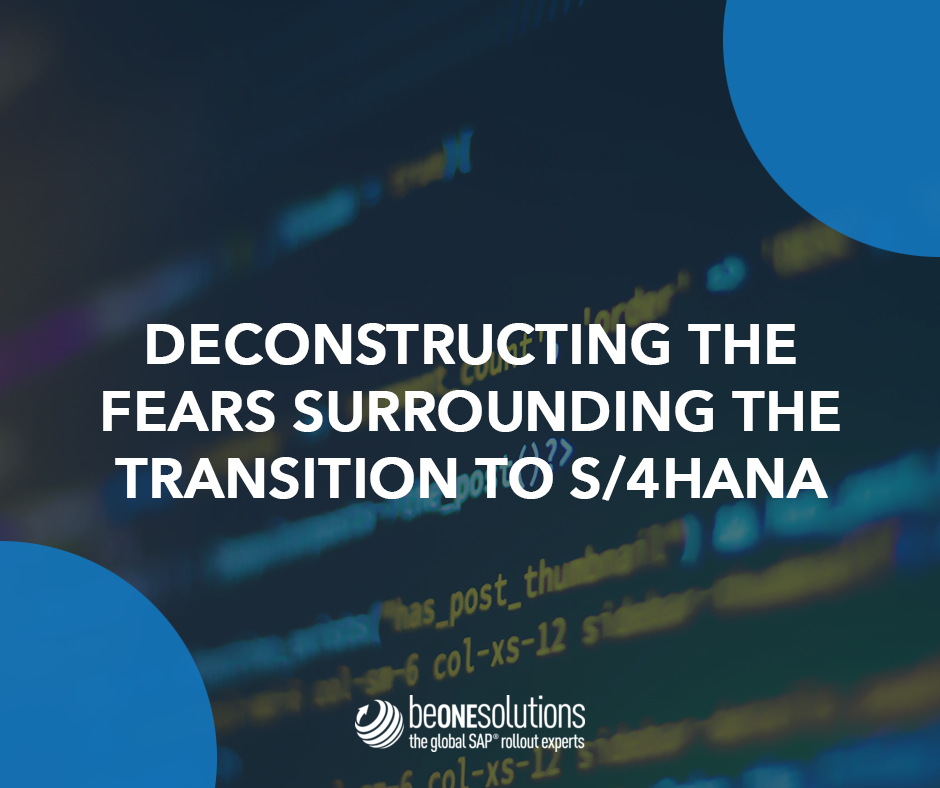 SAP has revolutionized the way that we do business on a global scale. The German tech giant — who specialize in software systems for the management of business processes and develop solutions that facilitate effective data processing and information flow across organizations — is like a force of nature within the software industry. They sit within the top ten of global tech companies, with a market capitalization of over $160 Billion. Tens of thousands of multinational companies use SAP's enterprise resource planning solutions (15000+ use S/4HANA), making it clear that they are a critical component of corporate success in the digital era. And this can cause hesitancy when it comes to replacing their established solutions with the next generation.  
This is exactly the case with SAP's announcement that they will stop supporting their ECC version once the calendar flips to 2027. Their innovative S/4HANA system offers a drastic improvement over the capabilities provided by ECC, shown by the rapid adoption of the intelligent new ERP tool by tens of thousands of customers. And yet, a significant number of SAP users seem hesitant to follow through on this inevitable transition.  
Given how critical ERP solutions are to the information architecture of modern-day businesses, it's not surprising that stakeholders are hesitant to move forward with seemingly large transitions. Industry experts highlight that there are numerous misconceptions and fears about how an ERP update may negatively impact operations and, more importantly, an enterprise's bottom line. Among these concerns: increased financial cost, a long transition period, and exposure of sensitive data.  
As top SAP partners with extensive experience in the global rollout of SAP products, we at be one solutions want to provide you decision-makers with the insight needed to challenge these fears.  
Challenging Fears Surrounding the Switch to S/4HANA

 
Digital transformations are often seen as a kind of big, scary monster that needs to be vanquished. As experts in the space, we can tell you that simply isn't the case. In fact, the very same software capabilities and support teams that make SAP so popular are the reason why the transition from ECC and any other ERPs to S/4HANA is so seamless. The new RISE with SAP campaign highlights how their next generation of intelligent ERP processes, and SAP's support teams, are perfectly equipped to provide cost-efficient, timely, and secure transitions. Rise with SAP offers a collaborative approach to helping customers formulate their cloud strategy. 
Undertaking such a feat can understandably be considered daunting, which is precisely why SAP's first-of-akind Business Transformation-as-a-Service (BTaaS) offering seeks to simplify, demystify, and accelerate the process. By bringing together and mobilizing the very best of its people, skills, and expertise across both industry and technology, RISE with SAP blazes new trails by endowing businesses with a cohesive and holistic strategy for charting their own unique course to becoming an intelligent enterprise, at the speed of their choosing. 
Migration SAP S/4HANA: Too Expensive
For over half a decade, enterprise stakeholders have been struggling to estimate the cost of ERP system implementation and maintenance. And rightly so. The complex network of factors contributing to the expense—from licensing fees to application modification to running costs—often varies depending on both the enterprise and ERP system in question.  
With S/4HANA, SAP has amalgamated the various contracts and service fees into one all-encompassing contract, making it much easier to plan for the costs associated with the upgrade. The comprehensive RISE with SAP package can also come with a series of features that make the investment more than worthwhile: 
A single, comprehensive contract

 

One unique, integrated experience

 

Innovations like embedded analytics and the intelligent ERP

 

Cutting-edge technologies like IOT, RPA, AI, Machine Learning, Blockchain, and Big Data

 

Achieve resilience, scale and lower TCO with intelligent use of public cloud infrastructure

 
While transitioning from ECC version or any other ERP will certainly incur a financial cost, the SAP team has used their decades of experience to ensure that the S/4HANA platform reduces significant ancillary expenses.  
Migration SAP S/4HANA:

Too Long 
Every second that business operations are not operating at full capacity is a wasted moment for enterprise companies. In our experience, this is another major area of concern for executives and stakeholders when they are planning a digital transformation. The ERP update process has been found by other industry providers to take up to an entire year or more depending on the project size.  
While this is also true for S/4HANA, experienced support teams can ease any and all pain points that occur during the transition process. SAP support teams have decades of experience and bring the SAP business best practices and protocols that make for a more seamless ERP transition. Combining this service with supplementary support from global SAP rollout partners like be one solutions can significantly improve the time it takes to reach full operations under S/4HANA.  
Migration SAP S/4HANA:

Too Risky
Data security is one of the top concerns for executives and stakeholders when they engage with any sort of changes to their traditional digital architecture. From the loss of archived information to the mass leak of customer data, there are certainly multiple worst-case scenarios that can arise during this process. However, similar issues can also arise when companies neglect to maintain the newest ERP solutions.  
Given the pace at which digital and cloud services are developing, it's crucial that businesses begin to prepare their data stores for the transition to the next generation of resource planning platforms. The support teams at SAP and their partner implementation experts are critical to the success of this transition. With the proper guidance and training, implementing the S/4HANA system for your enterprise is a relatively low-risk process — especially when considering the added operational and security benefits that the new system provides.  
The Bottom Line
When it comes to the transition from SAP's older version or any other ERPs  to the new S/4HANA system, it's common for enterprises to fall back on fears and misconceptions. But, when you consider the added benefits and support that the new ERP system provides, there's little reason to doubt the advantages that an S/4HANA transition affords.  
If you are interested in learning more about how this process can bring savings, improve performance, efficiency, and security, reach out to be one solutions today. Our extensive experience with global SAP rollouts makes us the top option for multinational companies looking to improve their ERP processes.  
be one solutions, your SAP implementation expert, is attentive to your needs for all your ERP projects. Feel free to contact us!