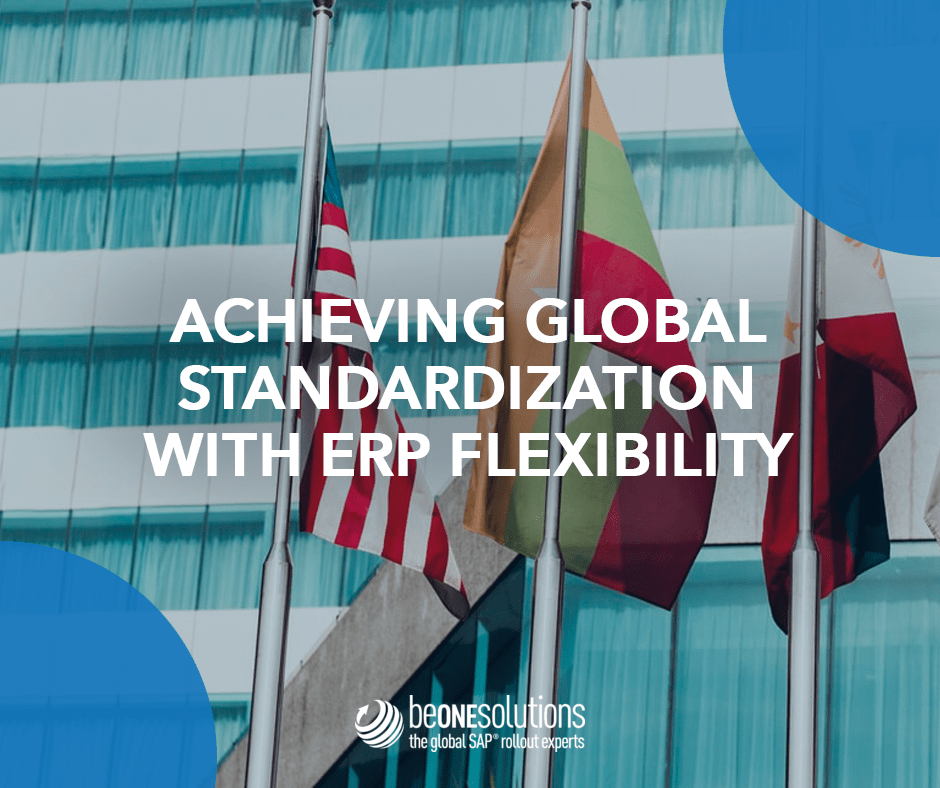 Over the last fifty years, companies and industries on the whole have become increasingly international. In the pursuit of specialized labor, economics of scale, and foreign market potential, globalization has become an integral part of most businesses. This has led to the development of massive multinational firms, operating in multiple countries with different laws, talent pools, and cultures. Unfortunately, as beneficial as globalization has been, for many firms, these differences can prove to be serious obstacles – especially when it comes to operational efficiency. Global standardization has allowed businesses to overcome some of these obstacles by creating a more unified chain of operations. But this, too, isn't always as easy as it sounds.
Enterprise Resource Planning (ERP) has become the tool firms use to effectively achieve and manage global standardization. As a cloud-based system, companies can accommodate tax, labor, and cost restrictions as they arise from anywhere in the world. Depending on the flexibility of one's ERP system, organizations can also look to regain a significant proportion of their profits lost due to operational inefficiencies. But balancing ERP flexibility with global standardization can be extremely difficult without the right partner.
In this article, we will guide you through the importance of ERP flexibility, its necessity for sustainably achieving global standardization, as well as how to successfully implement it through be one solutions. But before a business can overcome the challenges of global standardization and ERP flexibility, it must first overcome the narrow scope of its preconceptions.
Overcoming Standardization Misconceptions
There are a few fundamental misconceptions about global standardization and ERPs that substantially limit the financial success of many globally-minded companies. The biggest misconception around these two concepts is cost.
Many firms, due to their previous experiences with company-wide programs, believe that it is incredibly expensive to roll out a global Enterprise Resource Planning system that connects their branches and subsidiaries together. The irony is that ERPs, when effectively implemented, actually help firms reclaim revenue previously lost due to inefficiencies. According to be one solutions' Regional Director for the Americas, Mario Rui Candido, the percentage of company revenue lost from standardized inefficiencies can be as high as 20-25%. For some businesses, that could be the differentiating factor between failure and success. By adopting an effective ERP system, businesses can not only streamline their internal channels, but their services as well. When it comes to global standardization, says Mario, "it's not about just standardizing the business, it's about standardizing the business processes." That starts with having flexible ERP.
What Does it Mean to Have Flexible ERP? And Why Is It Important?
Enterprise Resource Planning, when integrated into multinational corporations, can run into some obstacles. The greatest challenge for modern ERP is trying to keep up with the rate of change of local legislation. For most multinationals, it isn't uncommon to see existing tax, accounting, compliance and labor laws shift in their various subsidiary locations. If an organization is ill-prepared, this new labor legislation could have a huge impact on the human resources side of the business, like payroll calculations. Brazil, for example, is one of the few countries in the Americas to use standard costs over moving average when measuring performance. Flexible ERP, in this case, would accommodate these local requirements and optimize the business around them.
Without the necessary flexibility, ERP could overlook significant operational, cultural, and legal differences that could have long-term financial consequences on your firm. Too much flexibility, however, can also be a problem.
Balancing Flexibility With ERP Standardization
Every region, every city, and every subsidiary has needs and differences that can be accommodated to. Accommodating these region-specific discrepancies, however, can be a costly and inefficient venture, one that can supersede all of the added advantages of global standardization.
A 2014 research study covered how the technological rigidity of some ERP systems can encourage businesses to avoid acting flexibly out of fear of update costs. That being said, the study also touched on how the best practices suggested by ERP can be selectively applied so as to maximize agility. Both of these conclusions seem to identify the need for a balance between ERP flexibility and global standardization. Neither extreme is going to optimize one's business objectives, nor is the exact midway point between the two. Since each organization is unique, the optimal balance between these two pillars will depend on the given company. Finding this balance will depend on your ERP system as well as your ERP partner. For multinationals looking to optimize their balance of standardization and flexibility, a 2-tier ERP is an excellent resource.
Unifying a Multinational Through 2-Tier ERPs
The 2-tier ERP strategy offered by be one solutions is built to keep a firm's operations consistent and agile across its headquarters and subsidiaries. Our established history as a global SAP partner has provided us with invaluable insight regarding SAP implementation and other solutions in subsidiaries of multinational companies. This expertise has helped to forge our unique approach to ERPs that optimizes the outcomes and processes of each of our clients. Through two complementary ERP systems, companies are able to experience the benefits of both standardized efficiencies as well as local customizations. The first tier, Tier 1, is a unique, heavily-customized ERP system that matches the needs, size, and nuance of the corporation as a whole – particularly its headquarters. The second tier, Tier 2, is a more standardized system used by smaller company subsidiaries and partners to maximize their efficiencies both locally and internationally.
Due to the rise of the internet, remote work, and decentralized business models, Enterprise Resource Planning has never been more important. To maximize the outcomes and efficiency of your business, an ERP system needs to be able to successfully balance global standardization with operational flexibility. The quality of wisdom and insight needed to navigate this decision can only be achieved through the type of global 2-Tier ERP offered by be one solutions. To learn more about how we can partner with your business, contact us today.