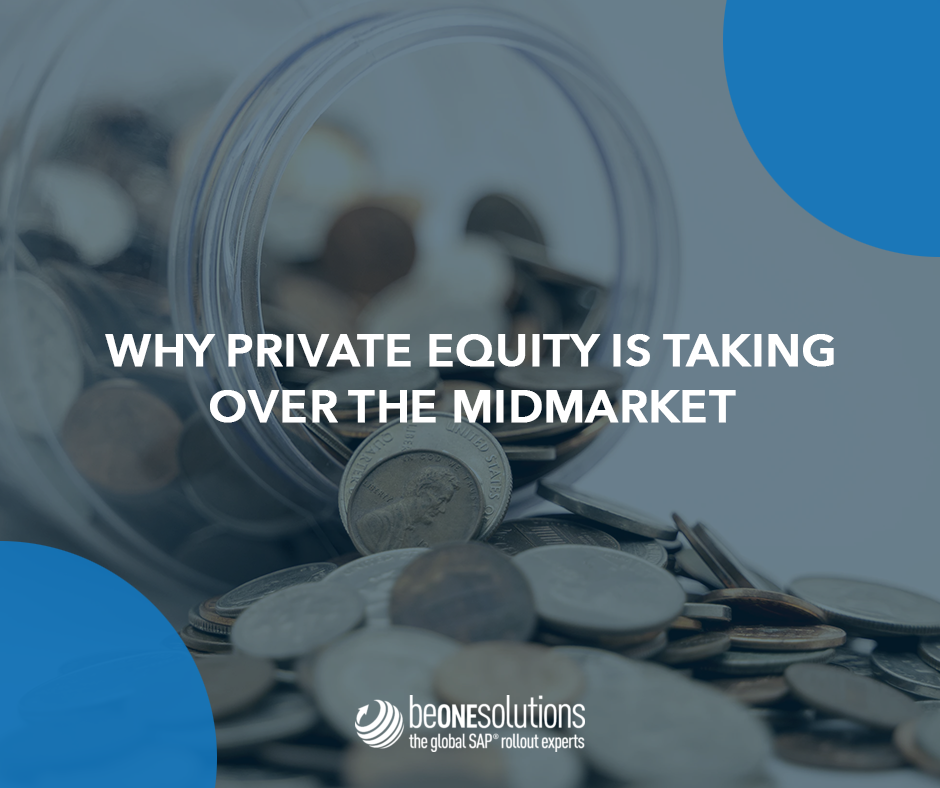 be one solutions' strength lies in delivering global projects quickly, remotely and with high quality.
There's a common misconception that implementing large-scale digital infrastructure is only effective for Fortune 500 enterprises. When people envision the successful use of enterprise resource planning tools, these large, multinational companies garner much of the attention when it comes to spurring market activity. However, mid-market businesses generate a significant portion of economic contributions around the globe. 
Middle market businesses are crucial when it comes to expanding industries and developing innovative solutions. These companies are generally classified by total revenues between ten million and one billion dollars or workforces between 500 and 1,500. In the United States alone, there are over 200,000 mid-market businesses that employ nearly 45 million workers. This vast network requires powerful ERP tools to provide its services. In fact, 80% of SAP's 440,000 global customer base falls in the mid-market range.  
The success of this business category is also leading to the increased presence of private and growth equity, venture capital, and other financial institutions in the mid-market space. 
Private Equity and the Mid-Market 
Unlike fortune 500 enterprises, mid-market businesses tend not to be publicly traded and can experience more difficulty when it comes to securing capital. This limits the ability of these businesses to scale and can be a huge barrier to success in an unstable post-pandemic marketplace. Private equity groups are increasingly expanding their portfolios into the mid-market segment to improve outcomes and get in on the innovative developments occurring in this space. 
A recent report by the National Center for the Middle Market finds three main pathways to growth in this segment: Innovation, Improved Efficiency, and Investment. The investment pathway involves private equity injection or mergers and acquisitions (M&As) as key tools to achieving revenue and market growth. Both domestic and international markets are seeing elevated levels of private equity activity, with Asia emerging as a strong area for M&As, specifically in the Industrial, Consumer, Healthcare, and Tech sectors. At the domestic level, the United States mid-market segment alone represents the world's fourth-largest economy.  
Developing new routes to markets and market expansion are the end goals of mid-market investment, with private equity representing a key contributor to this achievement. As this business segment continues its strong performance, capital firms are increasingly looking to take advantage of all the activity. Unfortunately, throughout these processes, there are specific pain points that private equity groups experience in their attempt to take over the mid-market.  
Pain Points in mid-market Private Equity 
From properly integrating systems to selecting the right targets for capital injection, there are many pain points that private equity firms experience in the mid-market space. As the global economy tries to recover from the devastating impact of COVID-19 and the subsequent recession, these technological, organizational, and strategic hurdles represent a formidable barrier to success. Here are some of the more prominent pain points for private equity firms in the mid-market segment: 
Risk Determination 
Although private equity firms are inherently less risk-averse than other organizations within other industries, adequately identifying, projecting, and managing risk remains a major issue. From estimating the return-on-investment of equity injection to identifying the opportunity costs of undertaking a certain merger, numerous calculations and strategic decisions need to be made. Especially for companies venturing into unknown industries or international markets, the process of determining risk can be difficult, potentially resulting in large losses down the road.  
Systems Integration 
When private equity firms invest in, acquire, or merge with businesses from the mid-market sector, they are not just engaging with a new organization but a collection of systems, processes, and workplace cultures. This is a particularly prominent pain point, as technological systems, business practices, and executive visions all need to be aligned. 
Relationship Management 
In addition to providing a new risk profile, private equity investment into the mid-market often leads to issues in relationship management. Opposed leadership groups, language barriers, and proper assessment of cultural practices are all issues that can arise when firms look to invest in, merge with, or acquire organizations within this segment.  
Helping Private Equity Navigate the Global mid-market 
The aforementioned pain points are just a few of those facing private equity and other capital groups that are looking to expand in the mid-market space. Selecting the right ERP system and building a strong network of supportive strategic relationships is the perfect way to properly address these pain points. This is where SAP and be one solutions set themselves apart as a powerful platform-consultant combination.  
In addition to offering the cutting edge Business One and S4/HANA ERP systems, SAP has also developed a Mid-Market Strategic Innovations team that helps drive value specifically to private equity. They offer a suite of comprehensive services that include: 
Insights and visibility into portfolio spend

 

Improvements to operational efficiency

 

Leveraging disruptive technology to de-risk acquisitions

 

Relationship management services.

 
The power of SAP's private equity tools has been on full display over the last year, as one-third of SAP's new mid-market customers were from either private equity, growth equity, or venture capital. The dedicated private equity and M&A teams that SAP now deploys are additional signals of the strong presence these capital groups have in the mid-market space.  
As SAP global rollout experts, we at be one solutions are another powerful resource for firms looking to invest capital in the mid-market space. Our team is composed of experienced professionals from across the globe who excel at bridging the divide between companies during the M&A process. Implementation of new SAP systems, ERP updates, and subsidiary integration are all domains in which be one solutions excels. To find out more about how our network of SAP experts and partners are helping private equity take over the mid-market space, reach out to us today!