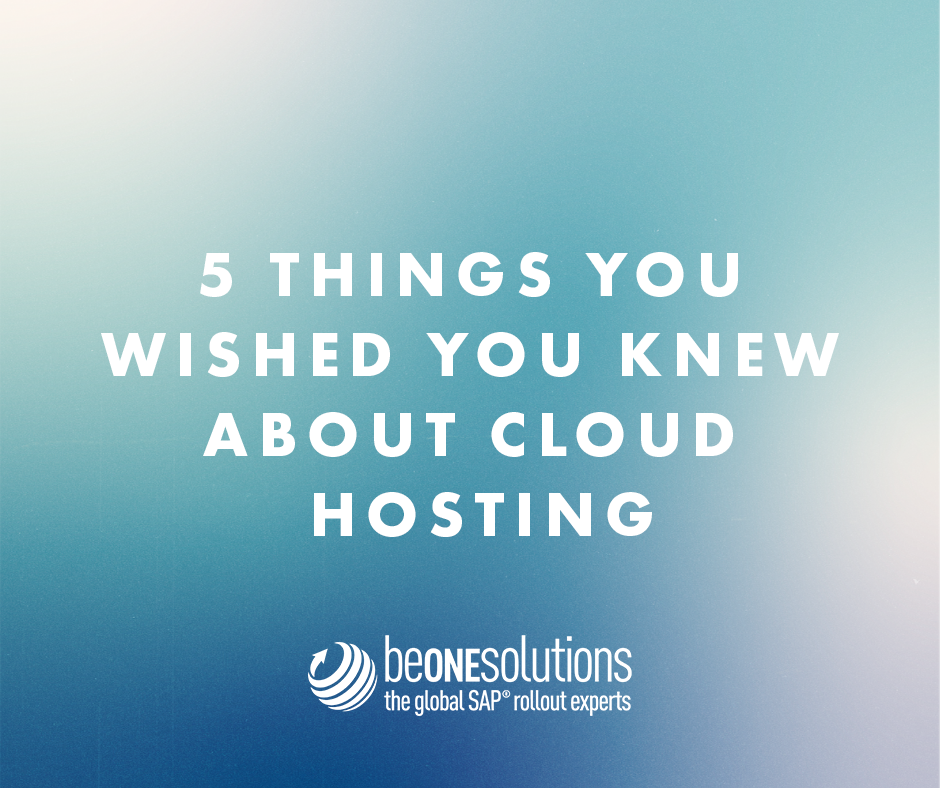 When Cloud Hosting first emerged, companies were eager to explore its cost-saving ability but reticent to move mission-critical applications and sensitive data such as SAP enterprise applications. Concerns about data privacy and security and control and compliance were front of mind. The thought of a system, such as finance, going down would mean an immediate halt in business and damaged reputations. It's no wonder that the idea of placing an ERP workload onto the Cloud was met with trepidation.
The COVID-19 pandemic then accelerated transfer to Cloud. As employees were forced to work from home, on-site infrastructures ran into trouble. Not designed to support an entire company, they now needed to operate remotely. The Cloud provided the necessary scale, stability, and engineering for this new environment.
Here are our 5 top-tips on what to consider when migrated to the Cloud:
Pick Just One Cloud
Although the term multi-cloud is banded around unless you're a tech company, it pays to choose just one provider. Spreading your resources thinly is doomed to failure and is entirely inefficient. AWS has been on the market the longest, with the largest market share of 33% running their apps on AWS. At be one solutions, we focus entirely on one object: providing Cloud services including end-to-end support for the entire customer lifecycle from planning, migration, operation, and innovation. Our clients can speedily, securely, and seamlessly move their data to the Cloud. They can also receive help in executing strategic plans when moving their SAP systems to the Cloud.
be one solutions Regional Director for APAC, Olli Kylänpää states:
"It all comes down to the power of unwavering commitment. At be one solutions, we are fully focused on SAP. This dedication is the foundation of our promise to our customers. Who can be assured they have a single, reliable source for both ERP and Cloud Hosting, ensuring their data is within arm's reach, delivered efficiently whenever they may need it. This kind of seamless support and dedication can truly transform our customers business journey."
Cloud Hosting: More Secure Data
In a recent survey, 150 top-level executives in companies with annual IT budgets exceeding $1 million made a compelling choice. A remarkable 39.7% opted to migrate their legacy systems to Cloud Hosting for enhanced data security. This transformation is made possible by using enterprise-class hardware with cutting-edge security measures. Relying on a single IT expert to safeguard your corporate data is a practice of the past. Instead, with leading providers such as AWS, as a customer, you can rest assured that a team of dedicated security specialists are protecting your sensitive data. The team safeguards your company against intellectual property loss, hackers, and steers you clear of potential fines from regulatory authorities. This is the main essence of data security in the modern digital age.
Kylänpää explains:
"Cloud hosting's general misconception was that the Cloud was less secure than the average in-house IT support team. Historically, employees often only had access to work files from the Local Area Network. Cloud Hosting promises 99.5% availability with greater security when something like the loss of a company laptop occurs. Because your data is stored in the Cloud, you can access it from any machine, thereby protecting company data."
It pays to Plan Ahead
Success in complex, multi-layered initiatives require a well-devised strategic plan and ample preparation. Allocating finances and a skilled team is vital. An experienced partner, such as be one solutions, can provide invaluable guidance to your in-house IT departments, keeping them attuned to emerging trends and ensuring ample time for skill development. When in-house IT teams face challenges, seeking support from experts is a logical step towards success.
Track Your Cost Savings with Cloud Hosting
Transferring data to Cloud Hosting is going to save your company money, period. So, why not be the deliverer of great news and track your savings as you go. The migration of SAP systems to the Cloud presents a transformative opportunity for enterprises looking to reduce costs. Leaving data centres and joining an Infrastructure-as-a-Service (IaaS) model delivers metered cost plans so businesses only pay for services when they use them. Businesses also have a reduced need for operational support, licensing, improved business availability, and faster project cycle times. If you measure everything, using KPIs and metrics to track and advertise progress, you can document Cloud success.
Cloud Hosting: An Opportunity to Become Agile
Moving to an SAP on AWS DevOps landscape enables organisations to build systems and system landscapes in just hours. They can automate any operational tasks and deliver immediate benefits. Embracing automation allows the workforce to focus on more important tasks than sending repetitive emails. Running mission-critical applications in the cloud means that businesses don't have to train and maintain in-house. Newly remote workforces also have easier access to data.
The migration to Cloud Hosting is in full flow and, in this dynamic and data-driven environment, the efficiency, speed, and scalability of Cloud platforms are crucial. Security is of primary importance and, with innovative services such as data management and analytical tools, the Cloud has become a trusted place for mission-critical applications. Proper planning, good financial focus, and a clear understanding of in-house skills and resources are all key to cloud transfer success. An experienced Cloud Hosting provider like be one solutions will help you to navigate the waters for a smooth transfer to the Cloud. Contact our Cloud Hosting and SAP implementation experts today!