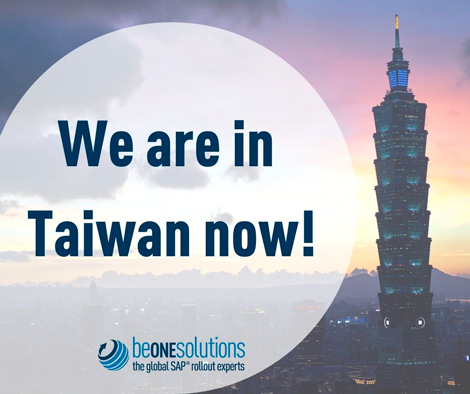 As the Industrial 4.0 unfolds, operations in many global organizations were affected. Coupling with Covid-19 outbreak, companies around the world are struggling with the significant digital transformation. In the industrial revolution, interconnectivity between subsidiaries, sharing real-time data between departments and automation at work are some of the key focuses for companies to explore.  
New subsidiary opening in Taiwan

 
Covid-19 pandemic accelerated digital transformation in Taiwan hence many companies are searching for a seamless solution which is cost efficient, integrates between subsidiaries and HQ, and has transparency of processes. Right on time, be one solutions decided to set foot in Taiwan while we are riding the wave of business expansion in the region. Apart from providing world-class roll-out services and support to our existing clientele in the country, we are also ready to help global organizations in Taiwan to create new values with our expertise in ERP which is crucial for digital transformation.  
Initially planned to open at the beginning of Q4 2021, this subsidiary opening was delayed as a consequence of Covid-19 ordeal. Indeed, registration processes were relatively challenging and it caused a delay in the application. Nevertheless, our subsidiary in Taiwan was officially registered in December 2021 despite all the formidable hurdles. Being a SAP global partner with vast experience in ERP system implementation, our team is always ready to support international organizations in Taiwan to deal with challenges such as real-time data sharing between subsidiaries or random error in reports that are generated manually.  
Growing our team in Taiwan to answer our customer's needs 
To begin the auspicious year of Tiger, we welcomed Ms. Shirley Ng as our first team member in Taiwan. As Senior Consultant and Project manager, her key responsibilities are to provide product expertise and to define optimized technical and functional design through projects implementation, as well as supporting our clients in the Island. Amongst them we count our long-time customer Parker LORD, which represent on its own a testimony that meeting our client's need is always our priority. 
To do so, we put a strong effort on the onboarding of our new team members. Solutions training, brand introduction, attention from HR, admin and IT, projects and clients briefing, … everything is thought to make newcomers feel comfortable and able to grasp the key elements of our operations within their first couple of weeks or so. As Shirley mentions: 
The team is always there whenever I have a question, there is a lot of support: even though we are working remotely, you are not alone. I also like the diversity that brings the global environment, I can speak with people from Hong Kong, Singapore, Malaysia, Philippines, Spain and many other countries.
This nurturing process ensures that we, as a company, stay on top of our niche, and deliver harmonized quality all around the world.  
More subsidiaries, more career opportunities 
As the saying goes, teamwork makes the dream work. be one solutions is a global company, in fact we are a big international family that is growing tirelessly. Therefore, we are searching for talents who aspire to work in a team that is passionate and values our culture of trust to be part of our family while we are expanding our team in Taiwan! With more position openings, it means more opportunities for growth and we are expecting a stronger team to provide excellent service to our clients in the region continuously. If you are looking for growth in your career, apply here before the position is filled! 
In a nutshell, multi-national organizations have abundant opportunities to create values in this potential market of Taiwan and certainly be one solution's global team is always ready to help. Contact us to discuss your next rollout in or out of Taiwan