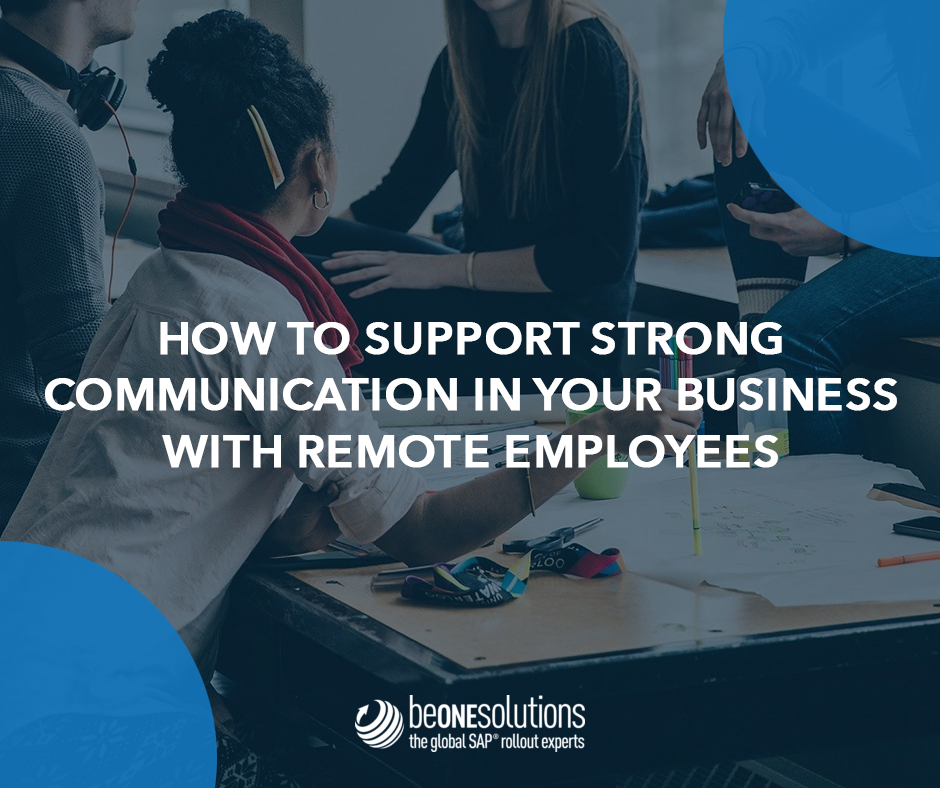 The COVID-19 pandemic has totally shifted the way we live and operate in our daily lives, and most of all, in the way we work. Remote working or working from home seemed for some time like it was on the horizon, but the pandemic fast-tracked this potential paradigm into a reality that businesses are having to work double-time to adapt. 
One of the major struggles for employers of remote workers has been trying to keep open channels of regular communication. For many businesses, sourcing a good Enterprise Resource Planning (ERP) software has resolved many issues and eased this transition by providing improved communication tools, seamless access to information, and a central hub of activity. But even with the right ERP, managers and employers still need an arsenal of practices and processes to maintain best practices. What follows are the healthy tips that we, at be one solutions, have discovered and live by to support strong communications with our employees.
Procedures and Policy
We often hear that employers are sometimes not as ready for change as employees are, but what does this mean? While employees are ready and able to pivot to new circumstances (like working from home, for instance), employers must address the logistics, the policy, and the process that goes along with any change. There is a procedural element to working remotely from a managerial standpoint, and good procedure and policy are standardized throughout the company. 
Full 

U

nderstanding of 

E

xpectations
Simply having a good policy and process is not enough - they also need to be well communicated. Standardizing and clearly communicating the expectations of remote workers as well as the business policies and processes is key. 
Expectations can be summarized in several ways when onboarding new employees so that they appeal to different types of learners and be easily accessible for those who need to brush up. Formats for communicating process and policy can include infographics and flow charts (for visual learners), written summaries (for readers) and conversations during training. Remote workers need to know what is expected of them so they are positioned to be successful. Overall, the more clarity and the less ambiguity, the better in communicating task instructions as well as company policies. 
R

egular 

C

heck-ins
Neglecting to offer timely and clear communication with remote workers can leave them confused about what is going on in the company. Likewise, not following up promptly can misrepresent the changing or updating reality of a situation to employees, leading to frustration and wasted time. 
Having a standardized cadence of communication between employees and their supervisors and amongst teams can save a lot of time. This aspect of working remotely can be overlooked as regular face-to-face contact was taken for granted in an office setting. Having a technology platform capable of hosting communication will help build a good rhythm of community huddles. 
Engagement
Keeping employees engaged despite all of the distractions of being at home can be tricky. It is equally difficult to keep employees who work remotely feeling connected to the company's heart. Studies are also mixed, with some saying that remote workers are more engaged and productive, while other state remote workers are less engaged and more stressed. 
But of course, good performance and engagement are equally possible when working from home, but it needs to be leveraged with the right techniques. Best practices include supporting employee health and wellness, hosting casual virtual meetings and hang-outs, and keeping open lines of communication, so employees feel heard. 
All of these intertwine with the recommendations listed above but engagement is included as a separate piece because it is the lynchpin that will make the rest of the components come together. If remote workers aren't engaged, management will never know if their best efforts are getting through, and without feeling engaged, workers won't be as excited to do a great job. 
The key component that allows us to work remotely is being able to work online and with the right software. Choosing an ERP system that works for your company's needs is going to go a long way in supporting your remote workers, and there are many options to choose from, like be one solutions, that offer supported setup and integration experiences. 
be one solutions, your SAP implementation expert, is attentive to your needs for all your ERP projects. Feel free to contact us!