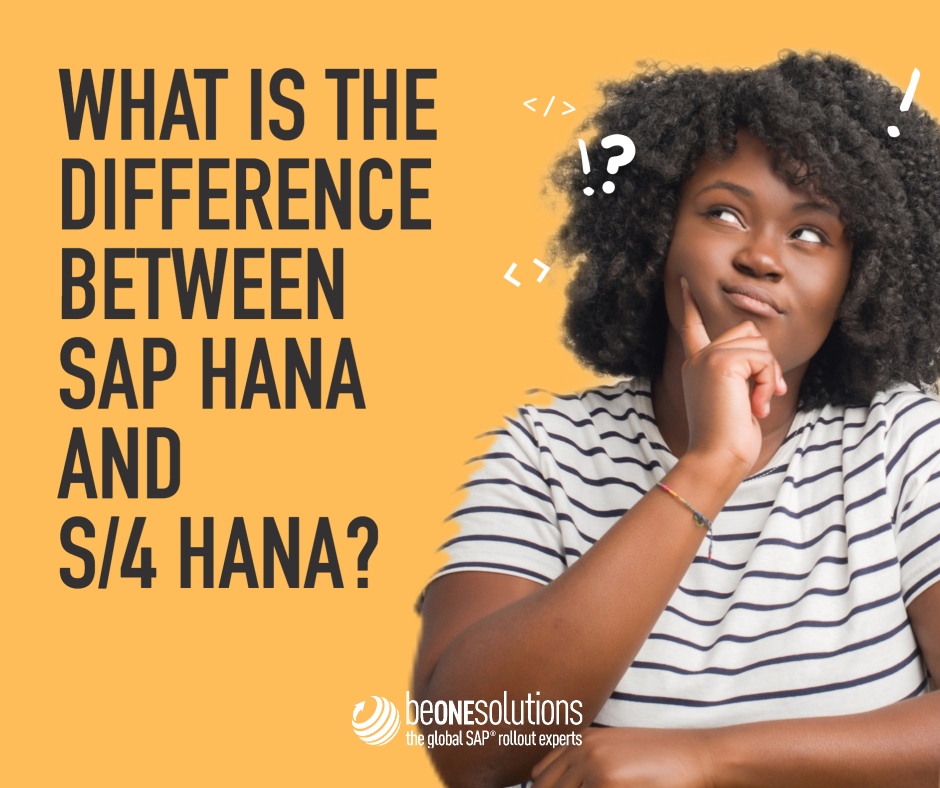 When SAP HANA launched in 2011, it marked a shift in SAP's company strategy as this was their first in-memory database. SAP's previous products were all database agnostic, and it was clear that this was about to change. Today, we have SAP HANA and S/4HANA, which is SAP's next-generation business suite, and as the name implies, SAP 4 HANA runs only on SAP HANA; this means it does not support other programs such as Microsoft SQL Server or IBM DB2.
By 2030, SAP will stop supporting all applications other than S/4HANA, and as this deadline looms, it presents two clear migrations challenges for businesses. The first is that an organization must adopt SAP HANA as its primary database, it must then migrate from ECC to S/4HANA, and while this double migration may seem like a daunting prospect, an intermediate move is possible. As you are able to run ECC on top of SAP HANA, which is often referred to as Suite on HANA or SoH, you can stagger your double migration over a larger time frame. In this article, we will look at the difference between SAP HANA and S/4HANA.
The Differences Between SAP ECC, SAP HANA, and S/4HANA
To fully understand the difference between SAP ECC, SAP HANA, and S/4HANA, it's vital to remember that SAP HANA is an in-memory database, which acts as the core technology needed to run other SAP applications; essentially, SAP HANA is what runs the SAP landscape and doesn't execute business transactions such as finance, HR, or logistics. In order to perform business transactions, a company needs SAP applications that run on top of SAP HANA.
SAP HANA is the backend responsible for running the SAP landscape, and its central feature is an innovative Relational Database Management System which is pivotal in storing, retrieving, and processing data for core business activities. This in-memory database can accommodate any type of data that applications installed in addition to SAP HANA can utilize to meet specific company needs for any number of tasks such as logistics or finance.
SAP ECC is an enterprise suite that comprises ERP modules such as logistics, warehousing, human resources, and finance. ECC evolved from SAP R/3, which first debuted in the early 1990s, and by 2003, the application became SAP ERP before evolving into SAP ECC in 2004.
S/4HANA is the next-generation business suite from SAP, designed to work specifically with SAP HANA. SAP 4 HANA is an ongoing project, and SAP is currently working on reworking the code behind SAP ECC modules in order to optimize them for the way the SAP HANA database is designed. S/4HANA is a robust ERP solution as it has both BI and ERP capabilities, which utilizes the SAP HANA's in-memory computing power
S/4HANA's Advantages
Many have been impressed by S/4HANA's simplifications to the data model, user experience, business processes, decision making, and business models. S/4HANA provides much-needed innovations for big data analytics, mobility, and much more as it also uses the modern Fiori User Experience to provide a more intuitive and efficient UX when compared to older SAP GUI.
S/4HANA Finance is ideal for financial management and accounting, as it is able to cover the complete range of tasks involved in running a successful finance company or department, including planning, analysis, accounting, risk management, and compliance. In contrast, SAP ECC does not offer this full range of functionality in one application, which makes it a less efficient option in comparison to S/4HANA.
It centralizes data and eliminates redundant information, which makes it easier to remain compliant and monitor financials. With S/4HANA, businesses no longer need to wait until the close of business in order to get an in-depth look into the company's financial KPIs. An organization will be able to analyze data in real-time across any range and depth for a better insight into the health of the business. S/4HANA Finance provides companies with the capabilities to automate risk compliance, international trade, and many other business-critical activities, which makes it easier to optimize the business operations, improve financial performance, and protect assets by minimizing risk and compliance violations. It can even provide real-time fraud detections as well as predict and block future fraudulent behavior.
As S/4HANA does not need supporting data or rigid structures, you have the capacity for rapid data modeling for predicting the effects of business-critical decisions such as acquisition or divestment. The flexibility of rapid predictive data modeling provides real-time cost and revenue analysis alongside cash flow optimization.
When it comes to the range of logistic uses, including procurement and sales, inventory management, and capacity planning, S/4HANA provides compelling advantages in comparison to SAP ECC. S/4HANA is capable of tracking current inventory, transportation of goods, and production costs in real-time, amongst many other capabilities. This real-time data is reflected instantly in the accounting figures, which provides a clearer image of the business's current financial status. S/4HANA can also synchronize with mobile devices in trucks and automates the invoicing and route planning while notifying users of problems such as missing goods. Additionally, S/4HANA is able to analyze the flow of goods in order to reduce the likelihood of bottlenecks which assists material planners in minimizing inventory levels.
SAP HANA Migration
SAP will continue to support and update SAP HANA, which provides companies with the ideal platform to plan migration and S/4HANA upgrade in a way that works with each business needs. Appropriate planning will maximize the strategic benefits of implementing SAP HANA and S/4HANA while minimizing disruptions to your daily operations.
The roadmap to SAP HANA is relatively simple; however, when performing this technical exercise in order to achieve a seamless migration, it is essential that you utilize an expert in SAP rollout. Modified non-SAP applications or those designed by the company must be evaluated in order to assess their feasibility in use with SAP HANA. In some cases, many of these applications are rendered unnecessary by the new HANA functionalities, whereas others will need to be adjusted in order to work correctly with the new backend.
To find out more about how our network of SAP experts and partners are helping businesses migrate to SAP HANA and S/4HANA, reach out to us today!