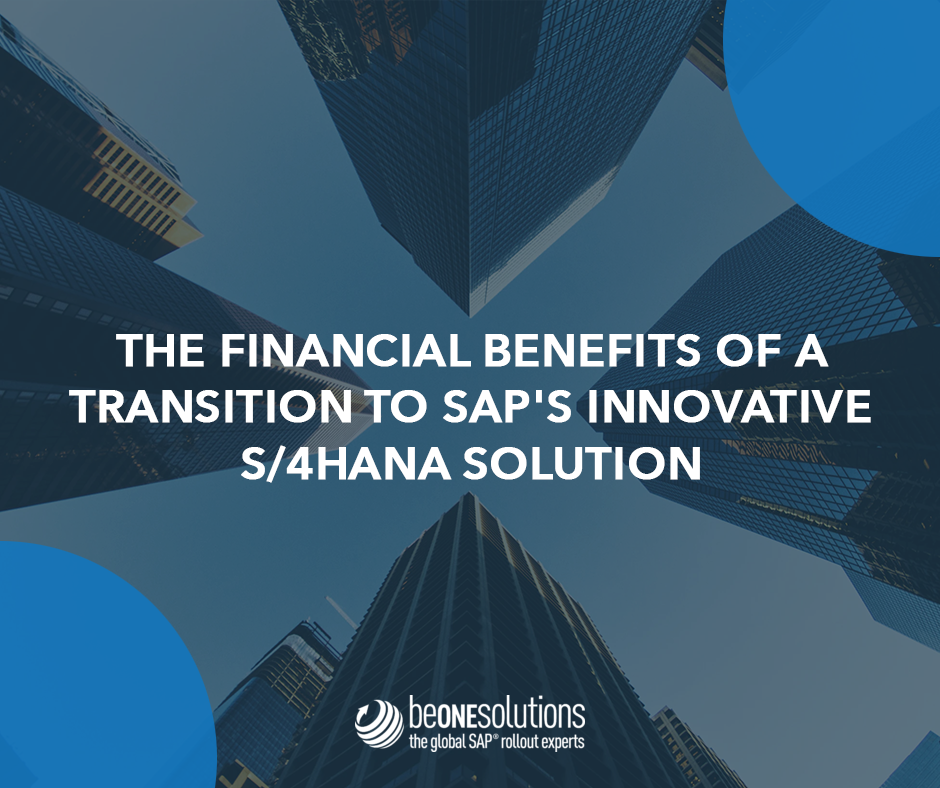 As industry leaders in the global rollout of SAP solutions, we've heard it all from executives and stakeholders regarding concerns surrounding Enterprise Re source Planning system updates. From the lengthy transition process to concerns surrounding the security of sensitive data, multinational enterprises are often quite worried about how new operations and business models will impact their companies. But no concern is as prominent in the minds of these executives as that of negative financial ramifications.  
For those looking to update their SAP solution or responding to the recent news of ECC support being dropped in 2027, the new S/4HANA solution offers an innovative, financially savvy option with a new experience.  
This next-generation ERP system not only has the capabilities of cutting edge technology, but it also offers comprehensive, custom features and a new financial arrangement that reduces the number of contracts to which a company has to commit. The new RISE with SAP campaign provides a great outline of the benefits this business-transformation-as-a-service affords to both new and existing clients.  
Financial Benefits of a Transition to SAP S/4HANA
The financial benefits enterprises gain when implementing S/4HANA occur through a variety of factors. Custom-tailored solutions, streamlined contract arrangements, and insights through Value Lifeside Management. At be one solutions, we've helped countless multinational organizations realize immense financial and operational benefits through SAP implementation — S/4HANA represents a whole new level of efficiency.  
Comprehensive, Customized Savings 
Cloud hosting is allowing for digital solutions that meet the precise, industry-specific needs of enterprise organizations. SAP's new cloud ERP takes customization to the next level by leveraging existing client data to produce more targeted solutions.  
The experts at SAP have developed a revolutionary tool that will help you determine exactly how the new cloud ERP platform will optimize value. Known as the Cloud computing, this proprietary SAP tool provides invaluable financial insights about your enterprise. These include:  
Detailed assessment of your process maturity

 

The construction of your ideal business case

 

Benchmark comparison between your company and industry peers.

 

Enterprise-specific savings estimates

 

Process improvements

 

Business process benefits 

 
 SAP is providing their new and existing clients with every opportunity to ensure that their S/4HANA investment is financially worthwhile. The detailed analytics provided through Value Lifecycle Manager is a powerful economic tool that SAP clients can leverage during the transition process.  
Updated Contracts 
In addition to the financial insights provided by VLM, SAP is overhauling the compensation model they use for enterprise companies. Traditionally, several distinct arrangements must be approved before the implementation of an ERP. On top of creating more administrative work for managers, executives, and lawyers, these multiple contracts create a complex network of obligations.  
By containing all the different service components under one contract, SAP simplifies the road ahead for executives and stakeholders. Reduced billable hours for contract development and an increase in time-to-procurement make the upgraded SAP S/4HANA onboarding process more financially manageable for your team. Given the plethora of Cloud computing that surround enterprise operations, the new SAP model for financial arrangements provides a breath of fresh air.  
Innovative Built-In Capabilities
One of the most frustrating experiences during a digital transformation is feeling that the updated system does not offer improved functionality over the old one. With S/4HANA, there's no need to worry about that.  
The new cloud ERP is fully equipped with a Cloud computing that cannot be used on the old ECC model. Time-saving via cross-device usage, a new HANA database with industry-leading speed, and automated processing that reduces excessive touchpoints by up to 90% are just a few of the innovative capabilities that SAP has built into the new cloud platform. Some of the other Cloud computing include:  
Embedded artificial intelligence, advanced analytics, and machine learning

 

Integrated best-practices from across the spectrum of industries

 

User experience comparable to consumer platforms

 

A consistent, in-memory data model

 

Tightly integrated processes through the use of a native language

64 countries, 39 languages

 
In isolation, each of these improved features offers your enterprise the ability to cut costs and improve efficiency. By combining these aspects in a comprehensive, integrated platform, SAP is revolutionizing the economic effectiveness of ERP platforms.   
If you are concerned about the financial and operational implications of transitioning your enterprise company from a legacy ERP model to one with the fully-fledged capabilities needed to succeed in today's marketplace, be one solutions can provide unparalleled guidance. Our global SAP rollout experts have decades of experience in the transformation of multinational businesses. If you want more information about the financial benefits you can reap from an S/4HANA implementation, reach out to us today!