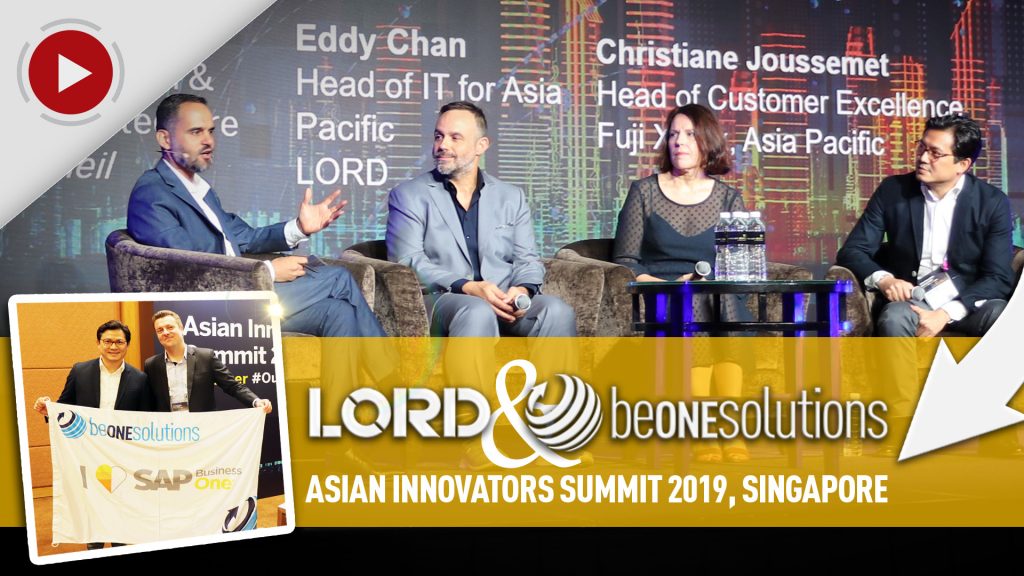 Joining Forces With Eddy Chan From LORD & Presenting Winning Global #SAPBusinessOne Rollout Strategies to the Southeast Asian Market at Our Booth in Singapore!
Earlier this month, at SAP's Asian Innovators Summit 2019 in Singapore, we had an amazing opportunity to share some insights about how to implement SAP Business One simply and effectively on a global scale. As you know, we concentrate on large, multinational enterprises and their smaller and medium sized subsidiaries – that's what we do best and it is why we simply had to be out there in beautiful Singapore at the Marina Bay Sands. And we didn't show up just by ourselves - we were truly honored to have one of our valued customers on stage: LORD Corporation.
LORD is an organisation that we've been partnering up with for many years. Think about it, LORD is meanwhile running SAP Business One in 17 of their world-spanning locations. Fun fact: Those 17 are fully integrated with their ECC system at Headquarters. So, how about some first row impressions? Well, here goes an exclusive 2 minutes clip of Eddy Chan (Head of IT for Asia Pacific, LORD) on stage as part of a panel discussion, plus some quick snapshots of our team working the showroom floor out there in Singapore.
Iswandi Hamli (Country Manager Singapore at be one solutions) said:
It was an awesome summit and it was mandatory that we were present, indeed! Keep in mind, were the only SAP Business One partner at the show. There is so much potential, right now we are only scratching the surface in terms of making the world aware of this small but powerful little ERP solution. Rest assured, we did what we could to make a big difference, though. And we were proud being there representing the SAP Business One world – especially with a client. As a matter of fact, we flew the SAP Business One flag high alongside with SAP innovation offerings, and at the same time shared our unique global capabilities to potential clients.
Bottom line: Perfect outcome – thanks to everyone we met, thanks SAP, and a HUGE thank you to LORD and Eddy. We highly appreciate customers like you guys!"
be one solutions, your SAP implementation expert, is attentive to your needs for all your ERP projects. Feel free to contact us!