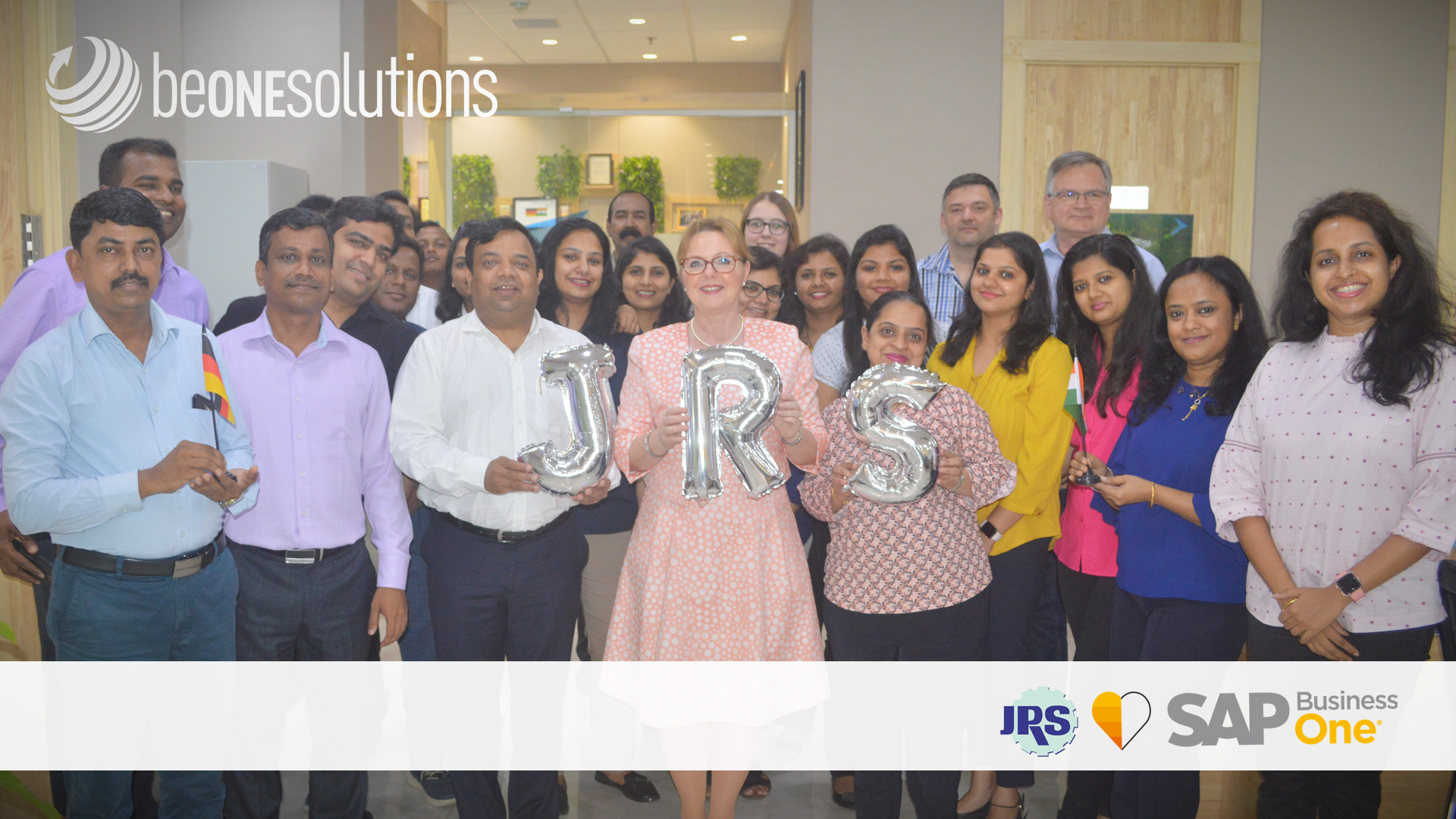 Ribbon Cutting Ceremony Wraps up Project with Big Smiles!
The company's roots are deeply nested in southern Germany, Rosenberg to be exact - however J. Rettenmaier & Söhne GmbH + Co. KG meanwhile has become a true global player: JRS operates 80+ distribution and production facilities in the EMEA & APAC region, as well as the Americas, which guarantee constant accessibility of their products and perfect customer service no matter where. Just like JRS, throughout the years, we have developed into a powerful worldwide player, with staff on every continent on the face of the earth. As a matter of fact, we have grown alongside and with JRS and our valued friends there. Indeed, a perfect example of how it should all work – hand in hand and with an constant eye on the defined goals.
As you can see, big smiles during a fantastic ribbon cutting ceremony held at the JRS office, hosted by Yvonne Johnson (Head of Business Unit Pharma Excipients, JRS), Rohit Raut (Managing Director, JRS India), Peter Obst (Head of IT Business Applications, JRS) and Heiko Merz (JRS SAP Business One Team).
Actually, we just received another update about this one-of-a-kind relationship from India, which marked the latest location where JRS put SAP Business One in place in order to align, standardize, and integrate real-time data from and to their German based Headquarters. By the way, the project was kicked-off in January 2019, JRS India then went live on April 4th. During this period we've been supporting JRS's IT Department with various tasks, such as handling the Indian Localization under a new tax structure, mapping all business requirements and conducting trainings. Care for some behind the scenes shots? Here are a couple of pictures taken in Thane/Mumbai at the project go-live on April 4, 2019.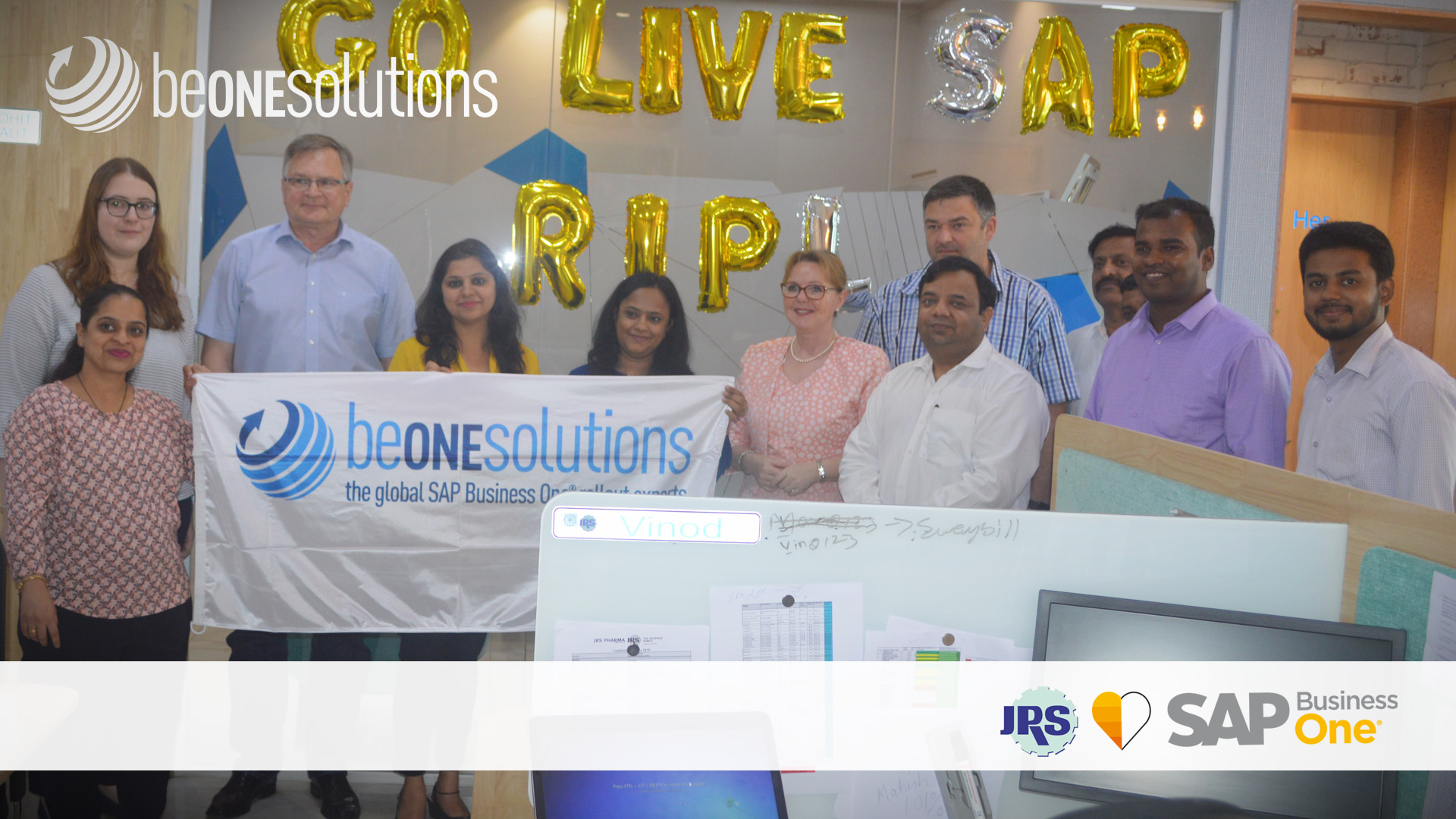 Certificate of Appreciation from JRS India for our phenomenal relationship & quality of service
Kanishka Tyagi (SAP Business One Senior Support Consultant, be one solutions) told us:
Going live on time wouldn't have been possible without the dedication and efforts of Mr. Sanjiv Chavan (General Finance Manager and SAP Project Manager, JRS) and his hardworking team!
She adds:
Working with JRS India has been one of the best experiences I personally had so far. The team is phenomenal, so cooperative, hard-working, understanding and helpful. My sincere congratulations to Mr. Rohit Raut for such a group of fine individuals. For them, it didn't stop when the business day was over – the hospitality was second to none and the treatment by everyone top notch. Thank you JRS India, from the bottom of my heart!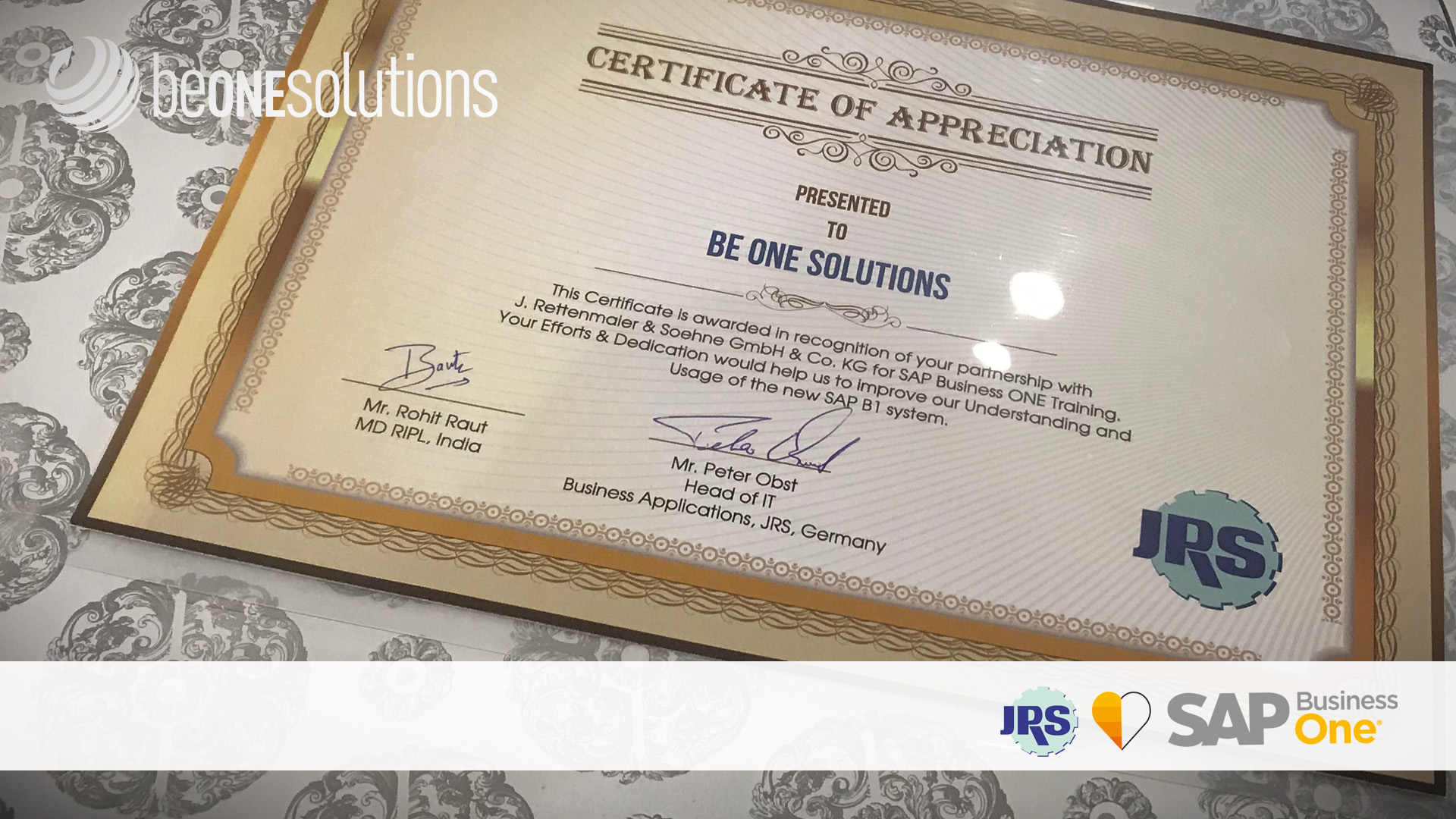 Topping it all off, JRS presented us with a Certificate of Appreciation in recognition of the great partnership and the valuable training effort that enables JRS to improve and understand the solution and use the new SAP Business One system to the fullest of its capabilities. Check out the impressions below: Peter Obst presenting Kanishka on behalf of be one solutions with a nicely framed Certificate of Appreciation.