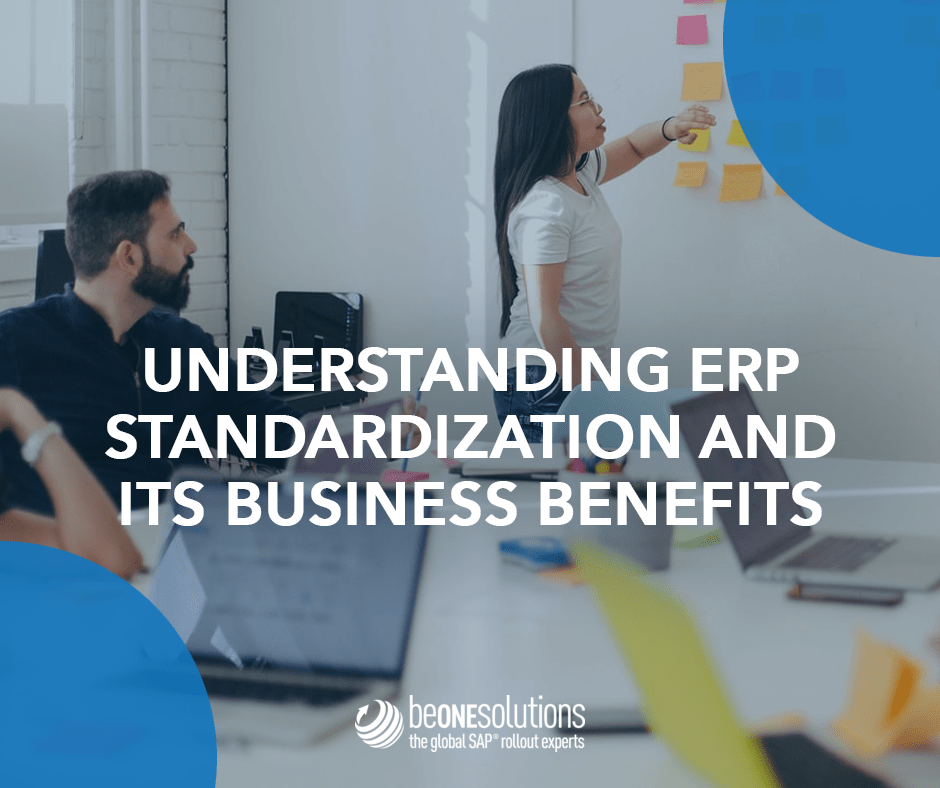 Unbeknownst to many organizations, one of the most challenging aspects to overcome as a business is, in fact, growth. Expanding one's company means broadening the processes, personnel, and locations a business utilizes to conduct its processes. All of this expansion can lead to greater benefits as well as greater obstacles. One such obstacle is operational inefficiencies.
As a business grows, its activity tends to become increasingly large and complex. Whether it's a global expansion or the addition of a second branch, growth can increase an enterprise's existing inefficiencies, especially if they are not sufficiently addressed. Enterprise Resource Planning (ERP) standardization, when successfully integrated, can help an organization reduce the number of zero-value activities as well as avoidable inefficiencies. To help business executives overcome the common obstacles associated with operational growth, here is a breakdown of the various business benefits of ERP standardization.
Modernizing Your Business
With social distancing and remote work transforming the current business landscape, big data has continued to cement itself as a crucial element to both front-end and back-end business success. In order to fully take advantage of information and technology of this kind, businesses need to be 'modern' enough' to record, process, and manage the results. This means having your company activities be digitally supported. The issue with modernizing a business in this way is that many executives haven't been taught how to execute this technological transition. Despite the fact that about 74% of firms have expressed the desire to become 'data-driven,' only 29% actually have demonstrated their ability to connect analytics to exercisable action. This disconnect, while great, is not insurmountable, though.
One of the greatest benefits of ERP standardization is that organizations are able to equip themselves with the technology to connect and coordinate their internal processes. Using a cloud-based system, ERP can collect and utilize company data from a distance to produce valuable insights. These insights can then be used to produce a set of recommended best practices that can help the corporation reduce the amount of revenue lost due to standardized inefficiencies. This, subsequently, is another benefit of ERP standardization.
Uncover Hidden Profits
be one solutions Regional Director of the Americas, Mario Rui Candido, recognizes that every business has 'hidden' profits buried under operational inefficiencies. According to Mario, 'Profits are sometimes hidden underwater.' What he means by this is that profit margins can often be limited by costs with low visibility. For instance, very few companies take into account the time, resources, and capital spent reformatting HR documentation, payroll calculations, and tax forms for different subsidiaries. These costs can add up, especially for multinational companies with thousands of employees all over the world. But how does a business 'uncover profits?' One way is through ERP standardization.
ERP standardization allows companies to systematize their processes, activities, and technology across all of their branches, subsidiaries, and departments in a way that minimizes controllable cost inefficiencies. Similarly, consistency of this kind can also result in improved productivity and efficiency across all areas of the business. Not only can manufacturing operations improve as a result of ERP standardization, but so can communication.
Baumer, a long-time client of be one solutions, is a Swiss-based leader in technology who struggled to implement its organizational systems across its various global sites. One of the areas Baumer struggled with was the consistency of its existing data platform between its various partners. In coordinating with its partners, Baumer's central headquarters could be dealing with five or more versions of the same software at any one time. This would result in miscommunication and rollout errors that slowly ate away at the bottom line. But after partnering with be one solutions, Baumer was able to standardize and streamline its internal activities, along with introducing a standard software platform amongst its partners that was required to be updated to the latest version at all times. Standardizing one's business completely, however, is not an optimal solution. It still requires a certain level of flexibility to accommodate and leverage the differences of each subsidiary and location.
ERP Standardization: A Balancing Act
Let's use another one of our case studies as an example. Extruflex, a French PVC producer, was trying to overcome some of the inherent challenges of global expansion. Each of its foreign subsidiaries, to them, felt as if they were operating on an 'island.' With an internal disconnect this large, standardization was the likely tool. But in partnering with Extruflex, our goal was not to completely standardize the business through ERP, but strike a balance between consistency and flexibility .
Business agility and standardization are two sides of the same coin. Both of these organizational features contribute to efficiency in different ways. Standardization, in the case of Extruflex, enabled management to have more precise control over their inventory. This allowed Extruflex to even adopt a hyper-efficient 'just-in-time' business model for its orders. The key to a 'just-in-time' inventory model, however, is flexibility. Without the necessary accommodations for local labor laws, cost calculations, and taxes, Extruflex wouldn't be able to have the operational flexibility they need to maximize their standardized efficiencies.
Leverage a Strong Business Partnership
While ERP standardization is an effective tool, it requires the proper oversight to become an effective solution. With be one solutions, organizations can gain the benefits of a dedicated business alliance and the expertise of a global SAP partner. The commitment we have with our clients and supplier (SAP) has allowed us to build relations based on trust and implement our unique rollout methodology, that we can customize for any scenario. Our rich experience helping large enterprises and multinational companies standardize their systems with 1 tier and 2 tier SAP ERP strategies has furthered the value of both our services and our partnerships. The better we get to know your business, the more we can do to support it. In addition to 24/7 multilingual assistance, be one solutions is constantly looking for ways to improve your cost efficiencies as well as the profitability of your operations. Learn more about the types of benefits you can obtain from ERP standardization by partnering with be one solutions today.