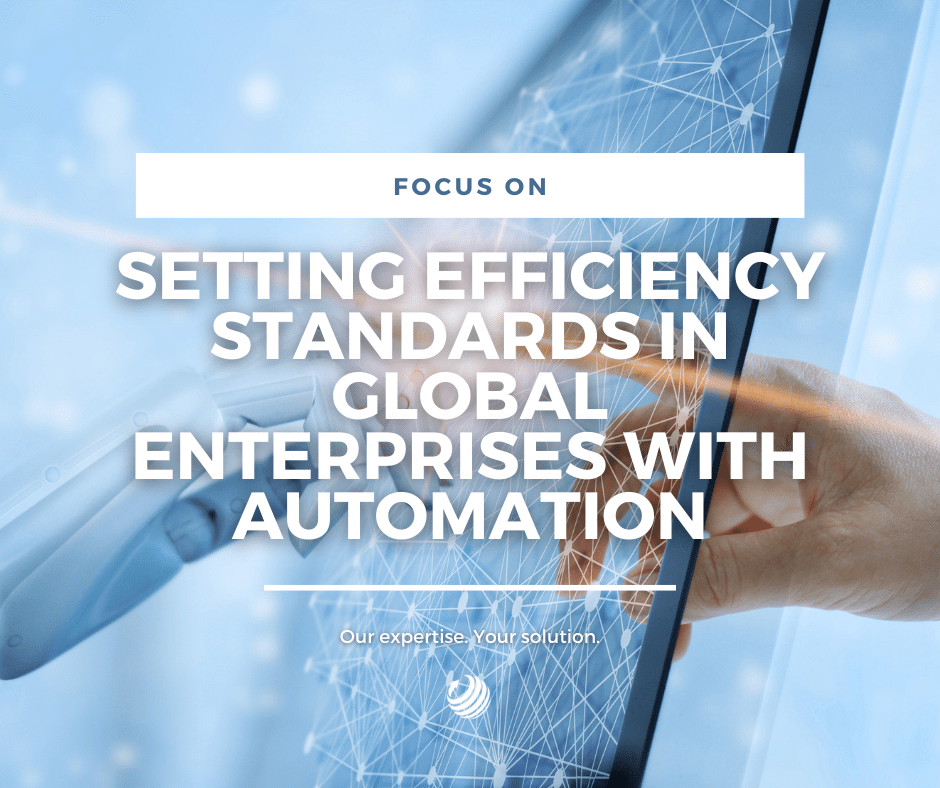 All companies look to further optimise their operational efficiency and provide accurate, real time information to management. This allows them to make business critical decisions faster and mitigate any risks caused by disruptions in specific areas of their business. In order to achieve this edge over their competitors, companies must align their master data globally, which, in turn provides them a real-time access to entire organizations business critical information. With these alignments in place, they can then turn their attention to further enhancing their operational efficiency by integrating their entire supply chain. At be one solutions, we use our expertise to integrate systems such as SAP S/4HANA, SAP ECC, and any other larger scale application seamlessly with SAP Business One, providing a single point of truth to our clients.  
Automation of essential tasks and integration of business systems are both keys to success. Integration helps to speed up business processes and offers full visibility with real-time data, which ultimately helps employees and management make business decisions with confidence. Following this, automation of any employee-driven process results in reduced costs, increased employee productivity, and mitigation of risk. We spoke to be one solutions Regional Director for APAC, Olli Kylänpää, about how digital transformation and automation sets the standard for efficiency in global enterprises and multinationals.  
A simple example of effective automation can be observed in a procurement life cycle; based on demand / sales forecasts, procurement orders goods from manufacturing sites, the creation of purchase orders at the sales entity side will automatically generate a sales order at the factory side utilising our state-of-the-art Integration template. Throughout the process, the sales entity is aware of any possible changes on dates, quantities, etc. as the information seamlessly flows between the two systems. Once goods are delivered from the manufacturing site, a shipping instruction, including relevant information such as batch/serial numbers, expiry dates, etc. is, together with invoices integrated from manufacturer back to the sales entity application.
Software Solutions

 for Intelligent Automation
Multinational organisations need software solutions that provide synchronicity of data across multiple systems to automate their business processes. Integrated ERP such as SAP Business One or SAP S/4HANA offer a myriad of capabilities including database management, data administration, security, multi-model processing, and data virtualisation. SAP solutions simplify the IT landscape and complex data management with a unique database platform. It revolutionises business processes through intelligent automation which incorporates AI and robotic process automation. Embedded analytics and a conversational interface help users to make smarter and faster business decisions.  
A good example of such alignment can be seen in the way American company LORD, which operates in industries include chemical, mechanical, oil, and gas, manages their 2-Tier ERP architecture. LORD has over 15 subsidiaries using SAP B1, all of which are integrated with HQ ECC. They called on be one solutions to gain more agile integration between their local operations and HQ in the States. Previously relying on excel spreadsheets, the new software needed to unite all departments to provide reliable stock control and planning of raw material acquisitions. Be one solutions used SAP Business One to provide a level of high integration and real-time communication. Since its implementation, the registration of items, customers, and suppliers in the US can be seen at their subsidiaries within seconds. LORD successfully controls its inventory through the MRP and the way data is entered, displayed, and printed is now standard across the company. Reliable reporting has made decision making processes easier and they are now setting up production timesheets for factory operators which will save even more time. Tamiris Weisner, Head of Quality Control at LORD Brazil commented
Today we have better accuracy and the management quality system ensures the reliability of our results, which makes reports to our clients easier.
Olli Kylänpää further comments 
Our business model is actually very niche. While most, if not all other SAP Business One partners are focused on small and medium sized companies, we are experts and focus on 2-Tier ERP strategies for large enterprises and multi-national companies. We follow standard 80/20 rule whereby headquarters and larger subsidiaries are running on SAP S4/HANA, SAP ECC or any other larger scale ERP and then to make it more cost effective yet fully integrated, run SAP Business One at their small and medium sized subsidiaries.
Cloud Hosting to the service of Automation
Another automated service in the be one solutions portfolio is cloud hosting. To combat the cost and disruption of internally maintaining IT data centres, more clients are moving to Cloud Hosting. Home-based working continues to increase and physical office space and data centres decrease. Manpower to maintain data security is then also lacking. Be one solutions can add cloud hosting to every client offering, ensuring auto back-ups and recovery seamlessly. We can ensure the availability, scalability, and security of our client's IT environment at minimal cost. By entrusting a partner to take care of your cloud data hosting, you will simply automate this maintenance task and remove it from your day-to-day processes, allowing your team to focus of what truly matters: your business. 
Remote implementation experts, we can accelerate integration across the value chain, simplify the development of application extensions, and expand business value with an open eco-system. Instead of constantly running out of space and then paying for unused data space, cloud hosting can adapt to your changing needs.  
Be one solutions has supplied large multinationals with unique ERP solutions for their global subsidiaries for over a decade. Digital transformation and automation will continue to fundamentally change how businesses operate and deliver value to their customers. Allowing Olli Kylänpää the final word;  
Our corporate direction has always been to follow our customers wherever software solutions are required and be a global partner for large enterprises. All our teams are bi-lingual and are experts in their fields. We allocate an account manager to each client with local consultants in each subsidiary. Our clients experience our total dedication to their projects, without 3rd party interference. We use the same methodology throughout, adhering to our excellent global standards.