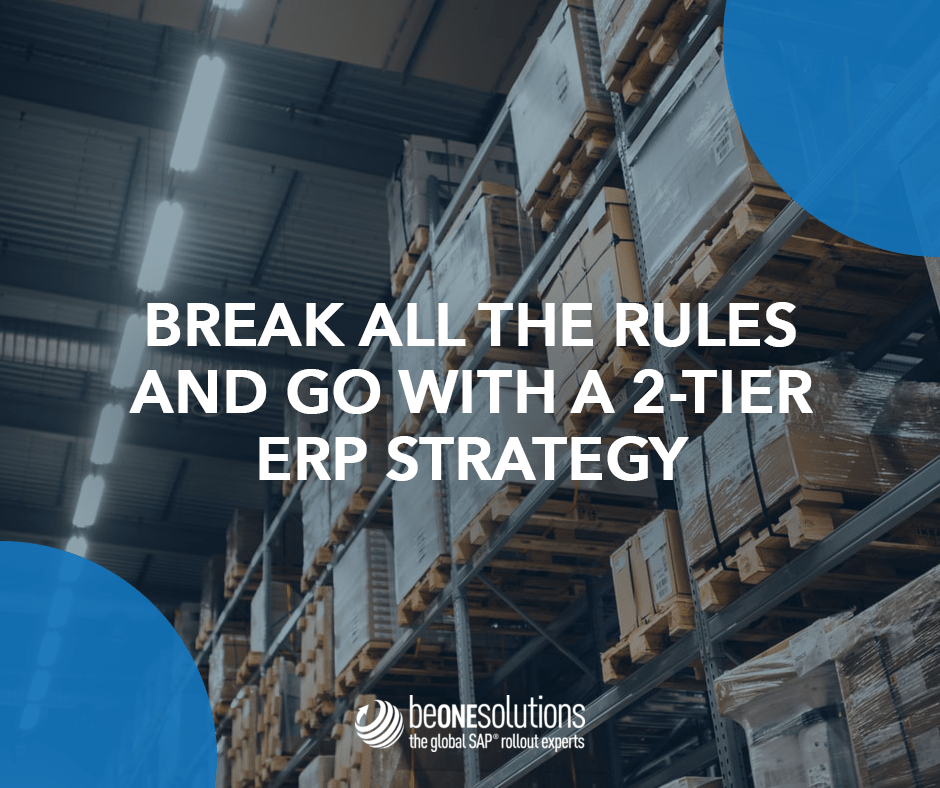 In a world where remote work and decentralized business models are becoming increasingly popular, Enterprise Resource Planning (ERP) has transitioned from a business commodity to a business necessity. Effective ERP strategies and tools can help automate, track, and streamline major processes across any organization using a central database. When customized to fit an individual business, it can help unify business functions like inventory management, human resources, and customer communication under one cross-department platform. Despite these apparent advantages, many companies are hesitant to commit to global rollouts of 2-tier ERPs.
The 2-tier ERP, like the name suggests, uses two separate tiers of ERP with different customization levels. The first tier, Tier 1, is highly customized to fit the needs, scale, and sophistication of a large corporate entity. Meanwhile, Tier 2 ERP, a less resource-intensive – more standardized – system, is utilized by the smaller subsidiaries and partners. Normally, trying to integrate to harmonious but separate systems is incredibly difficult to do across a multinational company with various subsidiaries. But for be one solutions, 2-Tier SAP ERPs implementation is our bread and butter.
This hesitancy around ERP adoption stems from inter-industry preconceptions about ERP systems and the concerns about increasing technological reliance. The goal of this article is to help business leaders better understand the goals, outcomes, and benefits of ERP while dispelling any preconceptions that might paint an inaccurate picture of Enterprise Resource Planning.
The Common Preconceptions Surrounding ERP
As a business leader, it can be nonproductive to carry around preconceptions that are based on assumptions rather than facts. Preconceptions like these can quickly turn into misconceptions, which may squander a company's opportunity to leverage the resources, practices, and technology that may improve its operations. Here are a few of the most common ERP preconceptions we encountered through our decade of existence.
It is only for Large Corporations
This is easily one of the most influential misconceptions affecting mass ERP adoption. Many subsidiary companies don't believe that they are able to fully utilize the capabilities of ERP systems due to their size. This is because smaller enterprises assume that their scale isn't large enough to extract the benefits that would make their investment worthwhile, especially in comparison to their parent firms. One of ERP's most valuable features, however, is its flexibility, especially when it comes to scalability.
With the right ERP provider, an organization can create a cross-department data system that can provide insights on company-wide operations and interactions. Enterprise Resource Planning software, such as SAP Business One or S/4HANA Cloud, will often use cloud-based technology to help increase the accessibility of information from different locations and departments. Technology like this – that is not limited by in-house physical infrastructure – is extremely scalable because it can adapt to any size of business. As global rollout experts on 2-tier implementation, we help everyday multinational companies and large enterprises scale SAP solutions across multiple regions, facilities, and corporate pillars.
Not a Customizable Product
You may be surprised how many business executives view Enterprise Resource Planning as an 'off the shelf' purchase that doesn't tailor to their business model. But not all ERP software are like this. In fact, there is an incredible amount of variety when it comes to the different ERP system packages that are available. For instance, we customized SAP Business One for a wide range of industries, regions, company sizes, and corporate structures. A perfect example of how ERP can be customized to fit your business is the two-tier ERP.
The misconception that ERP systems are only for large companies stems from the fact that this technology works extremely well with big, diverse multinationals. Organizations that are that massive will often struggle to implement a data system where subsidiaries and head offices can communicate effectively and efficiently. That is what makes a two-tier ERP so special.
What this does is combine the efficacy of a custom ERP with the efficiencies of a more standardized data process. For example, the two tiers of ERP are designed to flow from one end to the other. The information collected from Tier 2 will be sent to the more sophisticated Tier 1 that can process, coordinate, and leverage the data that has been recorded. A system like this maximizes data management and localizes some of the core business functions such as finance, governance, and sales. To witness real-life examples of this strategy, check out our case studies with MAN Energy Solutions, Velux or Takebishi.
Given the fact that these are pretty ingrained preconceptions, it can be difficult for industries and leaders to welcome a new perspective. Fortunately, be one solutions is working to help tear down some of these biases and offer ERP solutions that are customizable, scalable, and flexible.
How be one solutions is Built to Break These Preconceptions
At be one solutions, we understand the importance of having a unified company. Being 100% remote, we have had to empower our decentralized business model with a data structure that allows us to successfully share assets in more than 25 countries – and implement solutions in over 60. That is why we practice what we preach when it comes to creating flexible, customized ERP systems that optimize not only the quality of data, but also its accessibility and utility.
be one solutions isn't the only company that can benefit from our sophisticated ERP technology, either. Businesses of any size can profit from live data updates, especially when it comes to inventory. Let's use a beauty company as an example. Many companies in the beauty retail sector have decentralized their operations to maximize the speed and cost-efficiency of their business. The subsidiaries that assemble the products and accessories sometimes have to use items from different suppliers. Therefore, these organizations rely on ERP software to receive live updates on volume, quality, and shipment location in order to efficiently run their business. For instance, be one solutions has helped a subsidiary of a leader in the beauty retail industry by integrating SAP Business One to allow it to better coordinate its shipments, packaging, and distribution with the mother company.
In contrast to the preconceptions mentioned above, two-tier ERP global rollouts can be both flexible and customizable. Sophisticated ERP systems and their scalability allows it to accommodate the size of any business, even after it grows. In a modern world where data can be shared, stored, and analyzed at an incredible rate, it makes sense that companies should leverage this ability to streamline processes, increase efficiencies, and facilitate improved decision making.
If you want to learn more about how Enterprise Resource Planning can help your company thrive and how it can be made to fit your business and specific industry, review one of our case studies or contact us today.