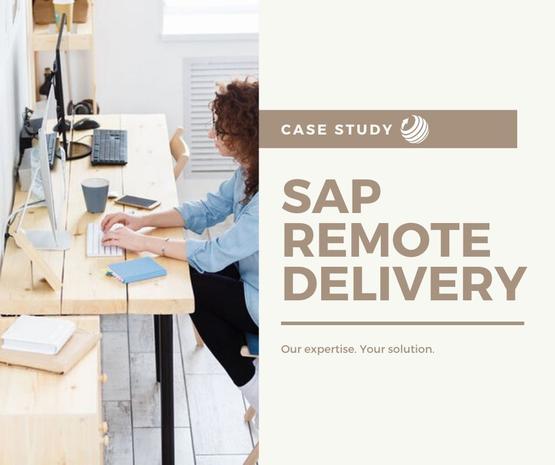 be one solutions' Strength Lies in Delivering Global Projects Quickly, Remotely and with High Quality
This new contract, handling SAP Business One implementations, is full of accomplishments for our team, which represented our colours and proved be one solutions worthy and fit for these challenges. "There were obvious gaps between where the client was and where he was supposed to be, and since day one we are engaged in filling them." says João Sá Rodrigues, Account & Project Manager and acting Country Manager for United Kingdom.
Towards the end of 2019, we successfully delivered SAP Business One to our client in three countries (Austria, Sweden and Hong-Kong), which went live at the beginning of 2020. After this performance, they were convinced that we were the right SAP partner to fully replace their old existing partner, in all the countries where they already had implemented SAP Business One.
Moreover, they decided to replace all existing solutions globally with our specific be one solutions template – and we opened multiple streams to improve the way they work.
In short, life pre-COVID-19 was beautiful. In January and beginning of February, we had a lot of intensive onsite activities - sales and architecting activities - to design the new solution, tailored on their needs. These projects, old and new, were an inter-company project: web-based with a set of new features built on top of the SAP HANA platform.
Indeed, on top of supporting Austria, Hong-Kong and Sweden, we were also starting our Application Management Services (AMS) in one of their companies in South Korea.
We Are SAP Rollout Experts and This Crisis Gave Our Well-Established System a Chance to Thrive Even More
And suddenly the covid-19 pandemic hit, and we must stop any kind of onsite activities, just as every company out there. Consequently, we decided to review all projects and their plans, activities and budget. Everything. Except we had a huge advantage: this was not the first time that we faced a remote project delivery. We had experience implementing 90% remote, as the training part is most often wished onsite by the client.
Of course, there were challenges; mainly for our client's team which was not used to work this way, especially on new topics. Undeniably, working remotely may be our bread and butter, but it is not the case for all our customers. They are not used to this professional lifestyle. Some of our biggest customers, which are either large enterprises or multinational companies, can only move forward when they see the consultant sitting next to key-users. It is understandable, because the consultant's mission is to "make" the key-user employee work with him; and when face-to-face, there are no distraction.
Specially no emails, which we see spamming a lot of conference calls and team's meetings, preventing progress in remote sessions. Now, this is a challenge. One need to know how to work this way but even more important, how to adapt to the people on the other side of the screen in a civilized and very proactive manner, to be able to say at some point "OK, please focus. We need your attention."Even meetings need to be different: asking questions to make sure that the audience is listening, hearing confirmation. "It is the same thing happening in schools nowadays" explains João: "When teachers are in a classroom, they are seeing the kids, and they can call them out - you are playing with each other, you are not paying attention, please listen, please that. Now they don't and have to adapt." The ability to catch people's attention and keep it is an essential requirement in remote work, and we do this with our customers, using tricks to keep them on the task at hand. Nothing is left out, and summaries are written after sessions, sign offs and confirmations are asked. And this is our expertise.
In essence, we are using daily remote tools like Zoom or MS Teams, but we rose to the opportunity and substantiated we can shift planning to deliver all projects 100% remote. As of now, we worked around the onsite activities and rescheduled them with remote sessions. It allowed us to deliver our client globally. Now, all this success does not come thanks to one person only - it comes with a fantastic project team. Scattered on three continents, João, Diana, Rita, Urbino, Diogo (Portugal), André (Switzerland), Alan (Mexico), Ganesh and Kanishka (India) collaborated hand-in-hand, making sacrifices and showing up to challenges with the utmost willingness to overcome them together, as a team.
As for our client, they saw SAP Business One as a strategic corner, especially since the beginning of this COVID-19 health crisis. They chose to continue the ongoing projects and release even new ones with us, seeing this time as an opportunity to palliate to the sudden decrease of activity in their day to day operations.
be one solutions' Experts Superpower: Delivering SAP Business One Rollout Project by Continually Adapting to Their Surroundings
This is most likely the biggest outcome of 2020 for be one solutions: we can support our clients 100% remotely if necessary. We are masters at adapting to the strongest winds, we root deep and perform, working together and teaching our clients how to use new tools and work in new ways. We are going to pursue our actions with this client remotely and deliver these breadth projects, making additional rollouts and prepping global initiatives into both their and SAP ecosystem.
The success we are merely brushing here is not, at this moment, the delivery. It is the trip our DNA allowed us to take in this situation, and the trust we gave our client which comforted their decision not to stop projects - and even reach the moment by assigning a little bit more of key users' time to those tasks. be one solutions was there along the way – and still is – having their back and investing people's time to move forward on strategic projects.
We can only hope that you, reading this success story, hear this call to regroup and arm your company for the future. Turn these unfortunate times around and use your activities reduction as an excuse to review your critical structure endeavors to move forward. Don't stop all together – the outcome will be worse. Prepare yourselves for what's coming, no matter the uncertainties which are linked to it. We are here to help you get back on track or even just implement even better habits. Keep going, trust yourselves, trust us, learn and evolve.
Remote is our DNA. We can deliver. We can support you on a global level, on one, two or even five continents. We juggle with time zone for breakfast, deliver cascading projects for lunch and delight ourselves on full scope implementations for dinner.
be one solutions, your SAP implementation expert, is attentive to your needs for all your ERP projects. Feel free to contact us!