Why Should I Choose SAP Business One for My Subsidiary?
SAP Business One is a full blown ERP solution, perfectly designed to let your medium-size business & subsidaries run smoothly - even in the most exotic locations around the planet. SAP B1 is an integrated, affordable business management application. It's a single system that can automate critical business operations.
Successfully manage and grow your business with a single view of your business to help you stay in control.
A complete and customizable solution. Because every business is different, SAP Business One is designed with flexibility in mind ; your  employees can start using it from day one. And as your business grows, you can customize and extend SAP B1 to meet your evolving needs.
Gain total control of your finances - you can speed transactions and improve visibility into cash flow.
Create a loyal customer base through sales and customer management.
Optimize buying and purchasing to increase margins with purchasing and inventory control.
Transparent inventory control  and distribution using production planning.
SAP Business One will also allow you to see your business clearly with business intelligence, analytics and reporting, to empower your people to make smart decisions faster and to find an industry-specific solution for your expanding business. A global SAP implementation project ?
Contact our SAP experts now.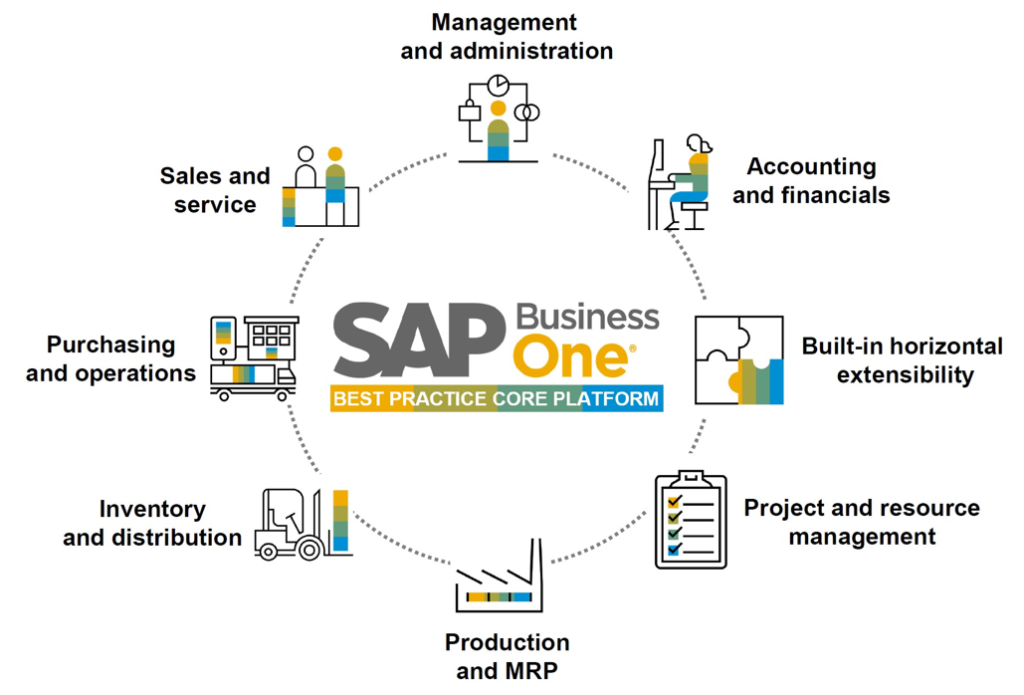 INTEGRATION WITH SAP BUSINESS ONE
Enables out-of-the-box integration of SAP B1 and SAP ERP or SAP BI
Preconfigured, configurable business integration scenarios (Master Data, Intercompany, Business Warehouse).
Targeted to customers running (SAP ECC or S/4 and SAP BI (BW) at Headquarters, SAP B1 at subsidiaries).
Model-driven, small enterprises integration technology.
DEVELOPMENT WITH SAP BUSINESS ONE
SAP Business One Software Development Kit (SDK) provides a comprehensive set of tools for professional software developers.
Maximize your IT investment by tailoring SAP B1 to your particular needs, streamline and automate processes, integrate external applications.
Leverage your development team's existing skills and quickly build solutions that bring tangible value to your organization (compatible with Microsoft .NET, Microsoft Component Object Model (COM), and Java technologies).
WHY USE SAP HANA WITH SAP BUSINESS ONE?
SAP Business One is a fully integrated enterprise resource planning (ERP) system running on the SAP HANA database. This allows you to tackle industry-specific issues across 26 verticals as your business and strategies evolve.
This will allow you to translate real-time data into manageable and actionable pieces. This can be beneficial for increasing productivity and efficiency in the workplace and can even help revolutionize processes in your business.
Using SAP HANA with SAP Business One within your company and in global subsidiaries allows for intelligent automation of processes thanks to artificial intelligence and robotic automation.
In addition, the analytics features built into the solution allow for rapid decision making and seamless use across all facets of your company, allowing you to manage and control your business from a single point.
The highly flexible solution allows for a targeted and iterative installation procedure to suit the needs of any business. Employees can begin to use it from day one, but the system is equally suited for growth, so it can change and expand to meet your company's requirements as it grows.
HOW CAN YOU USE SAP HANA TO YOUR ADVANTAGE
By using SAP HANA with SAP Business One you can increase the efficiency and optimization of purchasing inventory and equipment. The intelligent approach provided helps to maximize margins and profit while maintaining transparent and innovative inventory management.
Overall, investment in this ERP system can benefit your business in various ways, from optimization and efficiency to profit maximization.
Implementing SAP HANA to SAP Business One allows you to clearly see aspects of your company and apply business intelligence principles, statistical analysis, and data reporting in a manageable and intuitive manner.
Such an approach can help reach decisions more quickly and find ways to adapt your business and strategies to your niche. Therefore, using SAP HANA with SAP Business One is a powerful way to achieve sustainable expansion within any company. 
Our SAP Business One Add-ons

be one Manufacturing software for SAP Business One - simply results driven! Our lean, yet powerful manufacturing add-on takes away the complexity of things and provides easy access to one of the most vital parts of your business.

Don't let the performance of your business be impacted due to the lack of a Warehouse Management System (WMS) any more. Our exclusive solutions address the challenges your warehouse encounters.

Dealers and distributors need to be able to communicate through simple and transparent systems. be one DMS (Dealer Management System) takes the relationship to the next level with our intuitive and cloud-enabled Dealer Management System.
WHY DID OUR CLIENT CHOSE US TO IMPLEMENT SAP BUSINESS ONE?
MORE ABOUT SAP BUSINESS ONE
MORE ABOUT BE ONE SOLUTIONS

SAP S/4HANA Cloud  is the most advanced ERP system of SAP, containing not only the typical functionality of modern ERP solutions but also serving as a platform to utilize the latest technology features available on the market.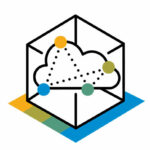 SAP BTP brings together data management, analytics, artificial intelligence, application development, automation and integration in a unified environment. It aims to facilitate business process management and stimulate digital innovation.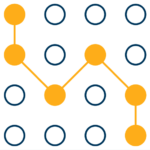 SAP Integration with B1i : Integrating Systems Applications and Products (SAP) software into your business operations can significantly improve efficiency and productivity across subsidiaries and headquarters alike.
Thank You
Thank you for filling the form, our team will be in touch.